Schiaparelli's Lion Dress
Thoughts on the state of culture
If you buy something, I might earn a commission.
I got into an interesting conversation this morning about the Schiaparelli lion dress that got me thinking about the tacit properties of the current cultural climate. On one hand, the culture has been advancing a collective agenda to challenge the slopes of the status quo by advocating for compassion. How this compassion plays out depends on the cause, of which there are infinite permutations. But some examples include environmental reform or creating a more leveled social playing field. The topic of the today is an age-old one, reminding the public that we are still calling for an end to animal cruelty.
On Monday in Paris, couture season started on the heels of men's fashion week. Among the first shows to present was Schiaparelli, famously known to stir its audience by turning convention on its head with an expansive imagination that has historically challenged style norms. The House of Schiaparelli has been in the hands of artistic director, Daniel Roseberry since 2019.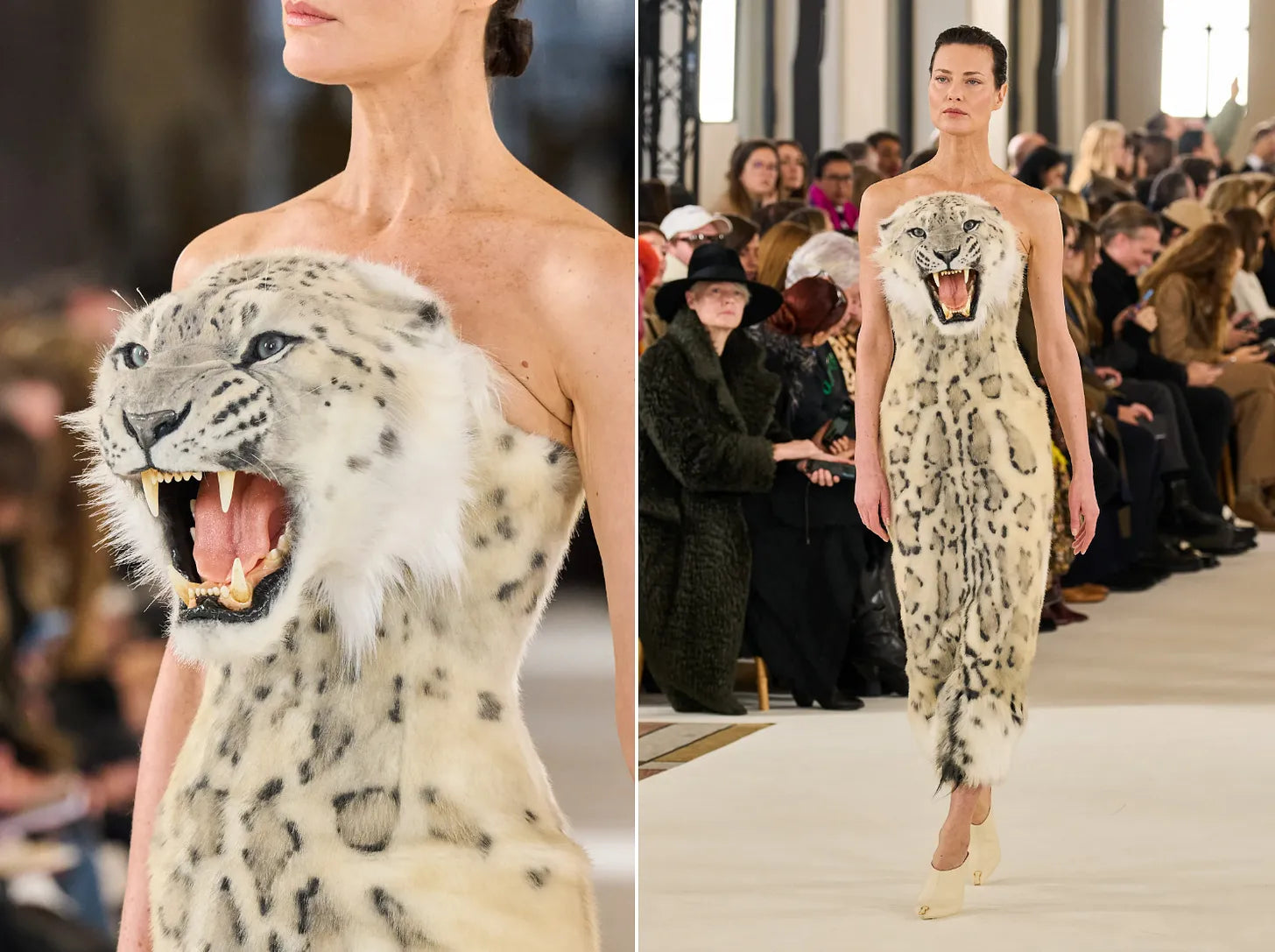 Yesterday's show featured three controversial garments boasting lifelike approximations of a leopard face, lion head and she-wolf.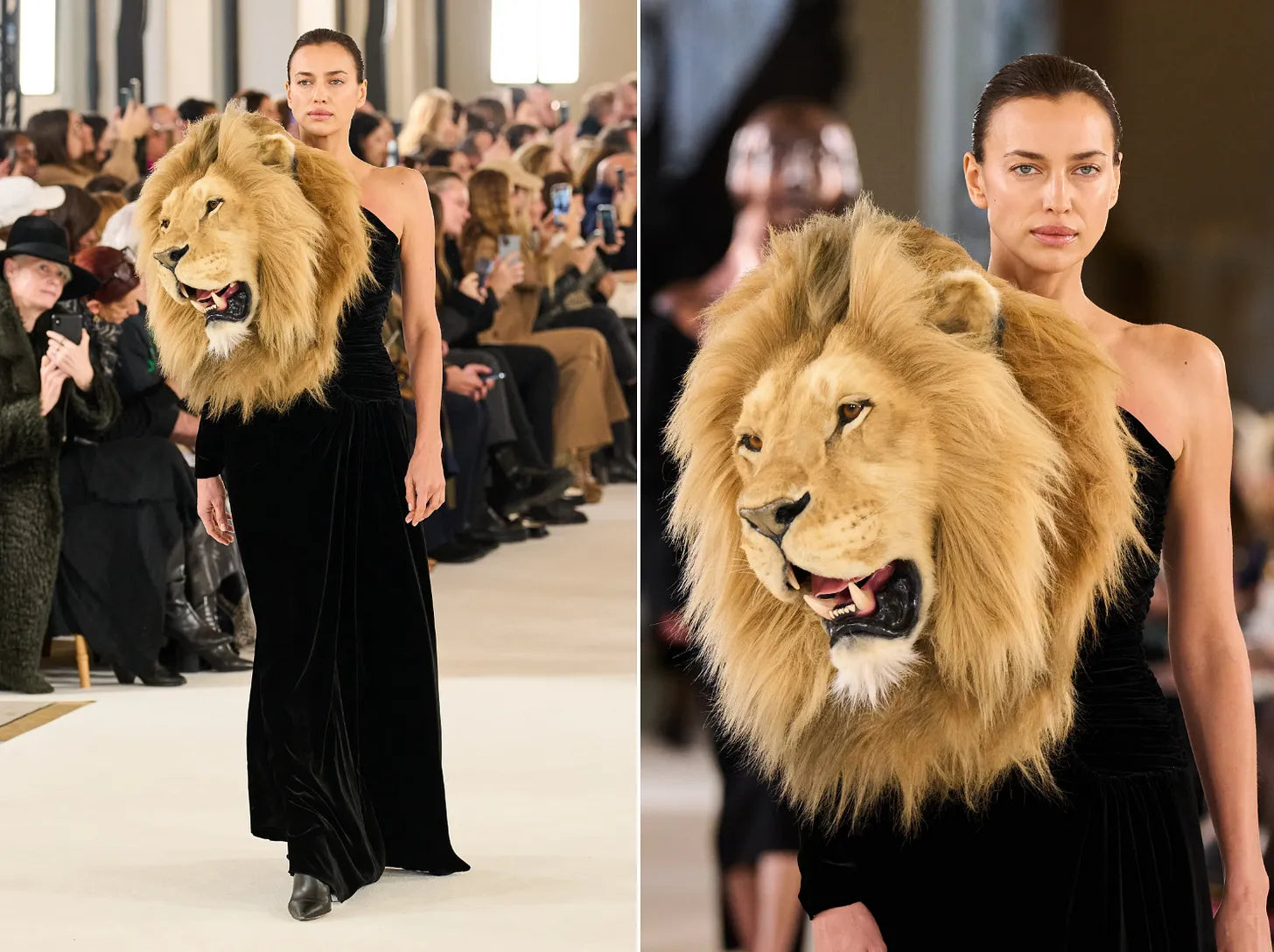 The animal renderings, worn by Irina Shayk, Naomi Campbell and Shalom Harlow, were meant to serve as representations of the first order of hellish fears that Dante faced in the inferno of his Divine Comedy.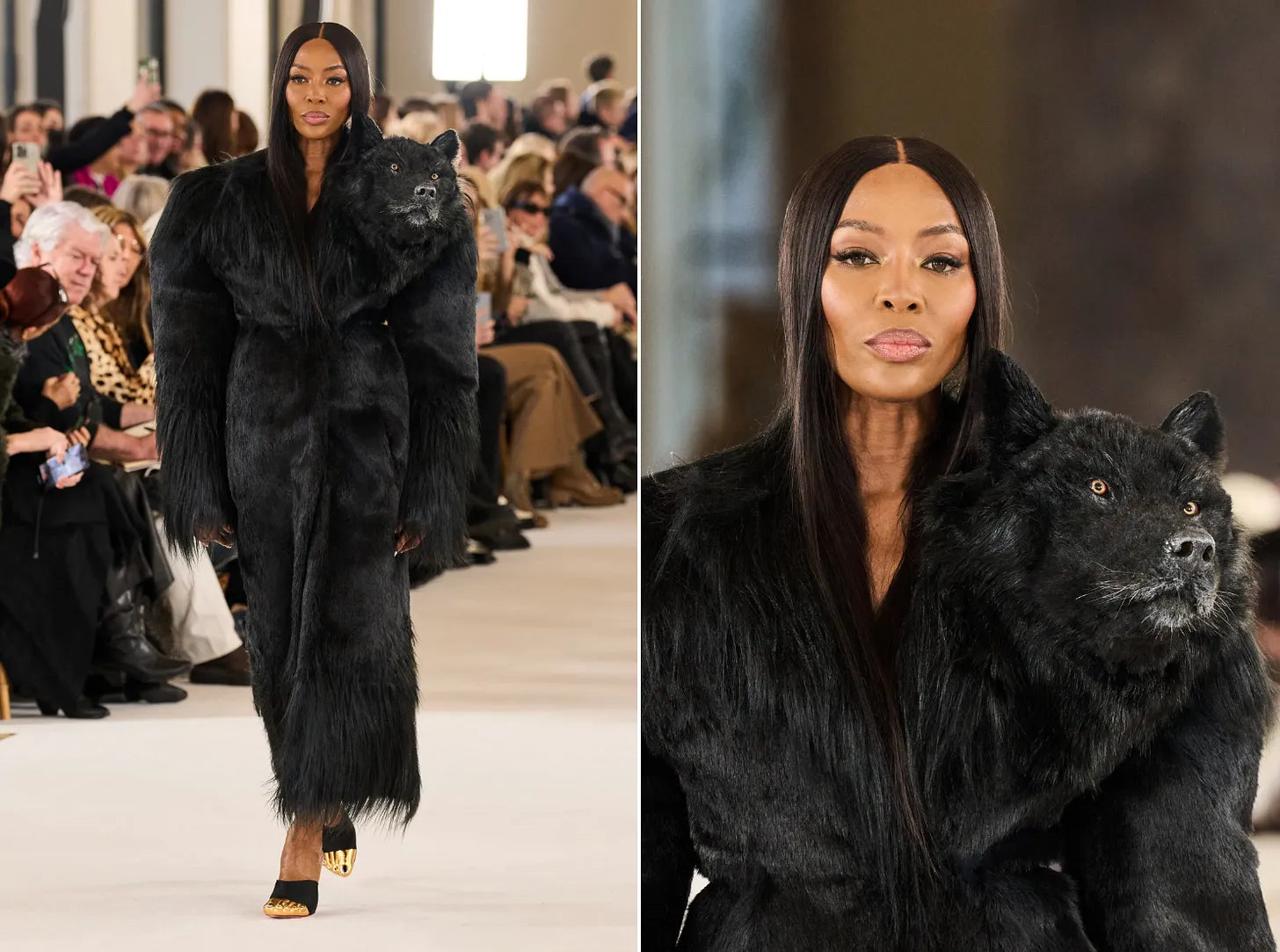 But if you knew about the lion dress before reading this, it's more likely that your reference point relates to the fury and rage that the dress set off.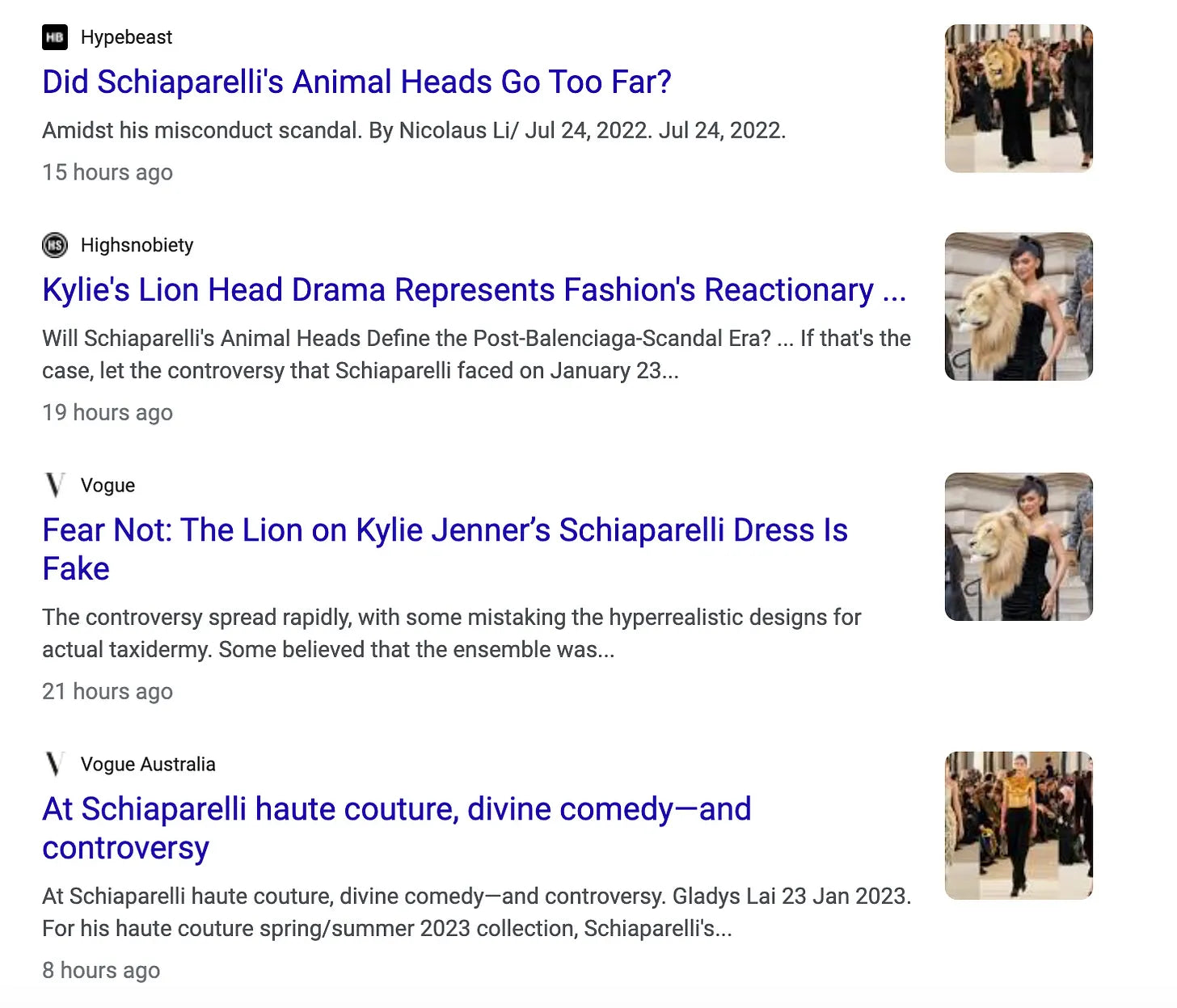 Or more acutely, I think, the fury and rage that the celebrity who wore the dress off the runway set off.
Kylie Jenner wore the same dress Shayk modeled to sit in the front row and posted a photo of herself on Instagram, specifying that she loved wearing "this faux art creation constructed by hand using manmade materials." You have to assume she included this detail to limit misunderstanding — but it didn't stop the deluge of rage (51,560 and counting) that barreled in after she posted.
The vast majority of the commenters were wrathfully uncomfortable with such a lifelike approximation of an animal head no matter the context (I get it, I felt it). Many called it an irresponsible gesture that promotes hunting (very possible, though if you do consider the context — a couture runway that delivers a message more than promotes a way to behave — I do wonder whether the dress will actually promote hunting), and plenty more pointed to the grotesque reflection of how the mega-rich work: trying to outpace the borders of their own limitations through harmful means of acquisition and display.
None of the sentiments written into these arguments are disagreeable to be clear, and there is no question that these dresses are fiercely uncomfortable to look at. They're uncomfortable in a way that is different from the discomfort Balenciaga's Demna Gvasalia ignites. In spite of the massive campaign scandal of November 2022 that surrounded child pornography, his message has often been on "the right side" of history, calling attention to the devastation and cruel unfairness of displaced victims of the modern world.
It's both commendable and ballsy for a luxury designer to use their medium to advance the idea that we should not look away. In particular because many of us use fashion to reconnect to the spirit of our respective compasses of creativity. Not necessarily to avoid the real world, but at a minimum to arm ourselves to face it. It's hard to sink into one's own creative force when weighted down by true devastation but that one designer could balance the juggle of staring into the darkness and selling it as a glistening $1,450 shoe is impressive.
But the discomfort of the dress — it's not wrapped in a message that furthers political or social cause, it might enrage just the same, but with no undertone of sympathy. And I can't help but wonder if it's actually the dress that has infuriated so many.
Is it the dress or the fact of who wore it? Would the reaction have been this explosive if Kylie Jenner had not been party to the message? It's hard to have a thought about a Jenner or a Kardashian that does not send you to a cynical or skeptical place, that does not immediately incline you to assume the worst, or consequently, if you don't, disown the thought at the risk that it could be perceived as a defense. But why do they trigger us so hard?
In a series of Instagram stories that Stella Bughbee put together last night, she wrote, "We have such a tricky relationship with provocation in fashion. We love it, we hate it, we love to hate it," I think this is true of provocation more broadly. (That the other house most wont to provoke long heralded Kim Kardashian as an ambassador seems worth mentioning.)
Sarah Mower asked, in her review of the show for Vogue Runway, "Why choose the terrors of hell as a concept?" Roseberry is clear about his pursuit of the new, the risk required to fulfill the creative desire to "make something powerful in a different way every time."
As I write out his reasoning, I find myself choking back my own opinion. Wondering whether Roseberry is in fact in the right or if he is in the wrong. Was it necessary to cause all ruckus just to pursue the new? What if the dresses do reinvigorate the sport of animal hunting? Has the purpose of art changed in the modern world — should the artist be responsible for the potential backlash that their creative pursuits can incite? No doubt Roseberry chose Jenner to wear the dress for a reason, what role does she play in his pursuit of creation?
Then I think about it again and I wonder why my opinion matters — how far it strays from what the show set out to accomplish. From the point of art more broadly. The lenses through which we see are myopic, no matter how broadly we can stretch them out of our own experiences. There are necessary limitations to the depth of our vision for the simple reason that we are not each other. "Nothing is at it seems," Roseberry said to Mower. I'm inclined to agree.
And in the end, I do think it bears underlining that when successful, provocation makes us feel hard feelings.
It invites us to sit with a sort of dis-ease that is triggered by the externality that caused it, but which still is triggered from within the self. The art world used to serve as a safe container to explore these kinds of difficulties. But more and more lately, it makes us want to rip the uncomfortable feeling out and dart it toward the closest target. What do we get from doing this? Is it simply relief from the feeling — or is there something that is deeper? And who is responsible in the end for the sensations we feel inside of ourselves? What is assumed of her power when the answer turns out to be someone like Jenner?