Reverse your sweater and shirt
If you buy something, I might earn a commission.
We're not at the end of the winter yet, but this is usually around the time that I hit a ceiling of inspiration, and no matter what the internet tries to tell me is cool or inspiring right now, I don't really agree even though I want to and just start to wear the same thing every day. It's kind of a bummer because I'm an emotional dresser and often I think to myself: OK, today is the day I break through the wall and get dressed WITH MY HEART ON MY SLEEVE but inevitably after some time in my closet I melt into a puddle of meh and just think to myself: wtvr.
In the nick of time some weeks ago, I had lunch with a few friends — Becky Malinsky among them. She's the fashion director of Off Duty, WSJ's style pages and if I had to describe her style in an unhinged sentence I'd say something like grabbing coffee at the bodega down the street in Prada pants that look like they could be Nike or alternatively, having drinks at a fancy bar in L.L. Bean that looks like The Row.
Anyway, she was wearing a crew neck cardigan under a rigid button-down shirt and in my head, I was like, this is it. The jolt of creative inspiration that recontextualizes the shit that's already in my closet and gets me excited to be dressed again right now. So! I went home and tried it 4 myself:
Turns out it's a good enough style tip to pack up and relay should you find yourself in a similar doldrum.
The key features of nailing this require that you consider the weight of your top half garments. The shirt doesn't have to be heavier (and in fact, it's probably not likely that it is) than the cardigan, but a fine poplin (like the kind that you would wear under a suit) is probably too lightweight. Denim (biased opinion! And I like this wash too), flannel or oxford cotton are good materials for this.
Then for the cardigan pardigan: picture the outershell of a twinset. J. Crew is a good search bet but this one might be too fitted. This one from Acne is a similar color to mine/comes in pink too. Per the pink — not no to this from Ann Taylor.

But this is the most straightforward. For fit: My preference is something relatively fitted — like banded at the bottom as cardigans sometimes are, so maybe you can leave a few buttons undone and perform a half-tuck as demonstrated above. Really anything that can easily tuck into pants (even if you don't plan to tuck) so that when you're free-balling, it looks like this: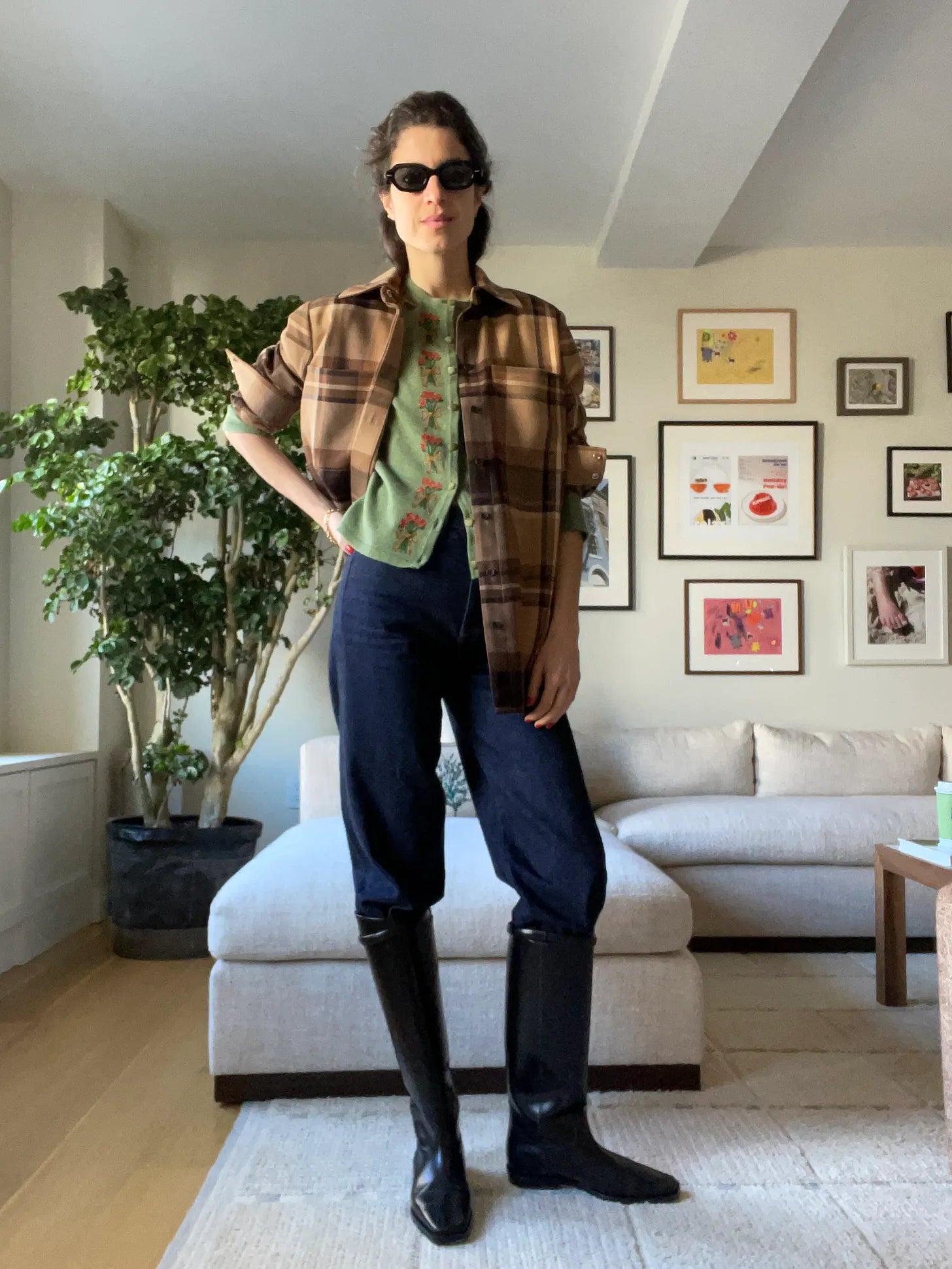 Good materials to look out for: fine merino, normal cotton blends, dramatic cotton blends.
Back to look one, bottom half now: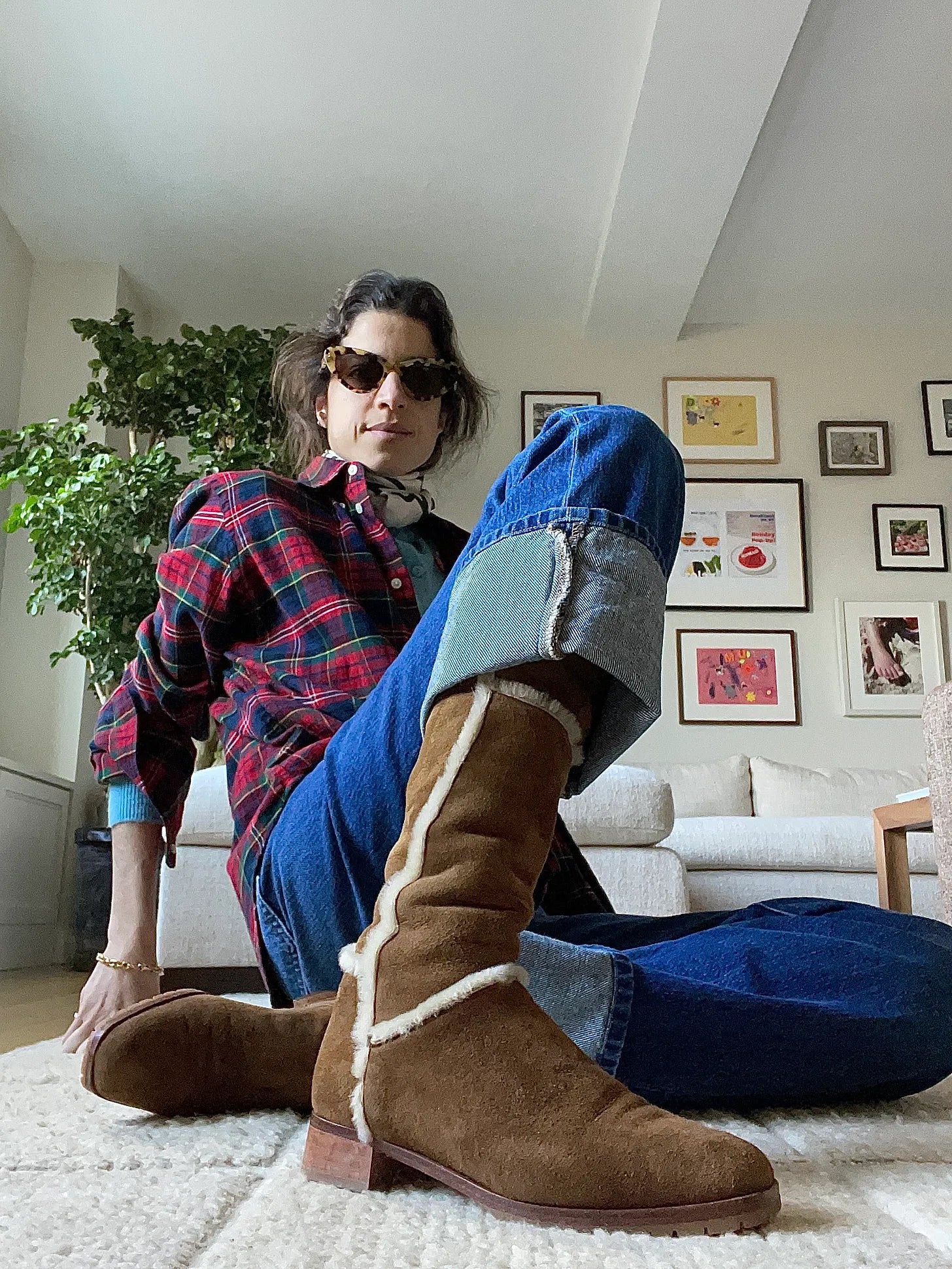 I styled the top part with what would be considered baggy jeans if I did not also roll them up at the ankle, a decision based entirely on the boots I wore under them, Manolo Blahnik shearling fuckers I found for $85 on The Real Real. They're too thick for skinnier leg jeans, unless I plan to tuck the jeans in — which I do sometimes, like in this instance below with a more tapered pair: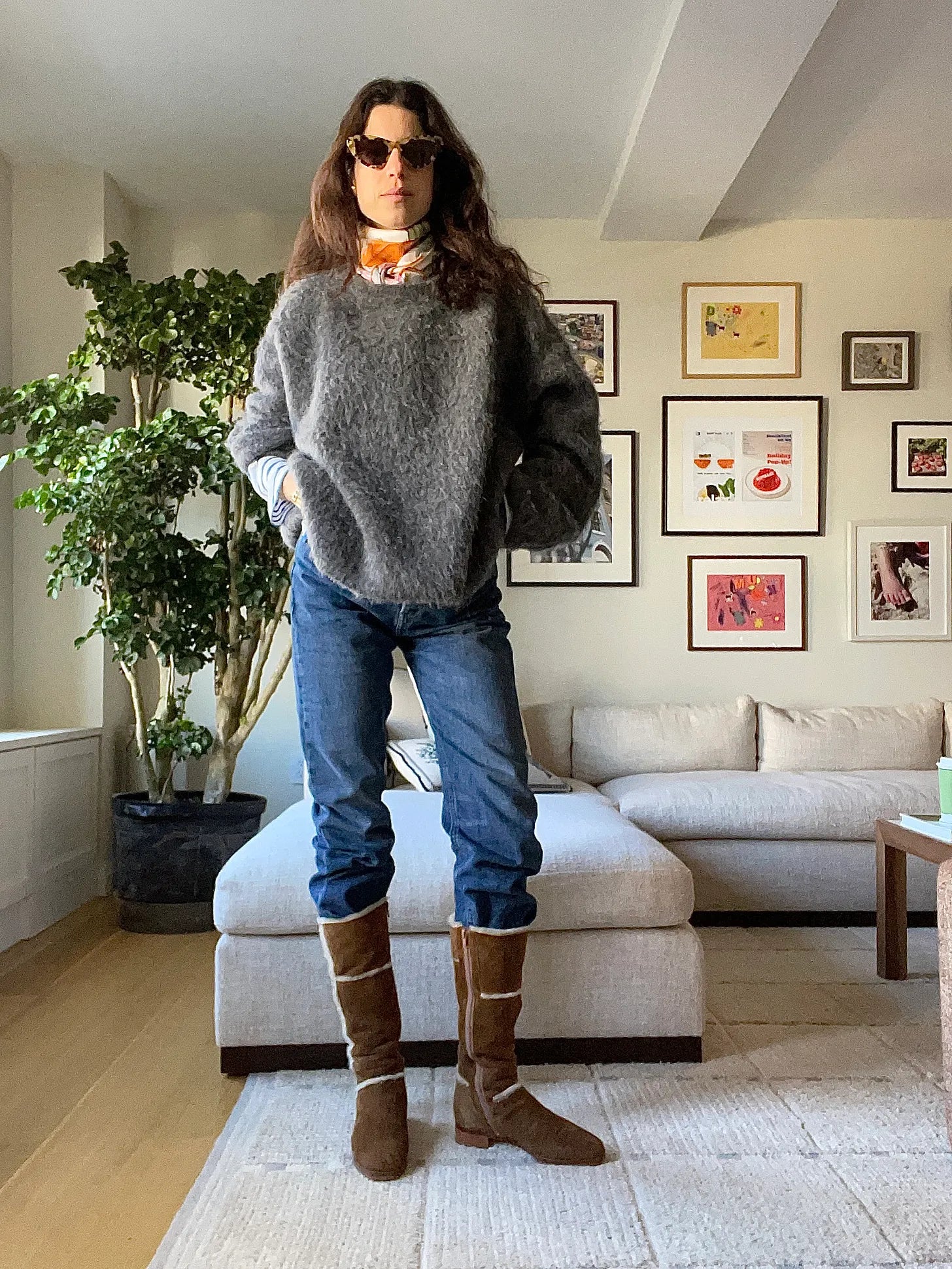 Anyway, the logic behind using these shoes is that the camel suede on such a refined shape makes a subversive contrast with the red flannel shirt. A big Manhattan lumberjack energy, made only more Manhattan care of the silk scarf:
The sunglasses play into the silk vibe more than anything and the best coat to wear over such an outfit is one that is either quilted and collarless like this nylon number or wool and long like-a-this. In the end, this didn't feel like a drive down the express lane, huh. Hope it was entertaining nonetheless!
Signing off your pal,
Rebecca Romijn Stamos