So many new jeans shapes. Try these?
A case for the barrel leg
If you buy something, I might earn a commission.
Thesis: Jeans are taking new shape. One such shape these jeans are taking bow at the sides of your knees. They're referred to as barrel-leg jeans because, I guess, they make your lower body look like a barrel which sounds incredibly unseductive when described that way but they do look pretty cool on. They're vaguely reminiscent, now that I think about it, of a storied shape from the archive and current trove of one Isabel Marant.
Same conceit, but less baggy and roomy and shiny and waisty. All of which is to say, try them!
Why should I? Because as I mentioned, jeans are taking new shape. Some are wide, some are baggy, some are wide and baggy. A number of them have pronounced cargo pockets. It seems you're supposed to wear them with pointed-toe shoes, which is cool in theory but not especially convenient or comfortable in practice. Particularly with the added layer of a winter coat. So much fabric everywhere. That said, straight-leg jeans are feeling kind of stale, or maybe they're not, but I get the sense many among us long for a deviation from the style of jeans we've been wearing since way pre-pand — so my proposition is this barrel leg.
Again, why? Because it's unusual, and this is a good thing for your most pedestrian pants! Where jeans are so rarely the main event of your outfit, they're also often the hardest to get right (fit, wash, rise) and therefore take a shit ton of effort that you might not even realize. This also means they inadvertently put so much pressure on the rest of your outfit to do their (your pants) job and idk, I'm getting sick of making my sweater work harder than it's supposed to. Aren't you?
I'm not sure how to answer that because I'm playing the role of hypothetical reader even though I'm also actually you (and not really a fan of leading questions) so I'm just going to sidestep and ask: who makes the best ones? Toteme was the first pair I picked up some years ago. They came after a pair of thick wooly trousers that were a little longer but same barrel shape and at that time, they scratched this itch that had been bothering me (as most SDTs do!) though I wasn't sure where it was coming from until I got them and realized I just wanted my pants to pull their fair share of weight.
Tibi has its own version too. More affordably, Everlane makes them in like, 100 colors. Citizens of Humanity does them like this. Nili Lotan packs its pinch (I'm a copywriter in my heart) in this twill fabric, Toteme's come in black and white on top of the dark blue (but Wandlers are a little cheaper) and I saw this pair by Frame this morning (prob last week by the time you read this), which is what inspired the story.
Ok. I get it — so how do I wear them? First, by nailing your shoes. Like that is the main proportion to focus on rn — bottom half of jeans to foot. The shirt doesn't matter as much because it's not pulling extra weight anymore. Such good news for your bra, no? Wear a regular crew neck knit with an open hem if you want and leave it untucked. Or tuck in a polo knit. Or button down. Or t-shirt! Any/all are fine.
For the shoes: my recommendation is a refined narrow shape, be it a boot…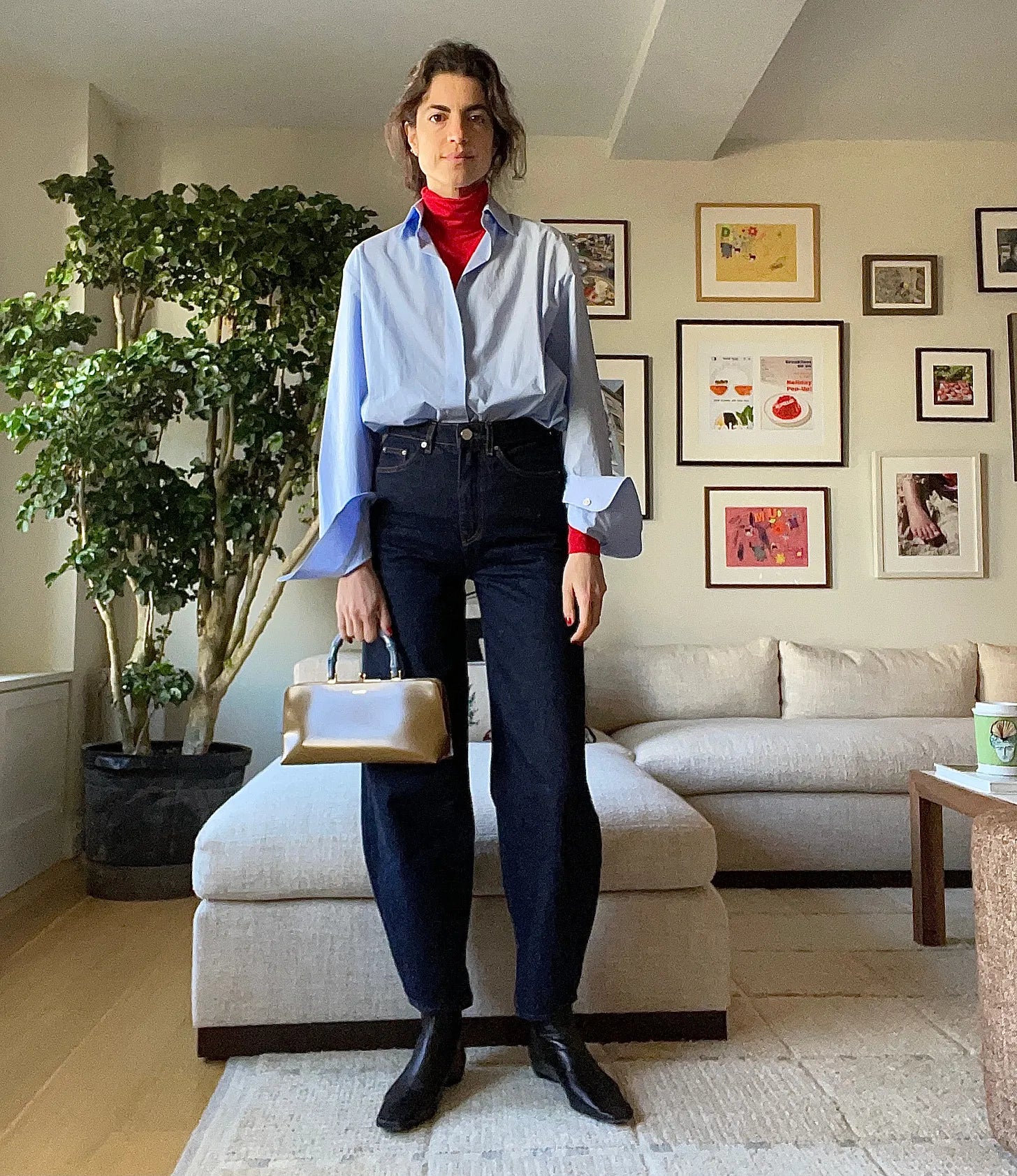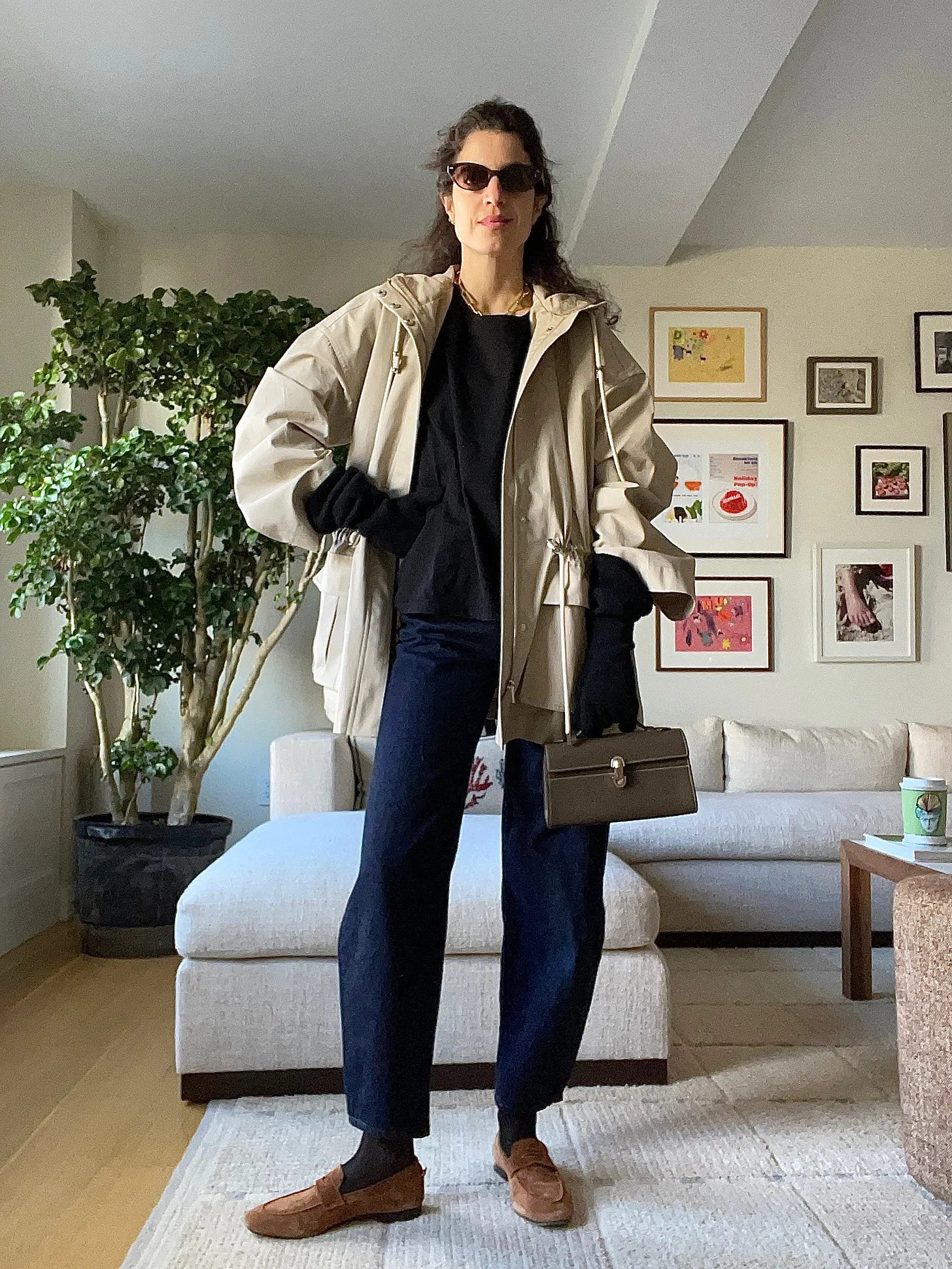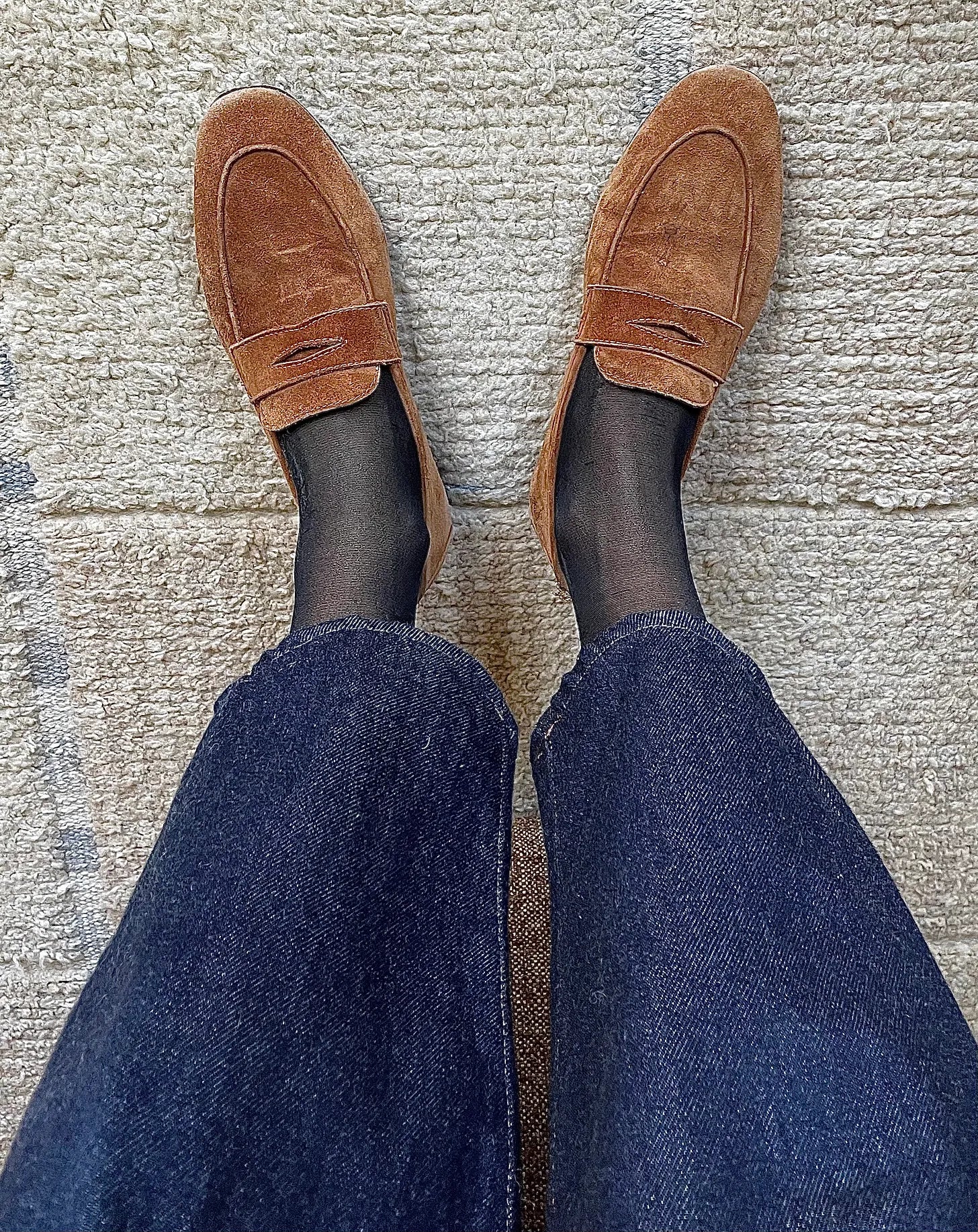 Until a few weeks ago, you could find your pick of the loafer litter on The Real Real. New ones still linger at Bergdorf Goodman.
Or high heel; any one of them go.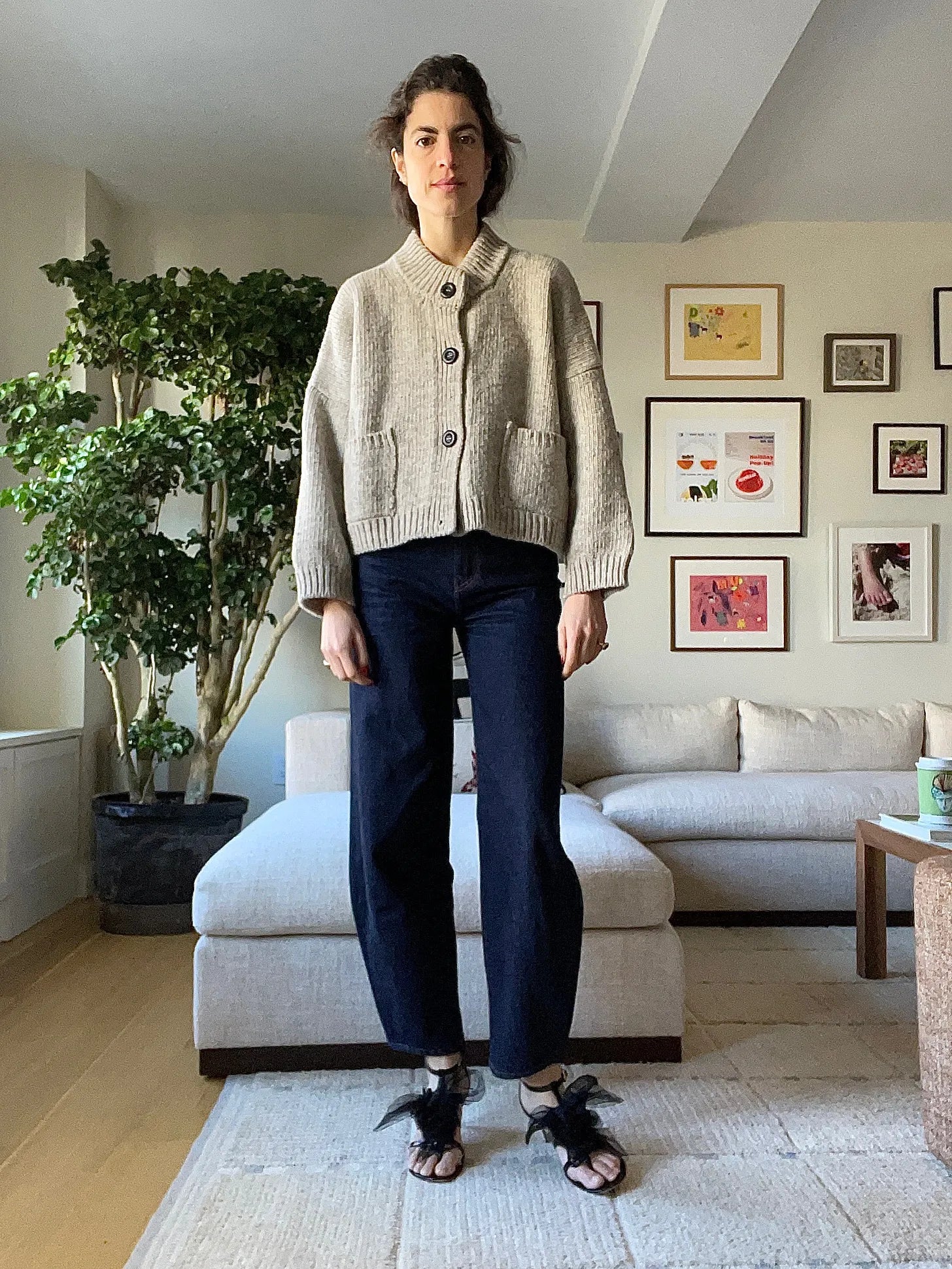 Notice how my tops are not doing much other than being tops? But this one does have the added benefit of being very warm. Babaa cardigan, Chanel sandals — they're from the 2016 Cuba collection. But any heel with a single sole (as opposed to platform) heel can work here. My preference is a pair that's not open front (like a pump or slingback, so more like this or this) because the jeans are kind of cropped, but that's just me
You can also try tucking them into knee-high boots but that kind of dismisses the barrel even though the upside is that you get to look a little more like princess Di.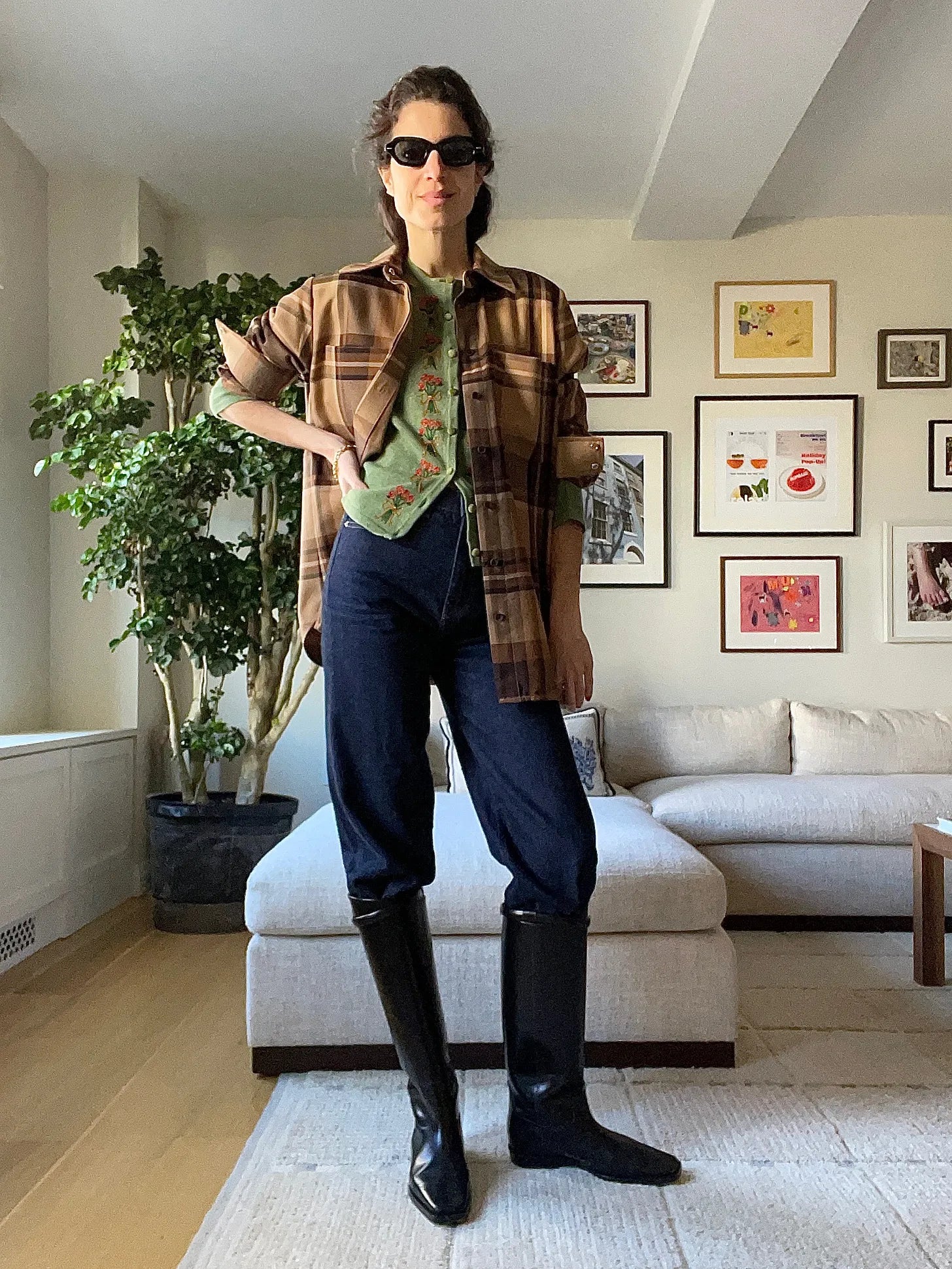 If you're really into chunky shoes, which I get — it's the thing rn! — then you'll want to layer up top.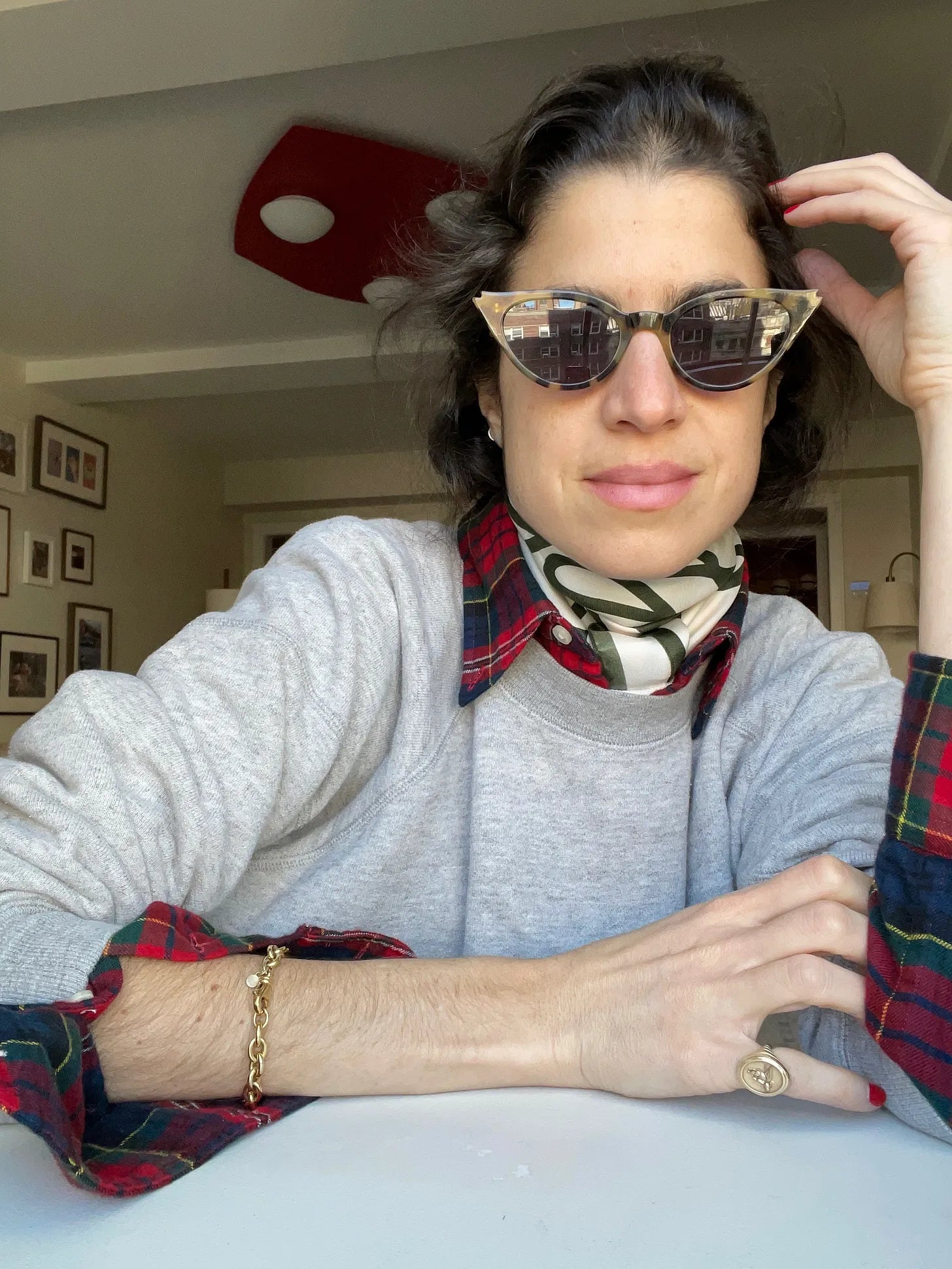 Boo! These sunglasses are illesteva, these are a fine comp. The sweatshirt is Entireworld (RIP!), any grey crew neck will do (womens, mens) — just be sure to pull the sleeves of your shirt (mine is Polo, this Ganni one festive too) out from the cuffs of your sweatshirt. Amd for your silk scarf, I really love the ones from Lescarf
You'll probably start with a long sleeve t-shirt or fine knit, then start to layer. Depending on how chunky your boots are, you'll want to add a shirt or sweater around your shoulders — something weighted so that your proportions aren't out of whack. I don't have super chunks beyond my winter boots to visually convey what this means in practice so just imagine that if your boots are this heavy or heavier (why do I want these?), you'll want to add an anorak or jean jacket or cardigan/silk scarf combo to your soft little top BECAUSE YOU'RE WORTH IT.
I layered a cotton terry sweatshirt over a flannel because of the contrast — it's a less frequent consideration against wool, which makes sense in the context of a rigid cotton poplin shirt but the flannel is floppy and soft enough to sustain it. Added the silk scarf for one more contrast: fancy to casual, and the feminine sunglasses for a last one to soften the masculine boots.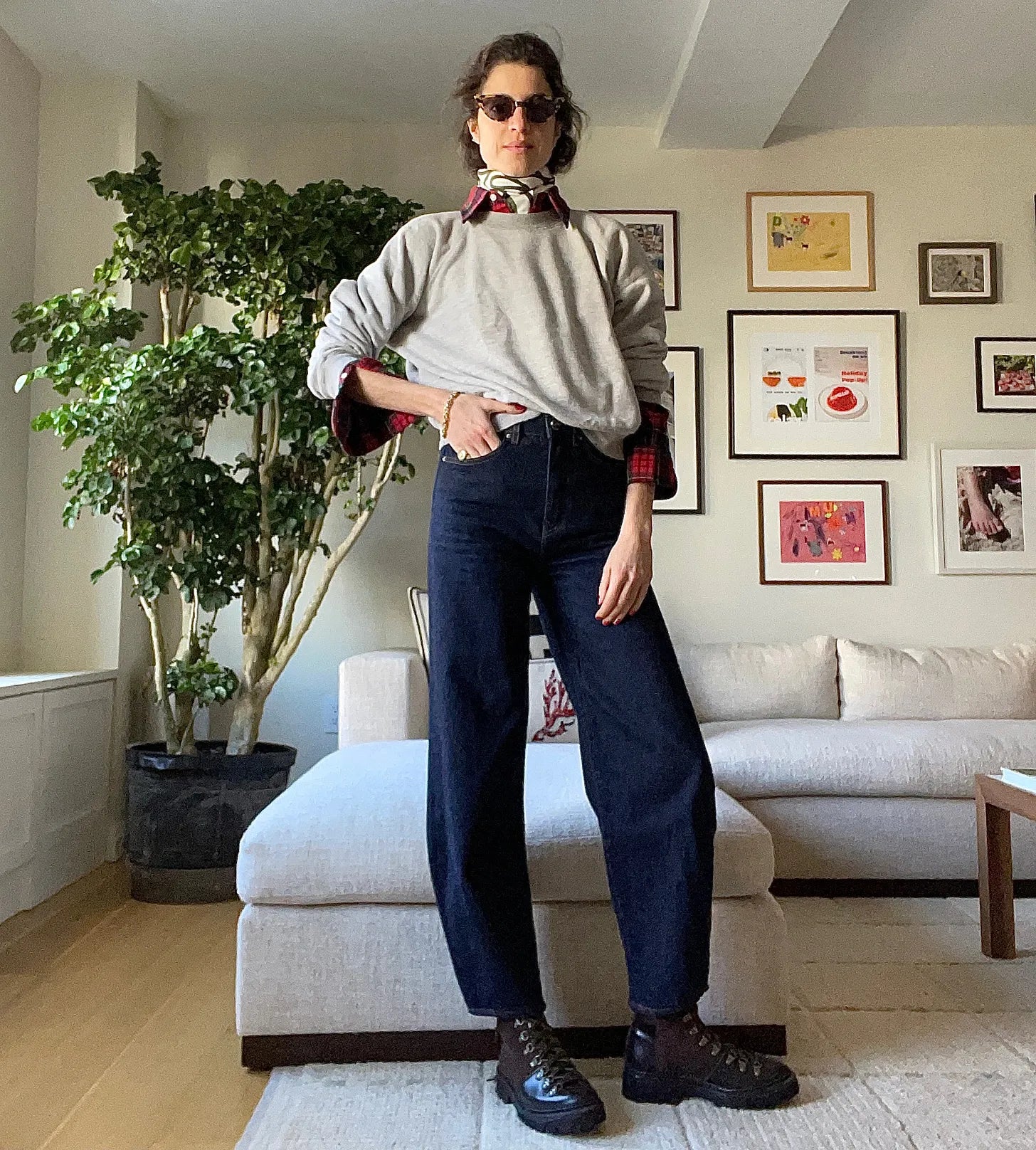 And that concludes this edish of how to get dressed. Thanks as always for being here, and subscribe if you like what you see!
I'm signing off yours truly,
Bob the Builder