What makes a dress/pant combo work?
How to nail the convenient trend of wearing a dress over your pants
If you buy something, I might earn a commission.
It's the right time of year to wear a dress over pants and I'll tell you exactly why — it's neither too hot to consider how superfluous and/or oppressive it seems to put pants on under your dress, nor too cold to have to cover up the sum of your parts in various layers of incomprehensible knits. The air is dry enough that you can wear a leather jacket without sweating straight into it, but warm enough too that if you'd rather not wear a jacket at all, that is a reasonable preference.
But why would you want to wear a dress over your pants? Because it can make a pair of old pants feel new, a pair of loud pants feel quiet or do the same for a dress — make it new, or tougher, or just a little more interesting. Also a good way to continue to use pants that don't close at the waistline anymore. But what makes a good combination work?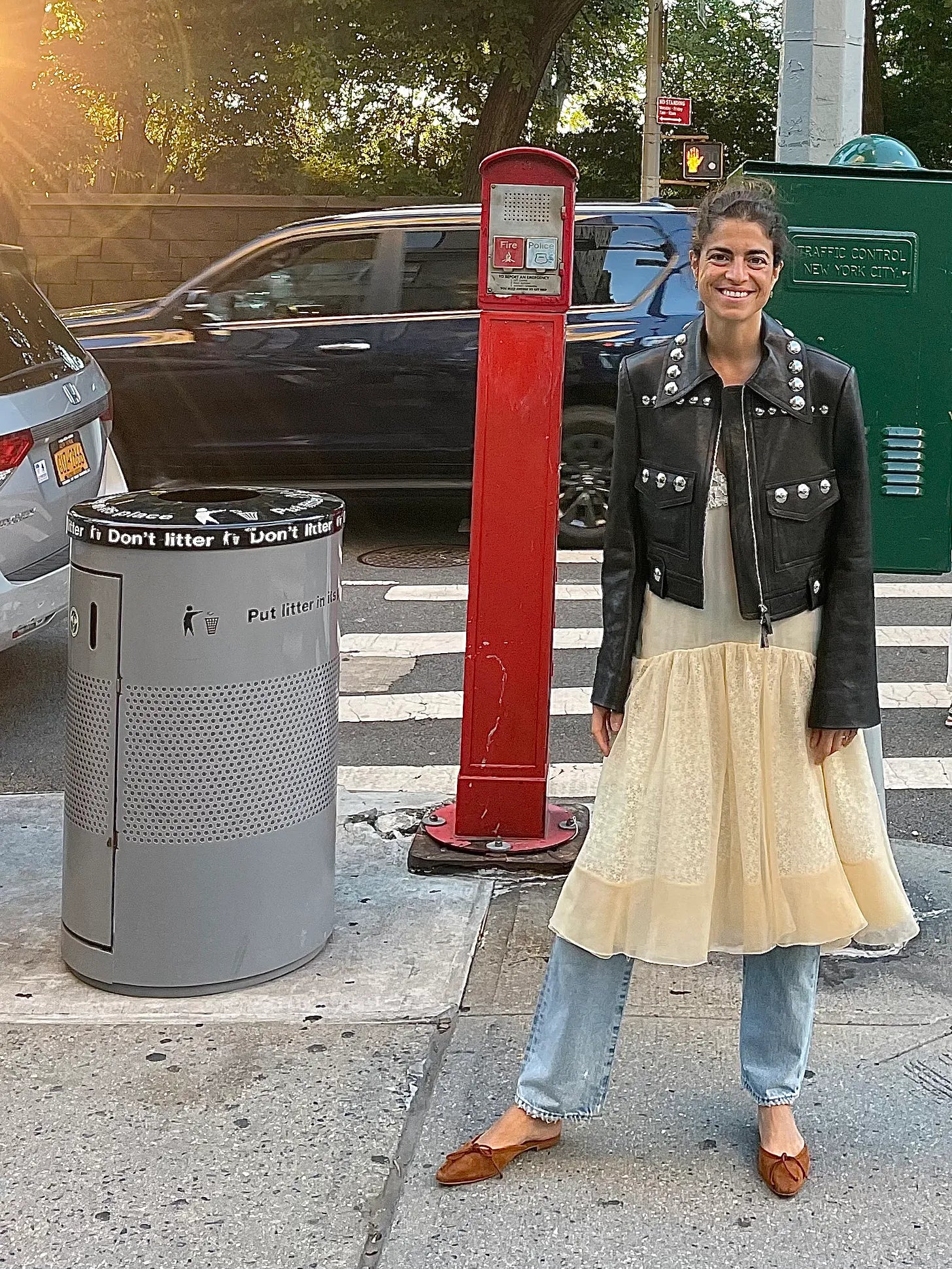 Fashion runways and street style make it like there are tons of ways to nail this and to the extent that there are lots of pants and dresses and very well dressed people out there, it's true!, but I have found that there are several key factors that will contribute to helping you to nail it in your own life.
Here are the ones to consider:
Length of dress. 
Mid-length works best — you'll want to use a dress that hits you around the meatiest part of your calves for the particular reason that it will cover enough length on your pants to make it look like you know you're wearing a dress over them, but that it will also reveal enough of the underlying pant to confirm the importance of their role. Here is what happens with a shorter dress:
Length and material of pants.
If you're wearing cropped pants, go more rigid — denim, suiting fabrics, etc. If you're going the long way, you'll want the pants to be softer — to slink down and create little puddles at your feet. When the pants are long but the fabric is rigid, the combo w the dress creates too many conflicting dynamics that honestly will probably shave some inches off your overall height.
Shape/style of dress. 
If your pants have a pronounced waist line (e.g. a button and fly, like on jeans or suit pants), better to go for a tent style of dress, or one with a pronounced skirt, rendered in a stiffer fabric (like jacquard or white cotton poplin) so that it doesn't create a weird bulk spot over the waist line of the pants, here's a good example of what I mean from Simone Rocha's 2015 Spring runway: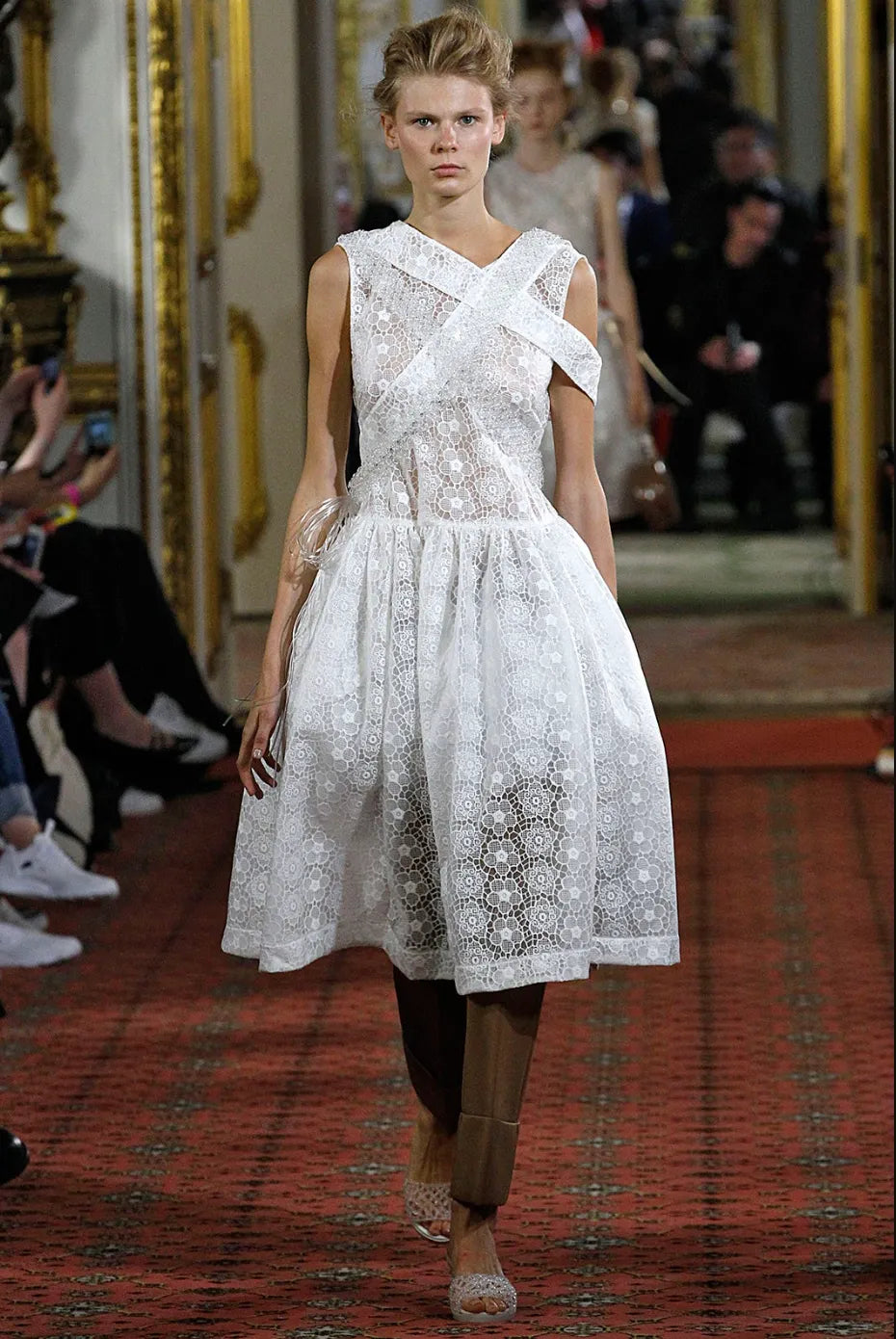 A note on shirt-dresses: When you're wearing a shirt-dress is actually among the only times that either jeans or pants with no apparent waist/longer inseam rigid means are a go depending on how you style the dress. Here's Jessica Willis for example: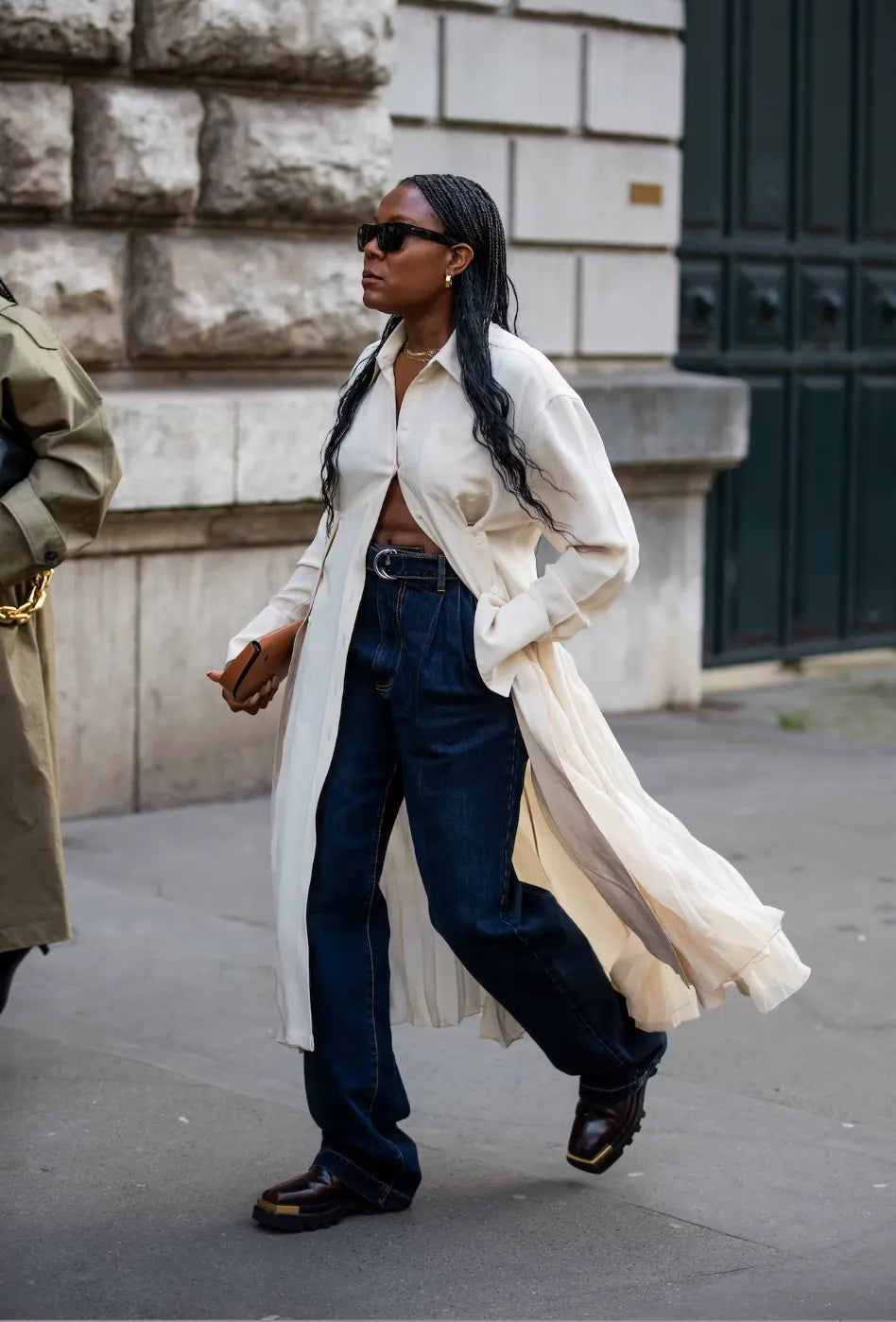 And here's an old runway photo from Brock Collection: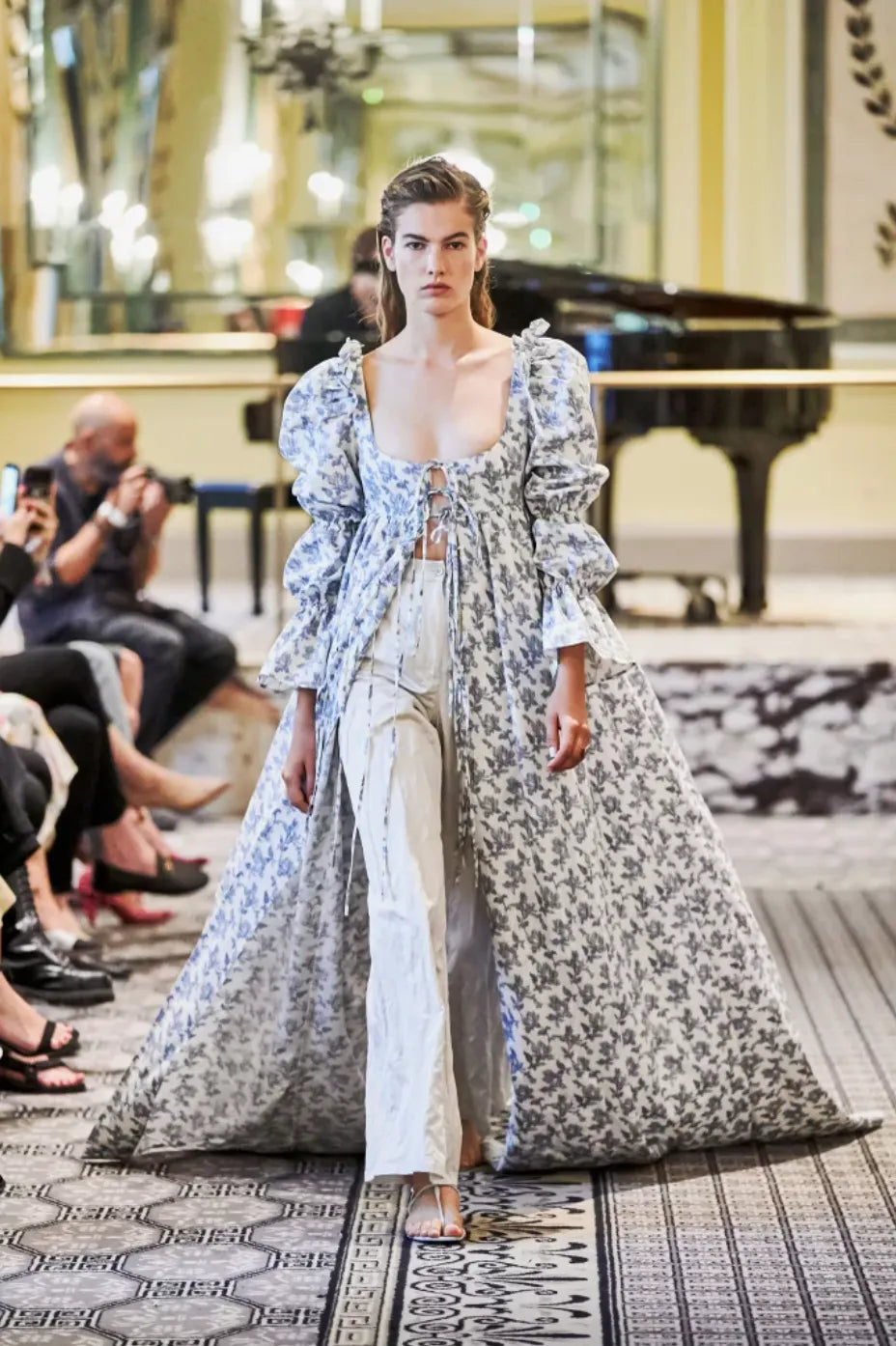 Shape/style of pants.
You never want the pants to be so wide that you can't tell they're pants — this looks more like you're layering dresses, which, if you want to do that, by all means!, but that is another thing. You also don't want them to be too skinny — they'll look like leggings, which is cool too, see: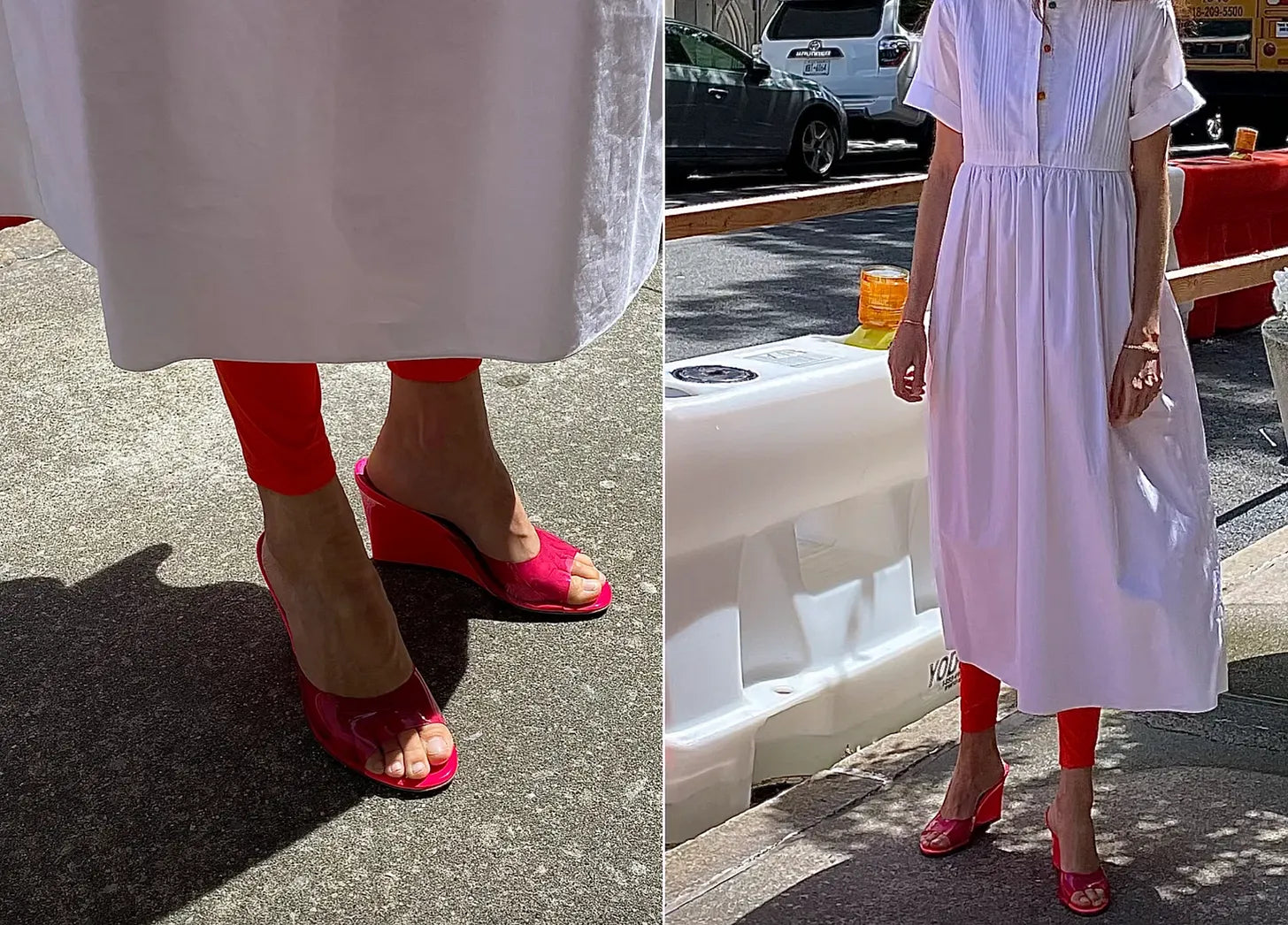 But again: that is another thing. So stick to a straight leg is my advice.
Neckline/proportions for dress and pants. 
The basic formula here is to match exposure of skin on top to exposure on bottom 1:1. If the dress is an open neckline, you'll want to match the exposed skin at your chest-line with either exposed skin by your ankles or open-toe shoes.
Here you'll notice I'm wearing a mid-length, a-line dress with an open neckline over ripped jeans doing their work to toughen it up. The pants hit right above the bone on the top of my foot, so they're paired with flat mules. I probably would have chosen sandals (flip flops!) if I didn't add the jacket, or if my pants were baggier but the closed toe/open back on the suede shoe catches the weight of the cropped coat without adding too much on either ends.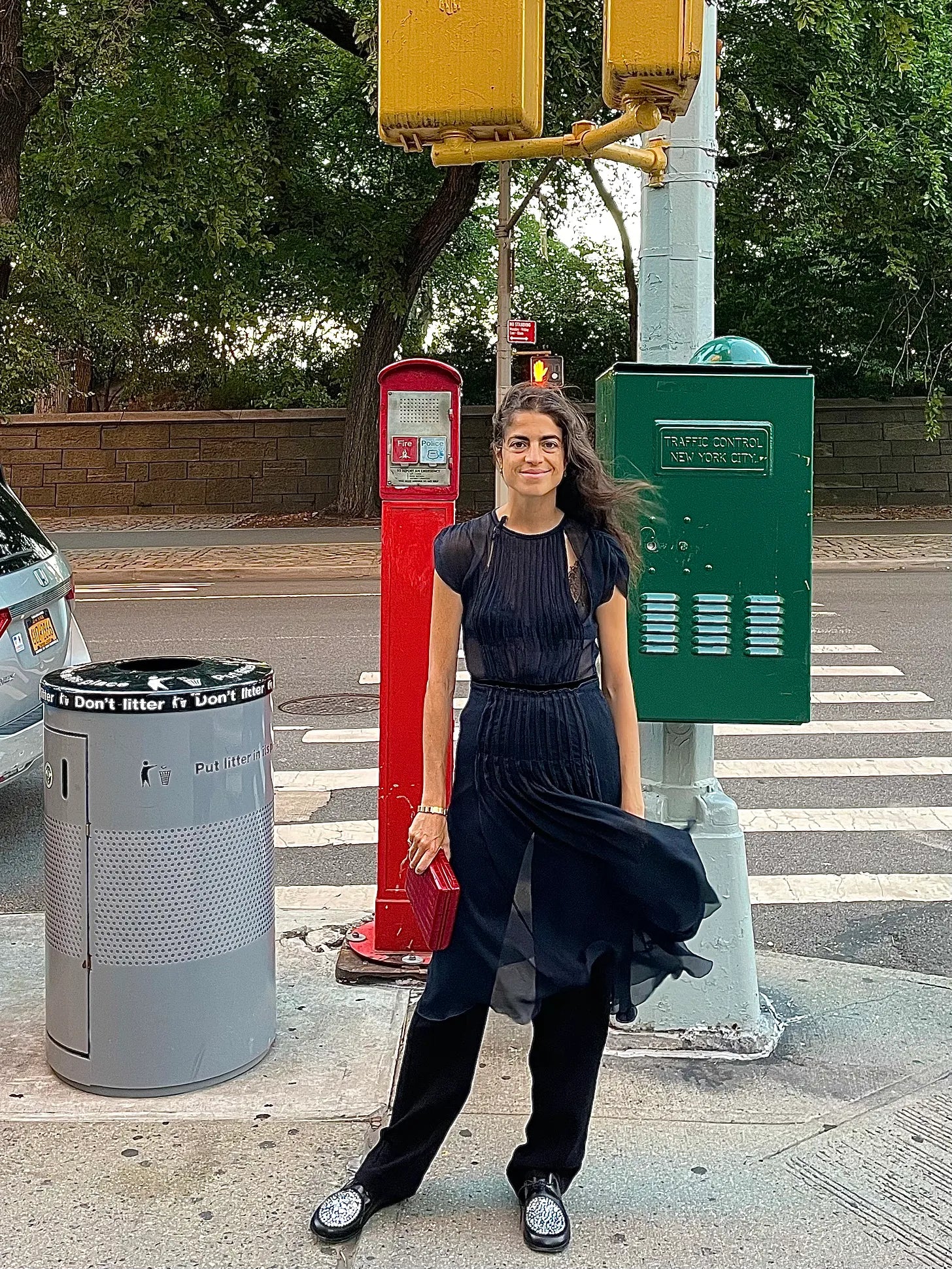 These are great pants from Asceno; the shoes are Loewe — these from Gabriela Hearst (on sale, not on sale) actually do a similar thing even though they don't look the same and you know what? This Norma Kamali dress could be great here. Not averse to this one either, but would probably style with a button down shirt under
Here you'll notice I'm wearing pants with a longer inseam and closed toe shoes — this works because the neckline on my dress is much higher, even though it is also very delicate. If you're going with a pair of pants that are softer/silkier than denim, you have a bit more flexibility in the kind of dress you wear over as far as silhouette and material (formal dress, casual dress — it doesn't really matter).
One thing I'll say though is there's something kind of cool about what jeans do to a formal dress, the dichotomy they create.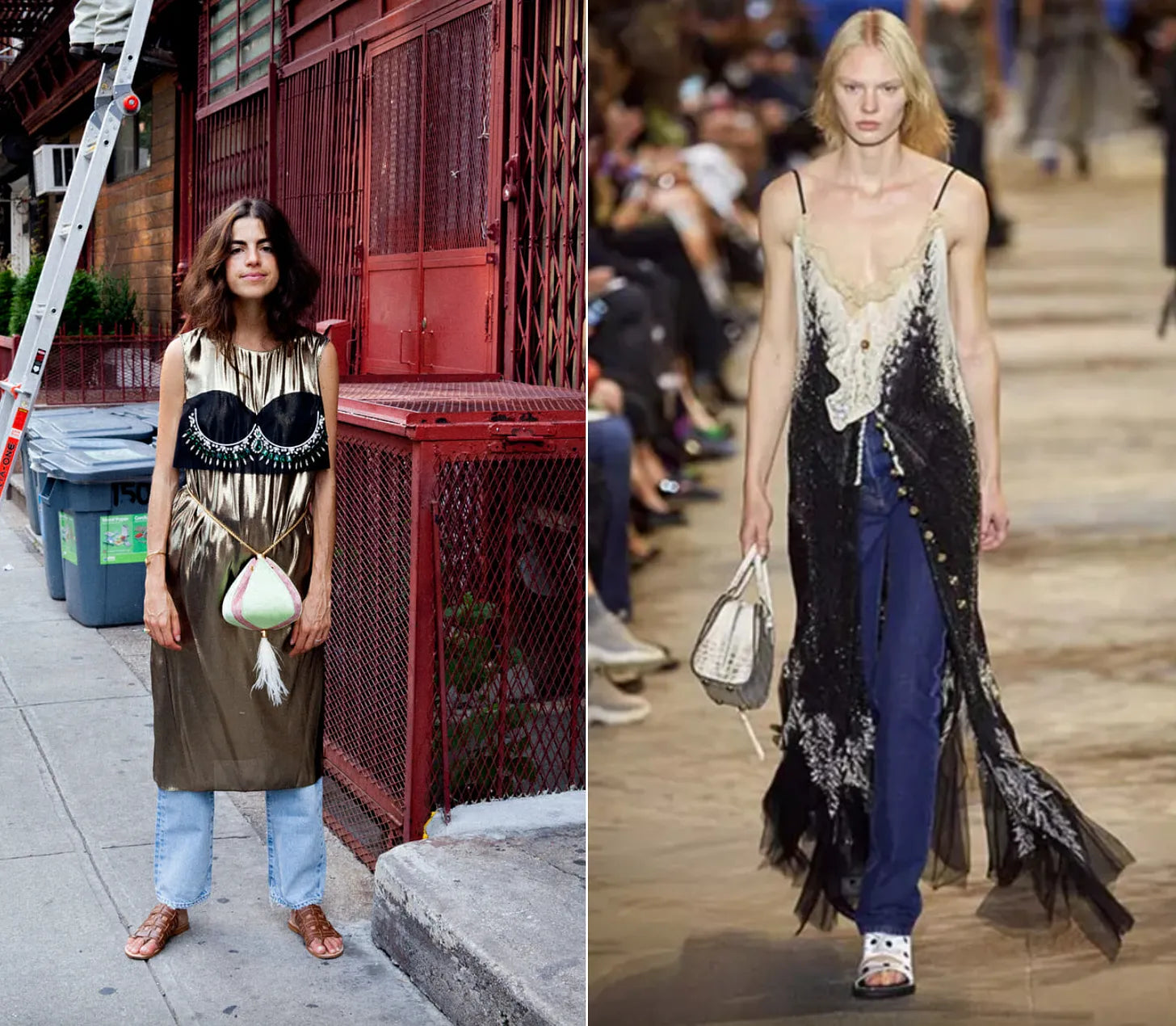 You offset the fanciness of the dress and more importantly get unconventionally informal use out of one you probably don't get to wear that much. More and more I'm beginning to think that a button-down front provides key flexibility.
But back to the look right before the above: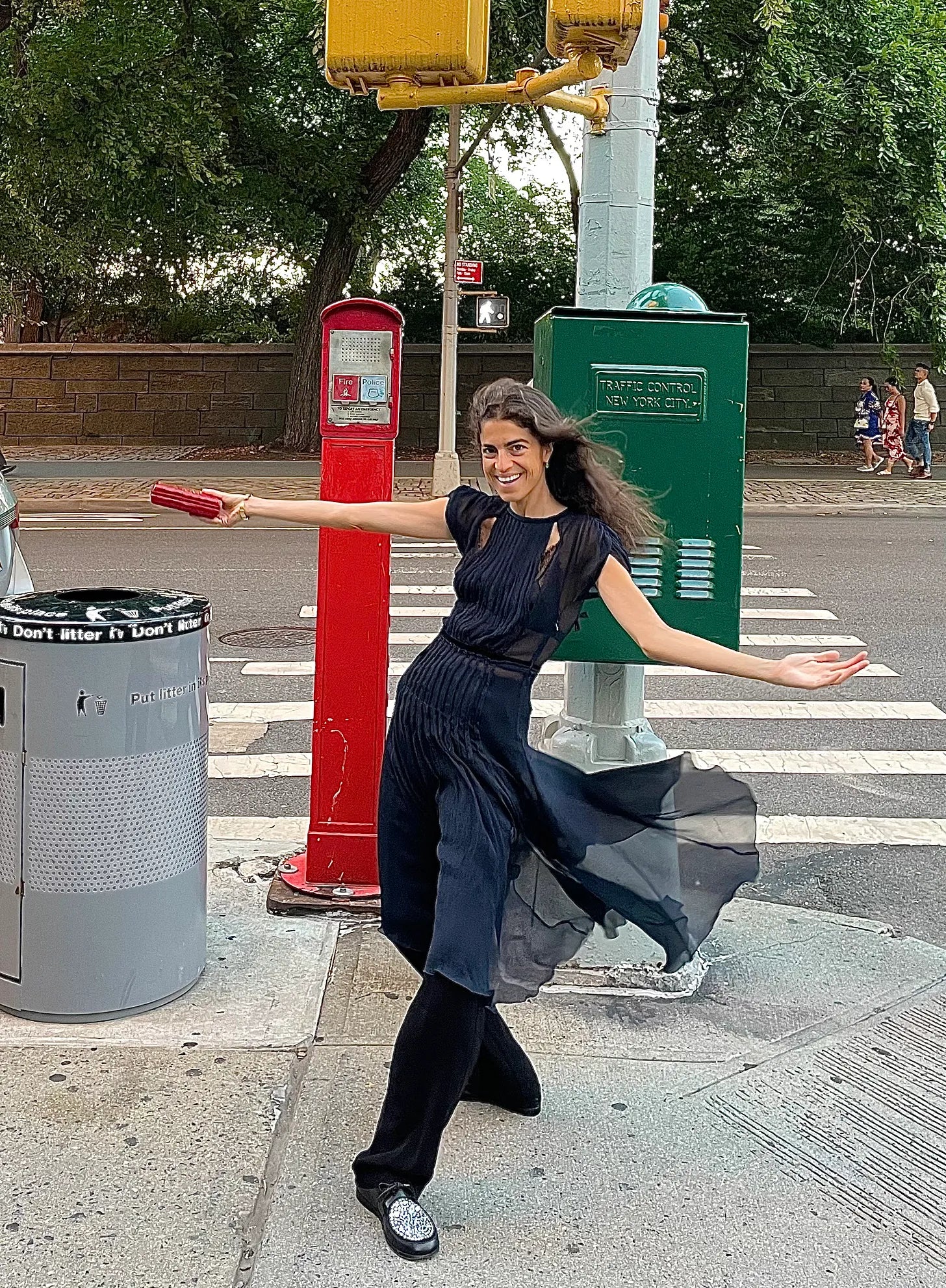 Actually, you know what? I said everything I think I needed to. So on this note, I wish you good luck, good riddance, and the forthcoming sight of a sunset to beautiful it turns you gold in the face.