What makes a pair of knee high boots worth buying?
Calling all browsers: another one too long for email
If you buy something, I might earn a commission.
A common misunderstanding with the concept of an investment purchase is that its calculated by cost-per-wear. For sure this feature is important: you don't want to buy something you're not going to use — and this is especially true when you're spending enough to call it an investment buy, but you also don't want the thing you're getting to make you feel like a need a closet overhaul — like everything you have is stale or doesn't go with your new thing. The way I see what actually makes something worth getting is in how it (the thing) reframes the rest of your closet.
How it reinvigorates your existing wardrobe. How it facilitates the appreciation of the subjective value of the rest of your wears by resurrecting what rests dormant in the back. How it is different — precisely opposite, in fact, from these verbose sentences that sound different but mean the same thing over and over (and over) again.
So when it comes to what I believe is worth spending real money on, what makes something an investment piece — the best first thing to look at is whether the item in q will, yes sure, cast a bright light on the rest of the stuff you already have, perhaps challenging you to consider that a formal dress could be much more casual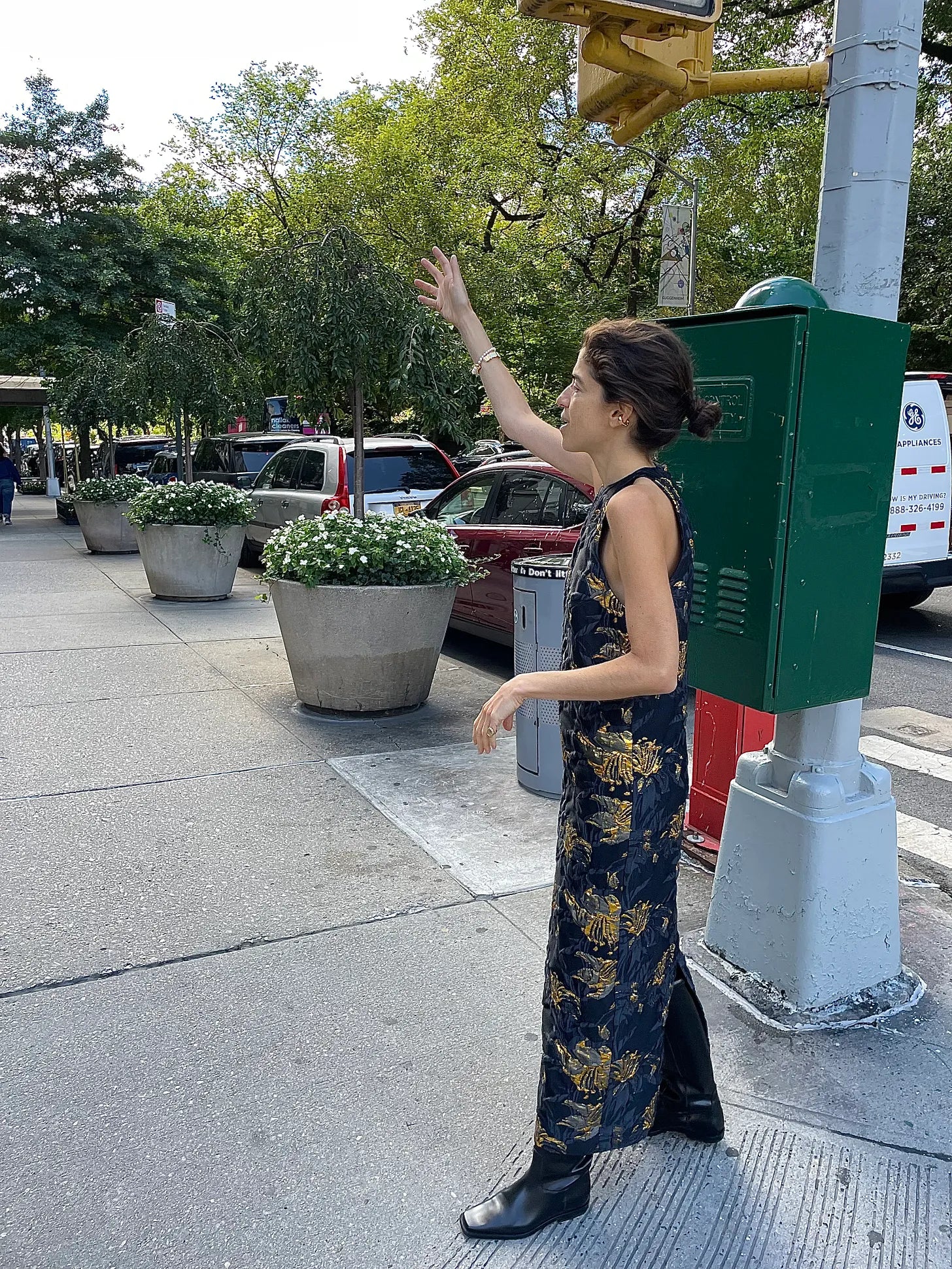 This dress is from One/of — an incredible, bespoke brand by Patty Voto, who makes everything using deadstock fabrics from various factories that supply some of the greatest names in fashion (see: Dries)
but even more, will it inspire you to wear your tried-and-trues anew?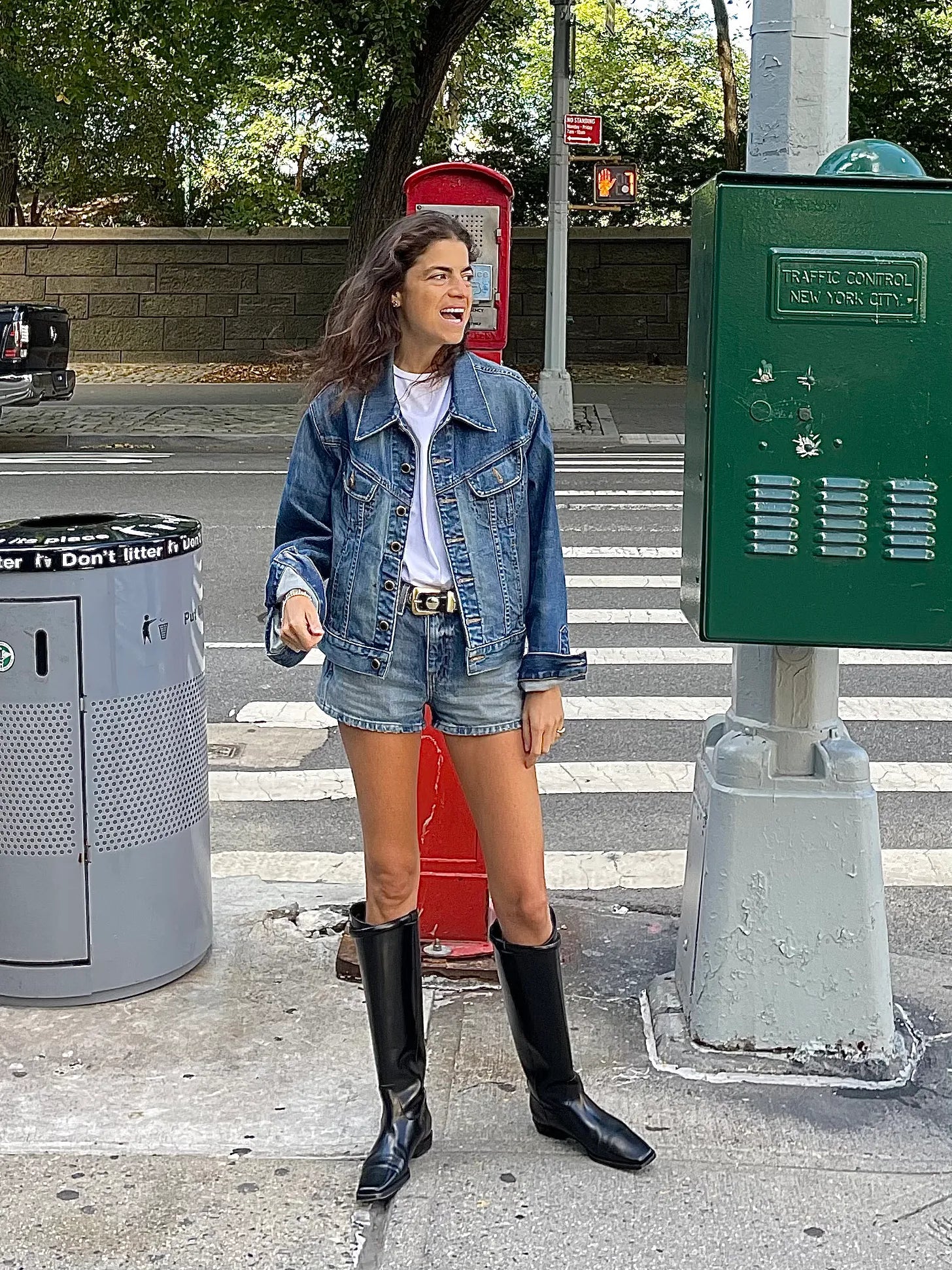 Flip a dress on its head, make you think it's a top?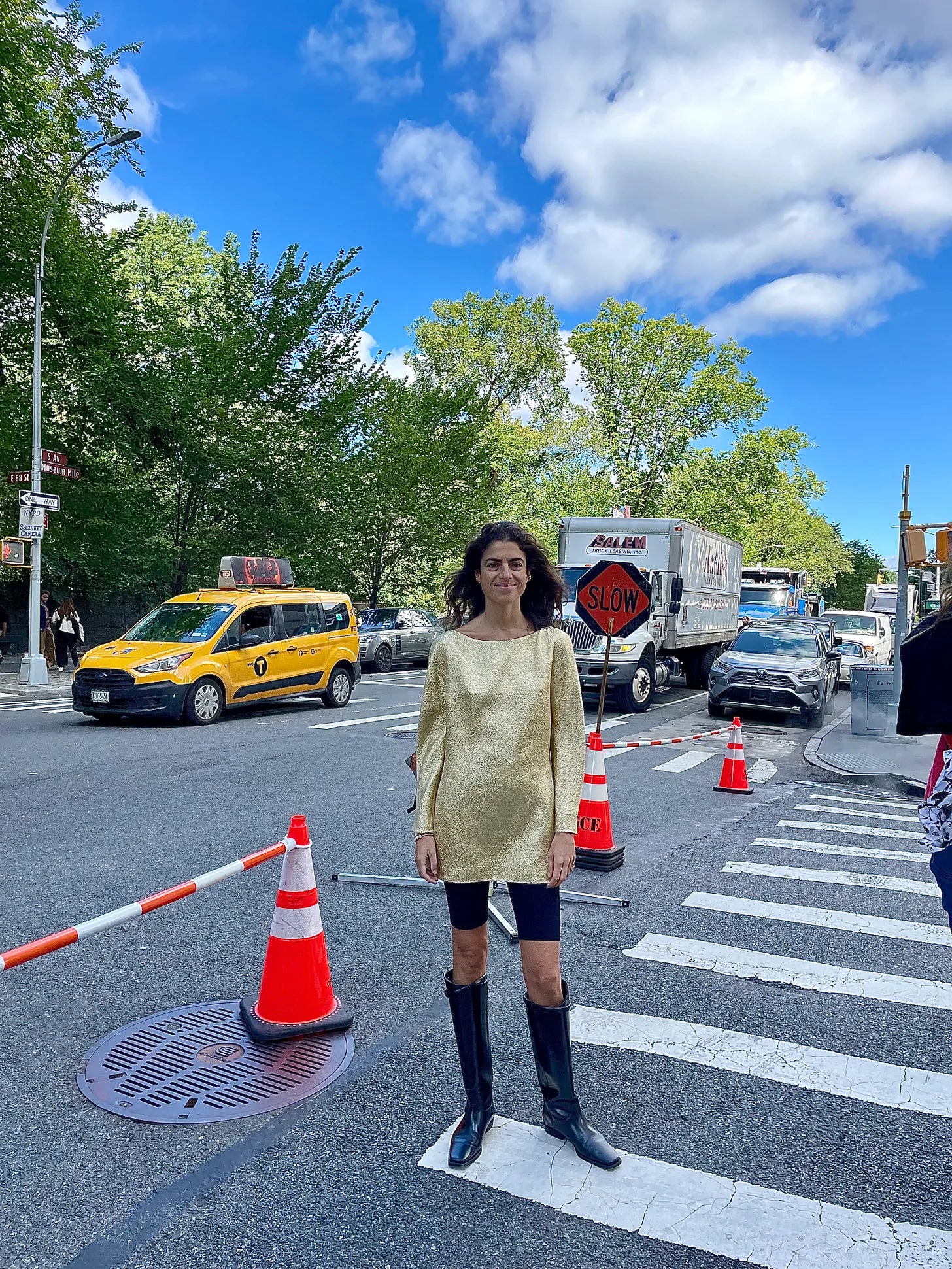 This is a gold Michael Kors dress that I bought from a consignment shop for $40 three sizes too big. It was knee length and I chopped into a mini dress — just a reminder that you don't have to be a designer to get your desired fashion outcome! It's worn here with Maria McManus bike shorts
Or remember a pair of pants you haven't worn in years.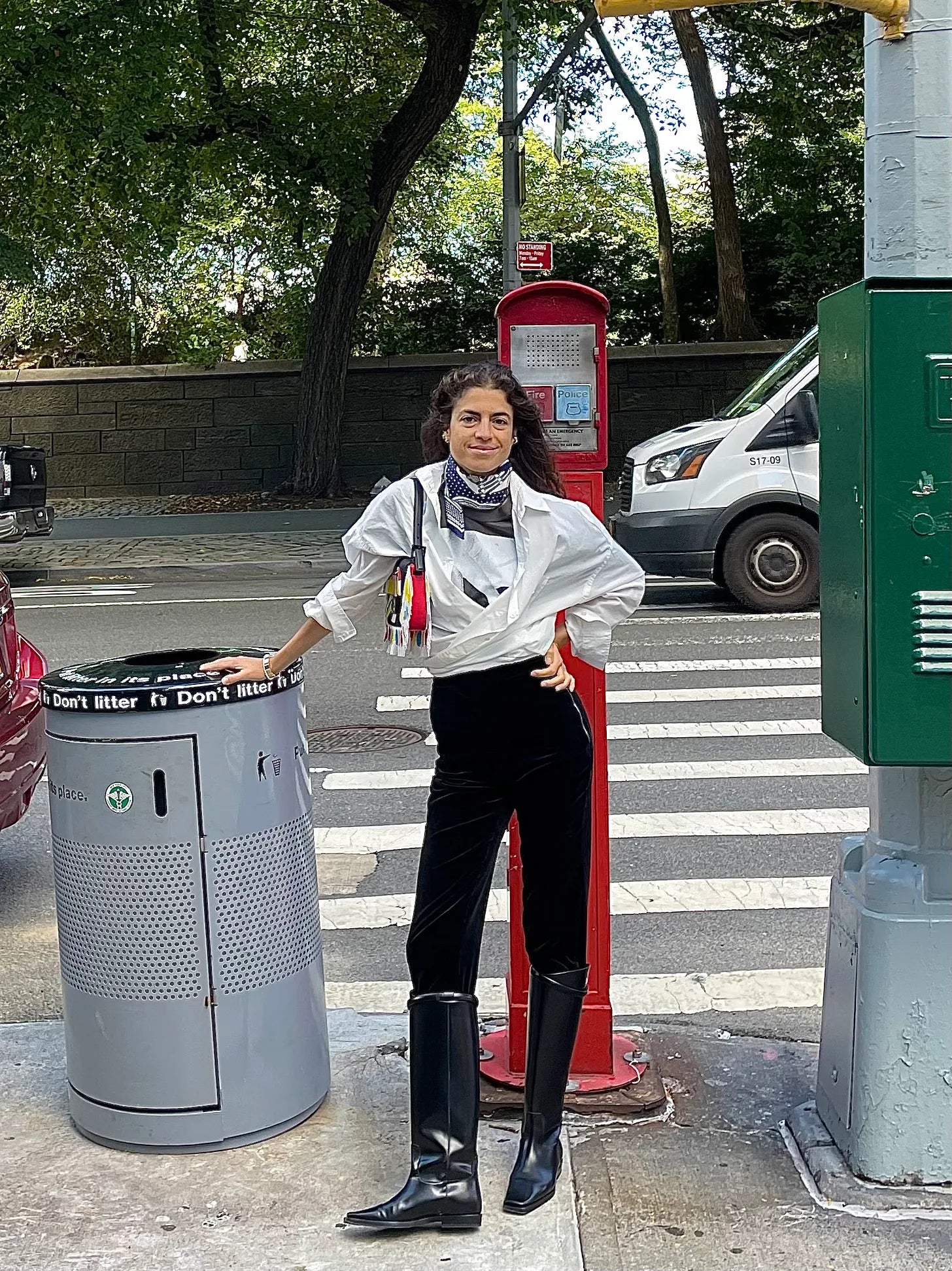 Here's this LMND shirt from last week's dispatch, styled over a Vaquera t-shirt. The pants are these great velvet samples from a small European brand that doesn't exist anymore but here's a good comp, in wide-wale corduroy
This is the thing I keep thinking about when it comes to knee-high boots in partic — I've been a staunch winter jeans wearer for like, 7 years, with the occasional pair of denim cut-offs or mini skirt styled over tights with loafers trickling in when "I just can't" with the jeans but since riding-style boots have re-entered fashion's lexicon, so many more kinds trousers seem fun to wear now.
Mid-length skirts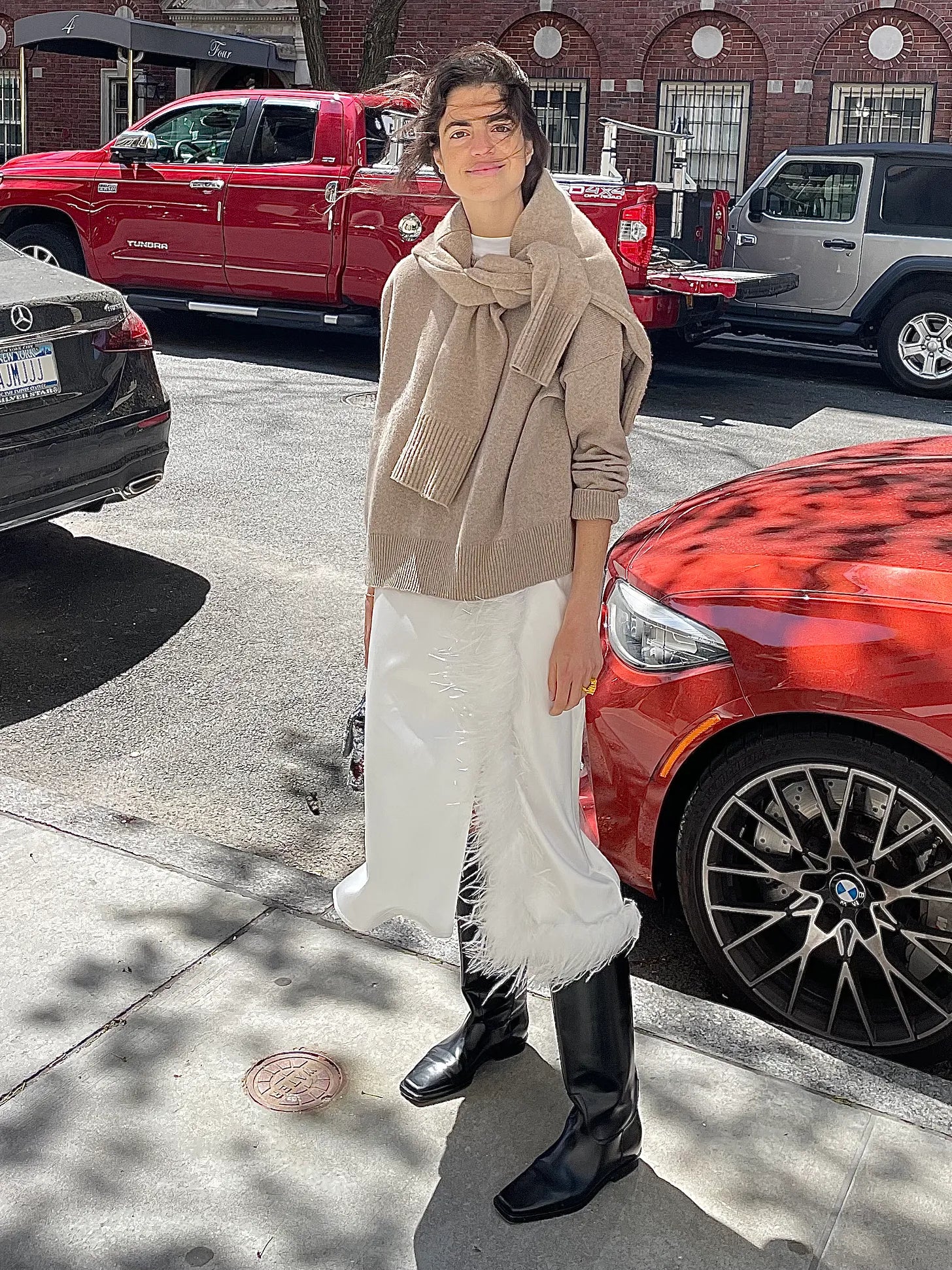 Or dresses read less matronly: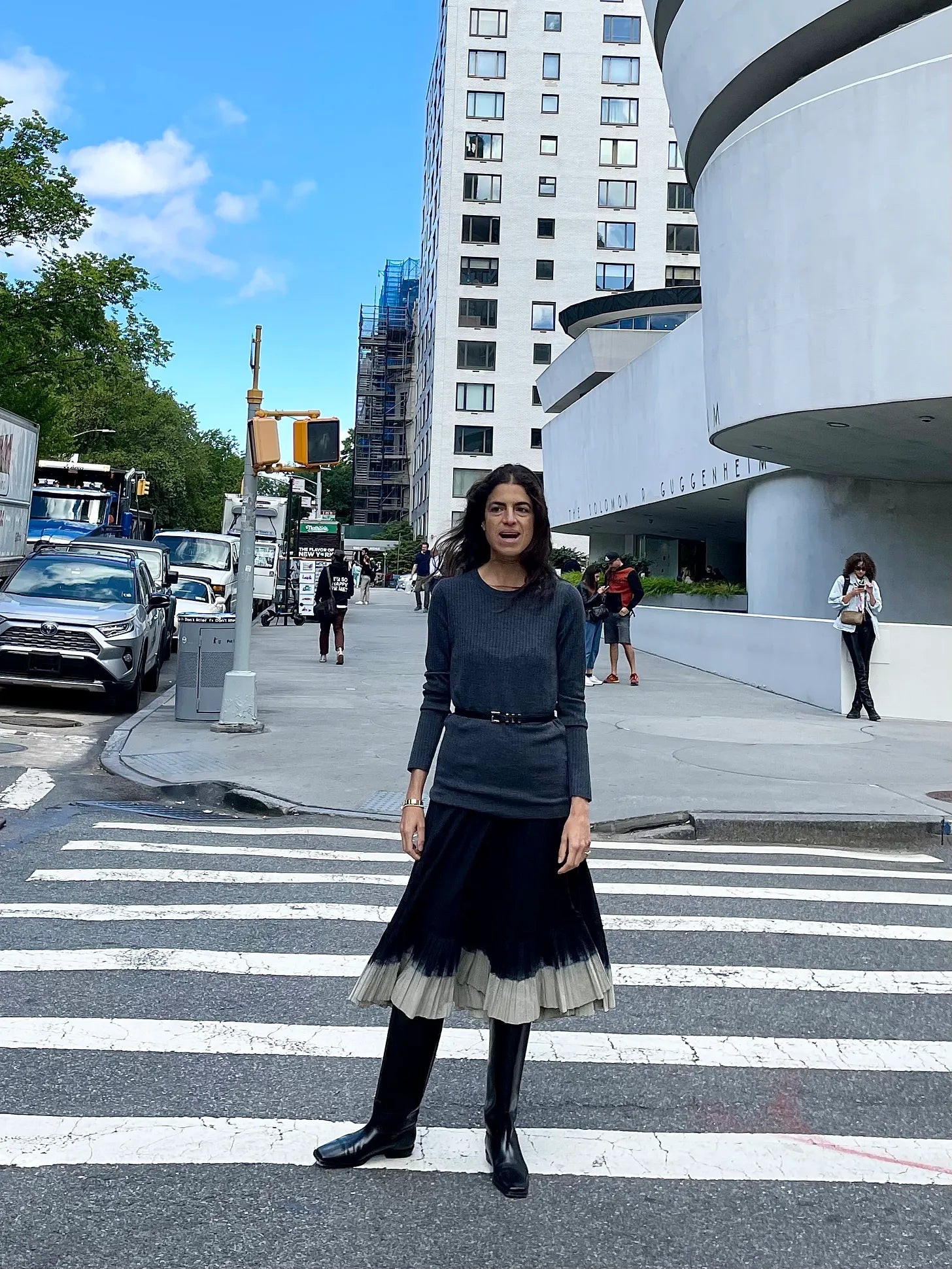 A great merino crew neck if you're in the market, right this way. Or at least like they're not only for summer 👇🏻👇🏻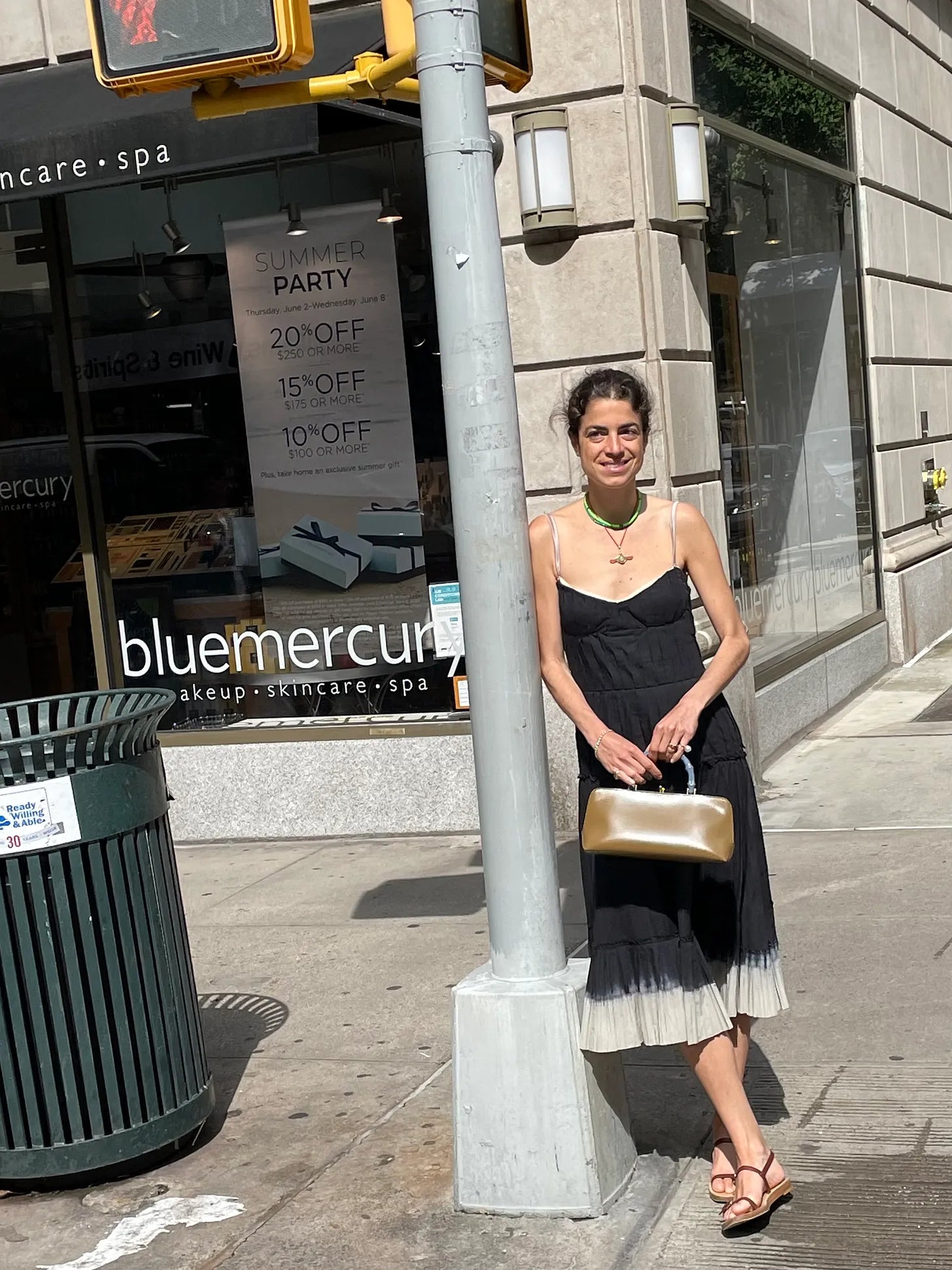 Short things make more sense outside the context of warm weather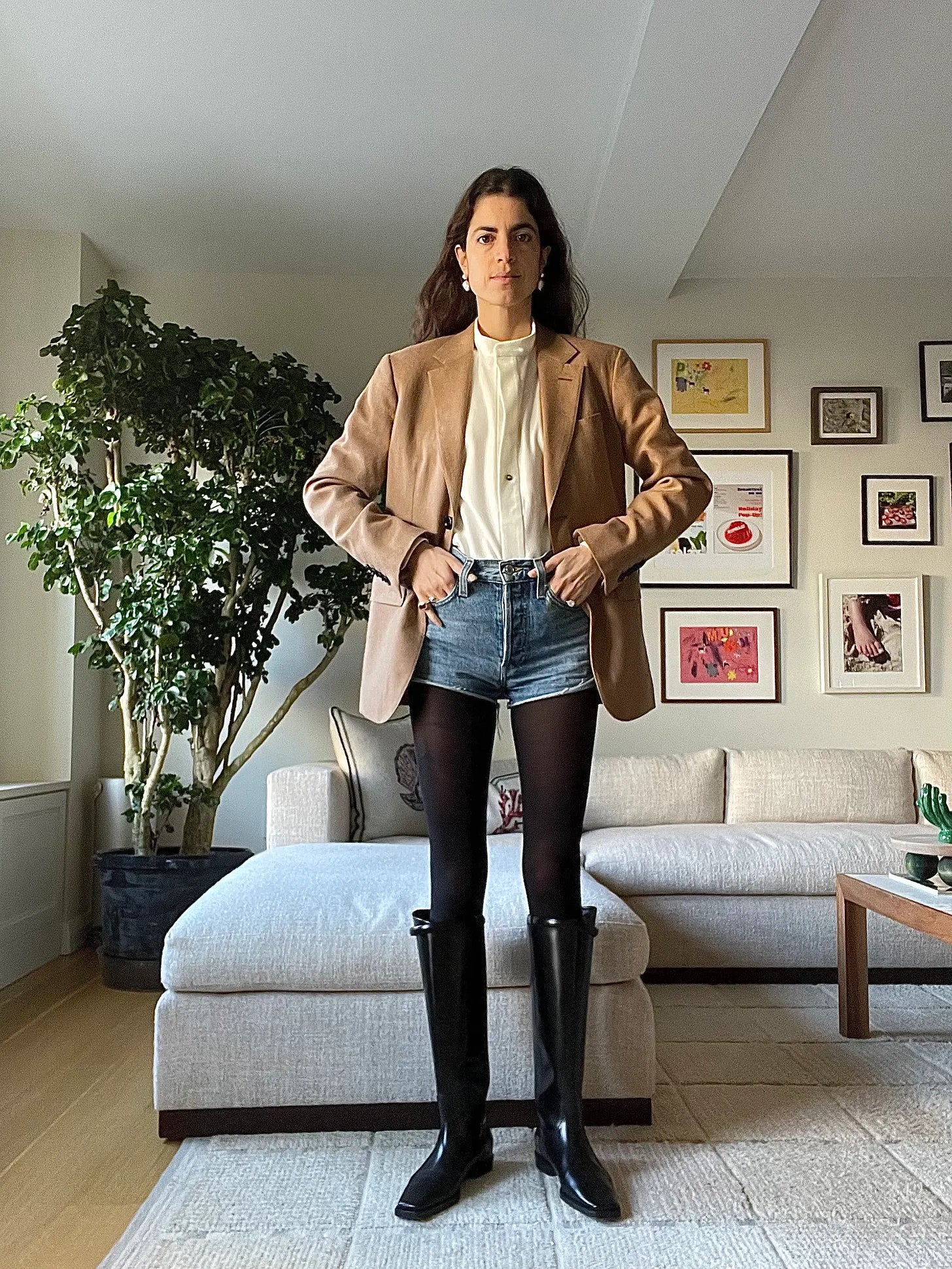 And I'm inclined to depend less on the jeans, which feels so nice.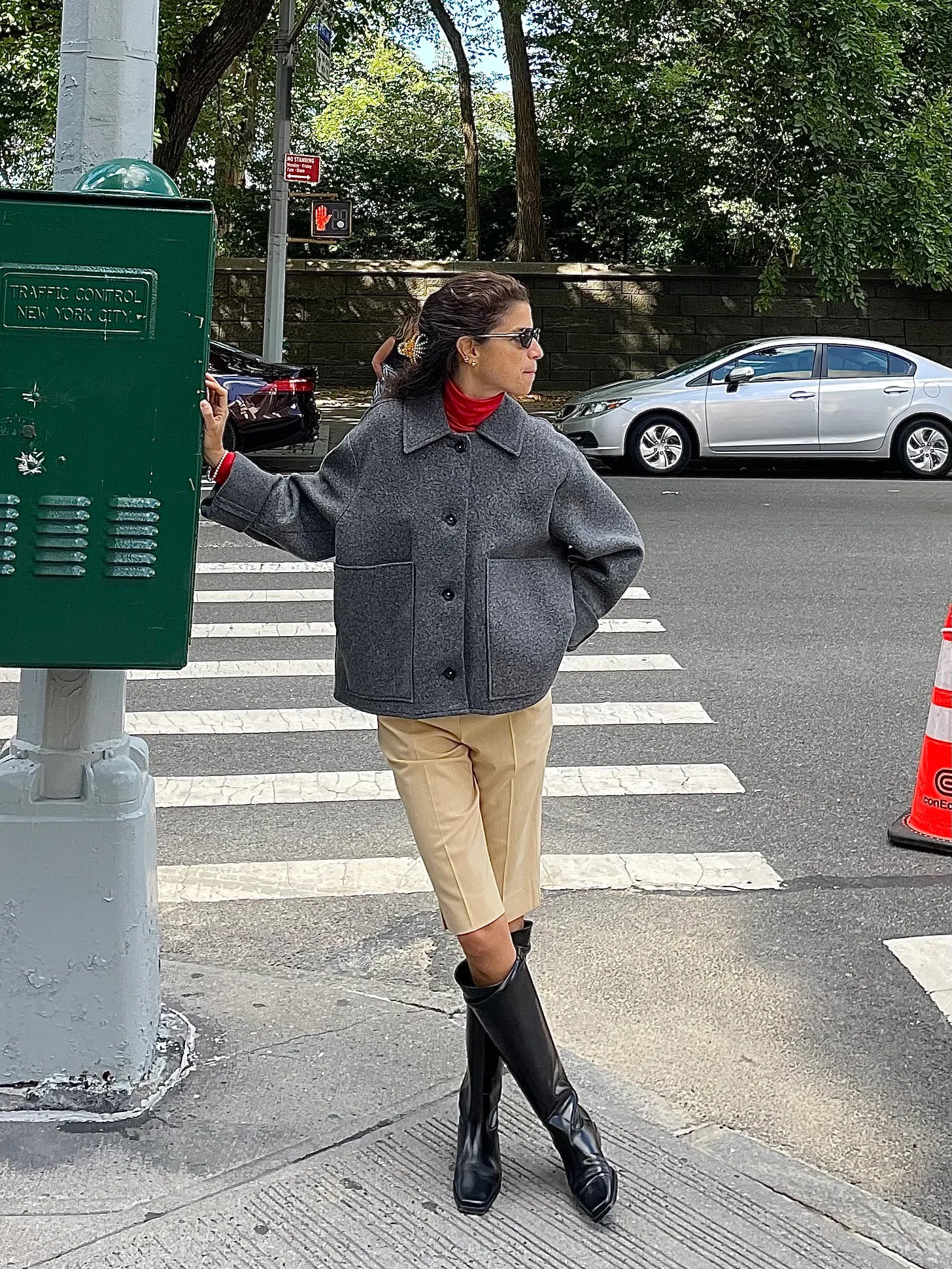 So! If you're bought in on tall boots as a new way to imagine your existing wardrobe — the artist formerly known as "an investment piece," the qualities to consider when looking for your pair include:
1. Toe shape. Could be square or round, I'm not partial to either formation but I do recommend a more narrow toe — this gives the boot a more refined edge, which is particularly good if you are going for a chunkier sole like this or this. OR THESE!
2. Shaft. There are two kinds of knee-high boots — those that take the natural shape of your leg, with curvature between the ankle and calf, which doesn't look great with pants tucked in (but is possibly better if you're wearing your pants over them, although at that point, why not just wear ankle boots?) and those that ground your legs into tree trunks. When your legs look more like logs in your boots, that means they maintain a straight shaft — this is what I recommend! They look better with skinny pants, straight pants, complement short skirts or shorts, and work just as well with long dresses or skirts. Most riding boots (cowboy or English princess-style) maintain a straight shaft. Here's a pronounced example.
3. Heel height. For an everyday boot, you'll probably want little to no heel. I'd say this is as high as you should go if you're running the heel route, and this or this is as low. You don't want the boots to be so barely there that you feel like you're in socks — it won't look as good with short things!
4. Color/material. Brown suede — in particular if you wear a lot of navy, grey or light and mid-wash denim. Also a softer option if you wear a lot of leather. Black leather if you're more into shades of black, grey and optic white.
Andddddd that concludes this edish, live from Le Pain Quotidien. I'm including most of the boots linked above below for you — and if there's another pair you've had your eye on, but want a second opinion for, comment and we'll assess tg! Ditto that if none of these tick(le) your fanc(y), but still, you're in pursuit.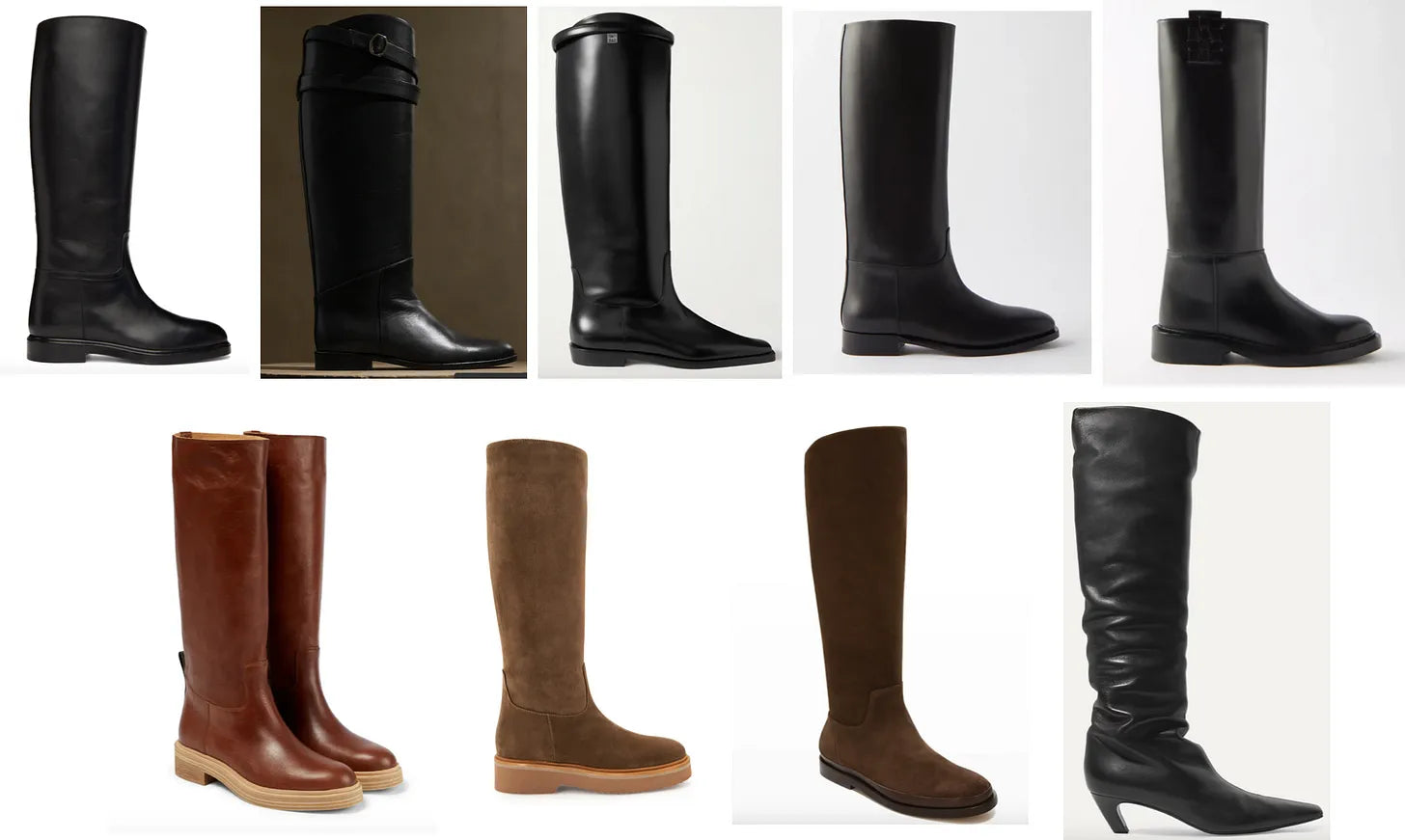 From top left: Legres for $915, Banana Republic for $590, Toteme for $1000, The Row for—woah—$2100, Hereu for $530. Not pictured but good looking: these from Flattered for $349. From bottom left: Brunello Cucinelli for $1396 — (this Rachel Comey pair for $695 is great too), Aquatalia for $450, Vince for $595, Khaite for $1000. NOT PICTURED BUT: Here are 4 consignment picks, too. Ralph Lauren for $229, Prada brown suede for $325, Versace for $166 and Burberry for $310