What makes a pair of ripped jeans good?
Breaking down the items we call "wardrobe basics" to better understand what makes them good
If you buy something, I might earn a commission.
Hi, how's it going? How was your week last week? I (accidentally) peed in my denim cut-offs while walking home on Tuesday night, thus formally knighting them the world's least effective denim diapers: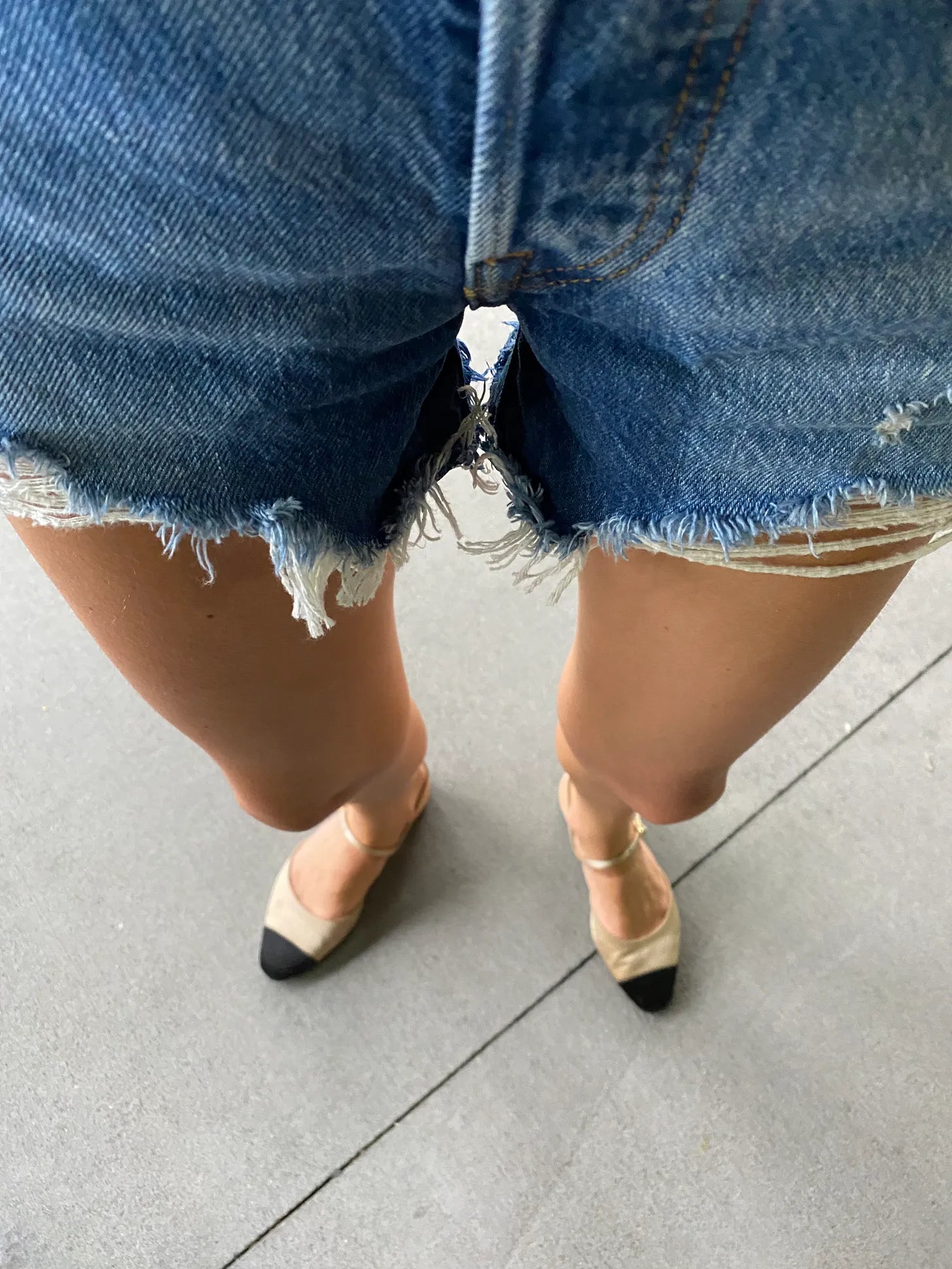 Which is only tangentially related to the topic at hand — ripped jeans, from an issue of The Breakdown, a subscriber-only series I launched last month wherein I break down the items we call "wardrobe basics" to try to better understand what makes them good. So far I've written about white button-down shirts and casual summer sandals. Today, we're talking ripped jeans, not to be confused with bad diapers.
So, what makes a pair good? There are three technical variables to consider and one contextual one.
The technical variables are:
Fit
How do you know your fit? This is a broader question, but one worth answering if you're trying to build a capsule wardrobe. I recommend taking stock of what other jeans/casual pants are in your closet. How long have they been there? Which ones do you gravitate towards most often? Which do you wear (or want to wear) the most? What is their fit, what is their length? How do you feel when you're in them?
How do you know if they work with ripped knees? The holes look cleanest on a straight leg (both wide or narrow styles work), with a mid or highrise waist depending on your preference. The length of the jeans should hit right above or below the ankle (these, from Pistola for $128 or these from Rollas for $99 are a good reference for right above the ankle, and these, from Slvrlake for $181, are a good reference for right below).
The other option for length — if you don't care as much as elongating the length of your legs or don't mind concealing most of your foot when you're wearing shoes is: baggy (figure 1-2 inches longer than where your leg ends — these from Good American for $149 are a great ref and I like these in white from Re/done for $265 too).
An addendum on baggy jeans as they relate to ripped ones: If you're trying to build a wardrobe of timeless items that will grow with you, I'm not sure whether ripped jeans fall into a universal enough category that I can tell you with conviction to prioritize getting (or making) yourself a pair. However, if you're into the baggy jeans (see: these and these for reference) that have been surfacing over the past 18 months, we've definitely not yet reached peak, which means you have a solid 2-5 years before they start to date if they ever do (skinny jeans, which so many were so sure would be a flash in the pan of the early aughts have been canonized as a staple). All of which is to say, if you're looking for a pair, and want to call them a staple, you might want to get some without rips.
Back to the rips, per the shape: a straight leg does a nice job at cupping the butt because of how they fall down the sides of your lower half, but if you don't wish to accentuate your butt, sizing up one or two times and then belting your pants (or not, just tucking a shirt in) works a pretty solid wonder too.
Wash
Mid-to-light. Better on summer denim, which is lighter weight than winter denim and given the broader context of a summer wardrobe — often full with lighter weight clothes like cotton t-shirts and linen blouses or tank tops and button-downs, rendered in brighter (or softer) colors, the light-to-medium wash match more things, more often.
These from Re/done are a good color reference. I'm not averse to going this dark and now that we're entering bootcut territory, if you're into the shape, these from Wrangler are a sensible bet.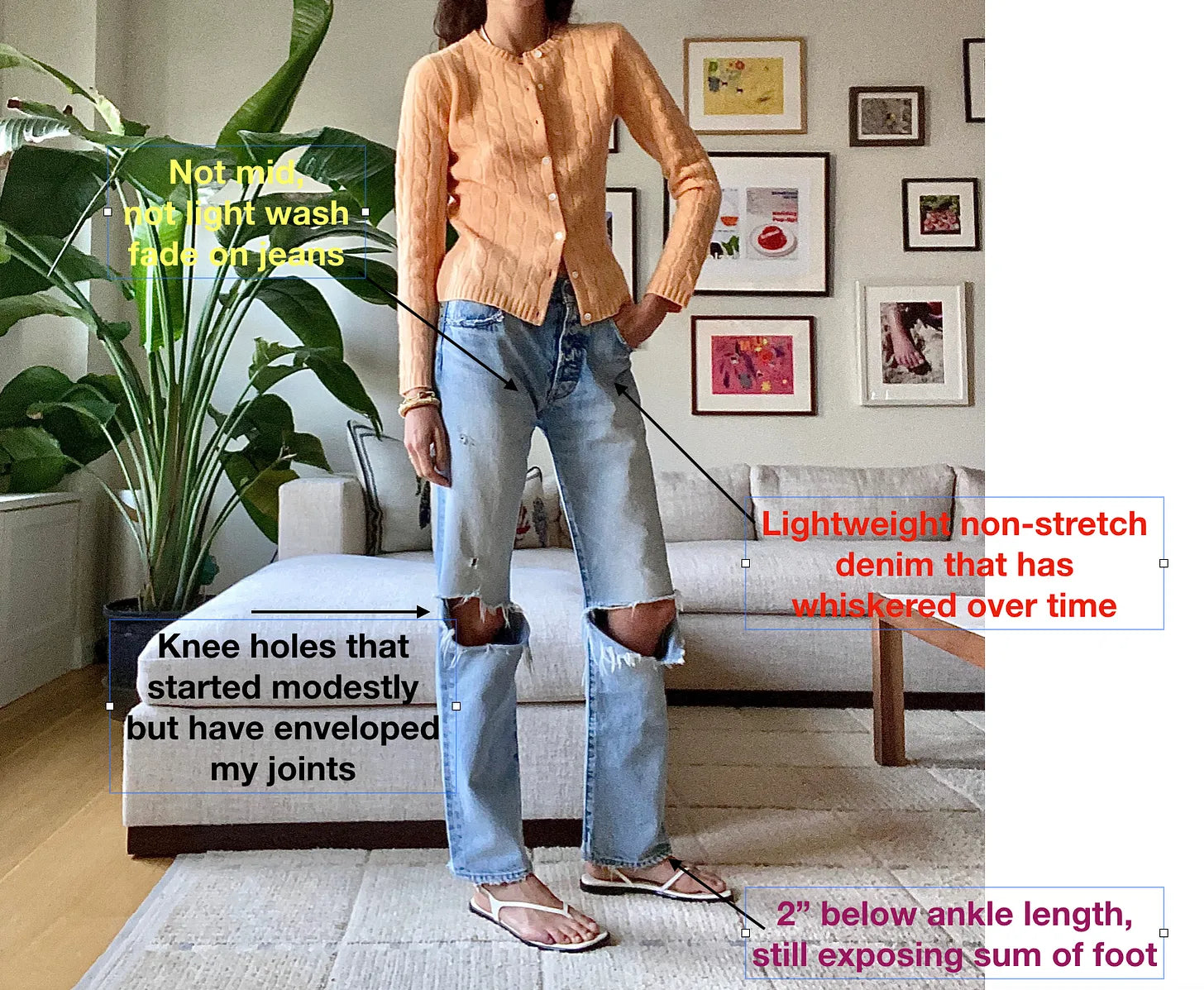 Fabric
Non-stretch is a personal preference but both non- and stretch work.
I like the former because the color settles into the denim (Moussy's Odessa style, which are the ones I'm wearing but with a sewn hem, are a good reference here; so are any number of vintage Levi's 501s) in such a way that it's almost like you're witnessing as these two components meet and genuinely become one thing. They go on to fade as one, discoloring in gorgeously precarious places, ripping by the joints and creasing indelibly within the crevices of your upper legs. By the time you've stood up and your knees are protruding from the pants, they've become something entirely different. And in this way, they are uniquely and independently yours.
Patience manifested.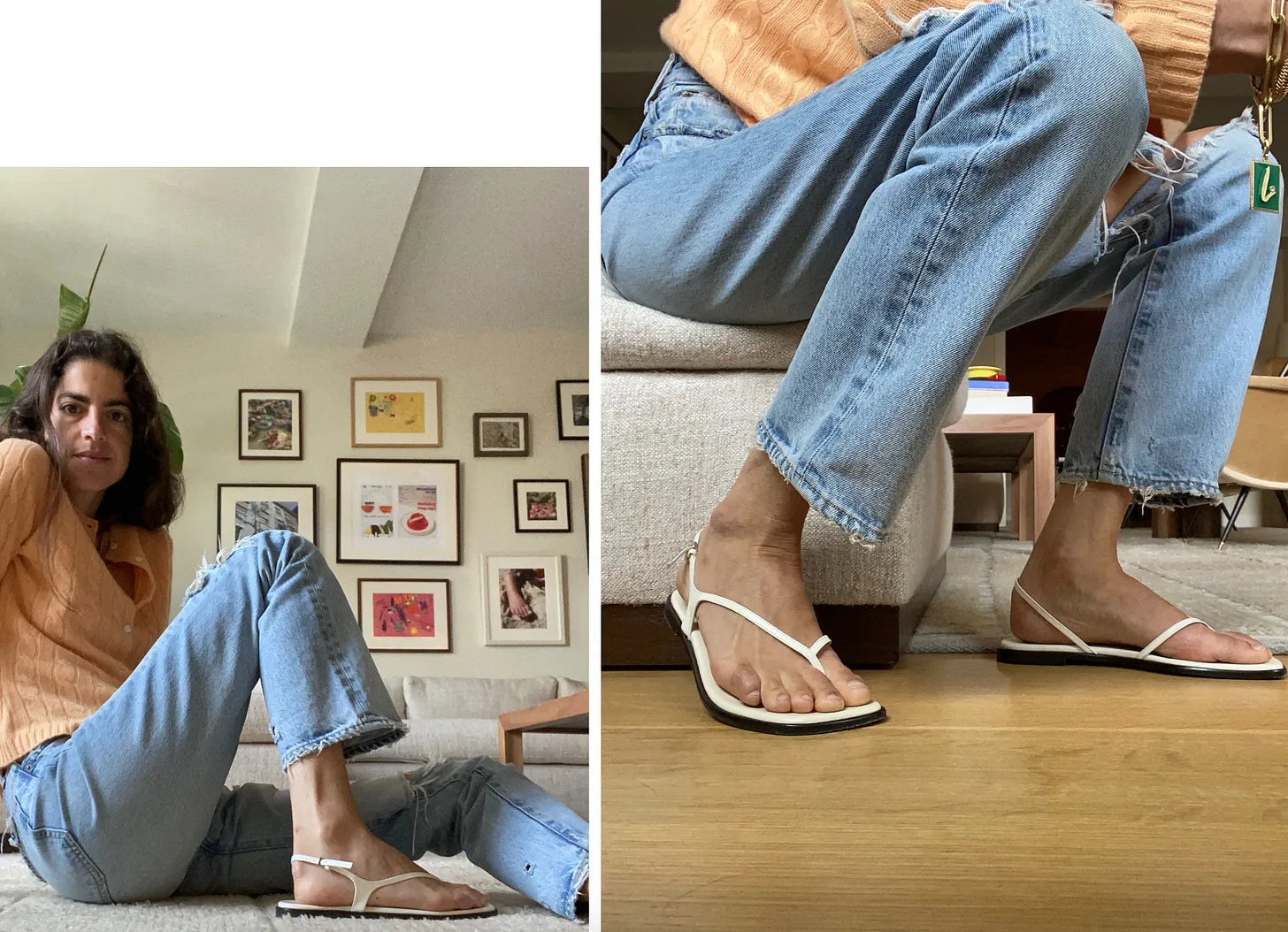 The context
Where are you going when you wear ripped jeans? Who will you be with? Do they make you feel a way when you put them on — do you select them for the express purpose of espousing a specific persona?
Or are they used more aesthetically, as a tool to create some contrast, a paradox, or even contradiction — the yin to a cable knit sweater's yang. Are they milk to coffee or oil to water? There is no right answer but whatever you say will govern the context on one hand and how you style them on the other.
Here is the logic behind my preferred method of wearing (as a tool to create contrast, no question, in a wide-but-straight leg, with a mid-rise waist/ length just below the ankle and rendered in a very light wash):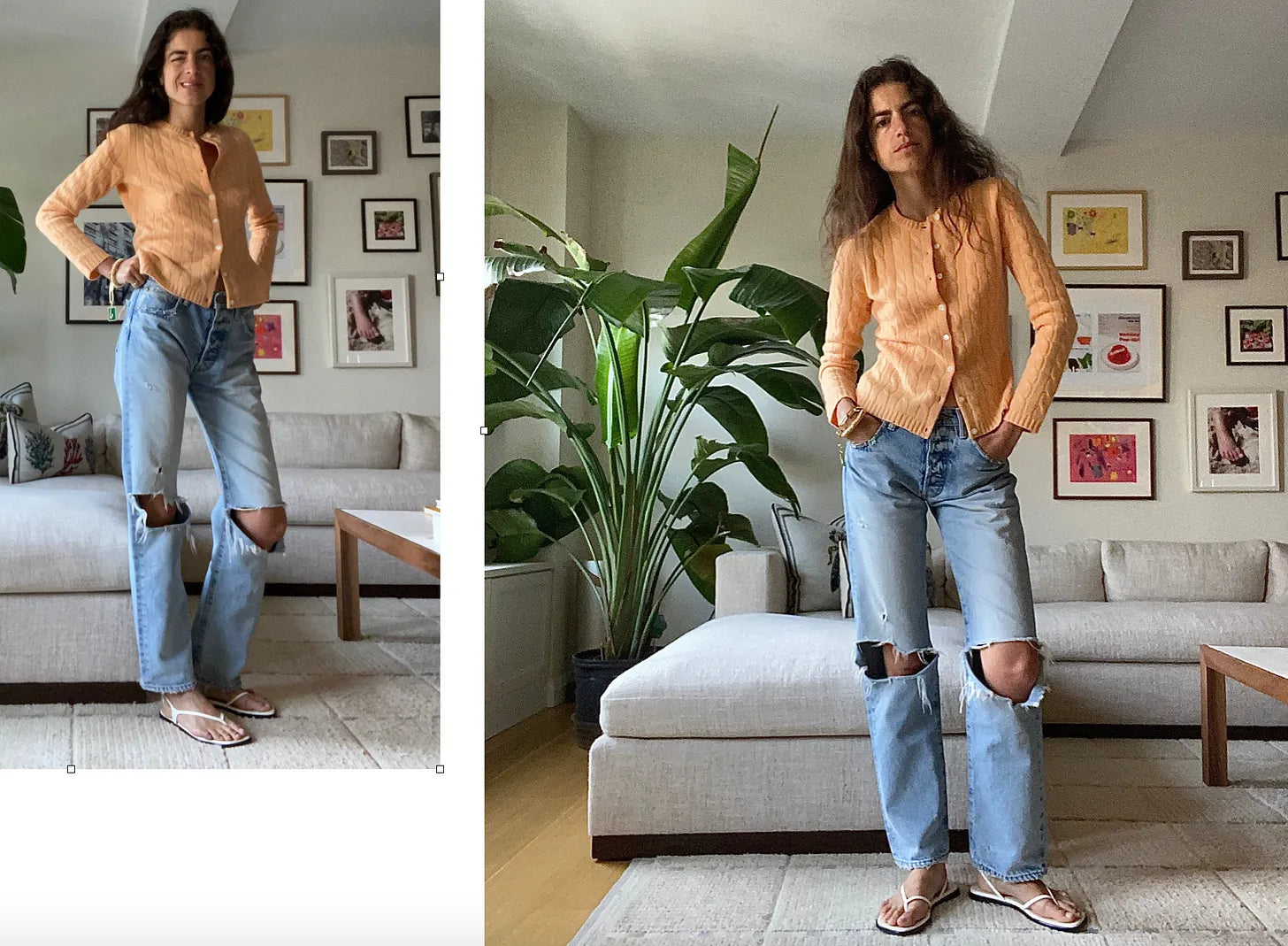 I wear them the same way I do denim cut-offs — to throw off the rest of my wardrobe. Present the possibility that two things can be true at once: I like to look put together — like I know what I'm doing (sweater), but also like I'm completely unsure; like actually, I have no idea what any of us are doing.
Within this outfit, the collarless cable knit cardigan (found at Anna Gray's Club Vintage) rendered in the shape of an upside-down flute imposes such a commanding self-assuredness (pair me with pearls! Give me some slacks! Don't confuse them with slack!) that runs so impulsively counter to the suggestion of being worn with ripped jeans — relaxed in their nature, so disinterested in tying up loose ends: crossing those t's, dotting an i — that at this point, it's almost obvious. But when you add a pair of shoes that are tough to nail down: unassuming, barely there, plain as they come, you're left with an enchanting confusion, this refusal to pinpoint — full stop.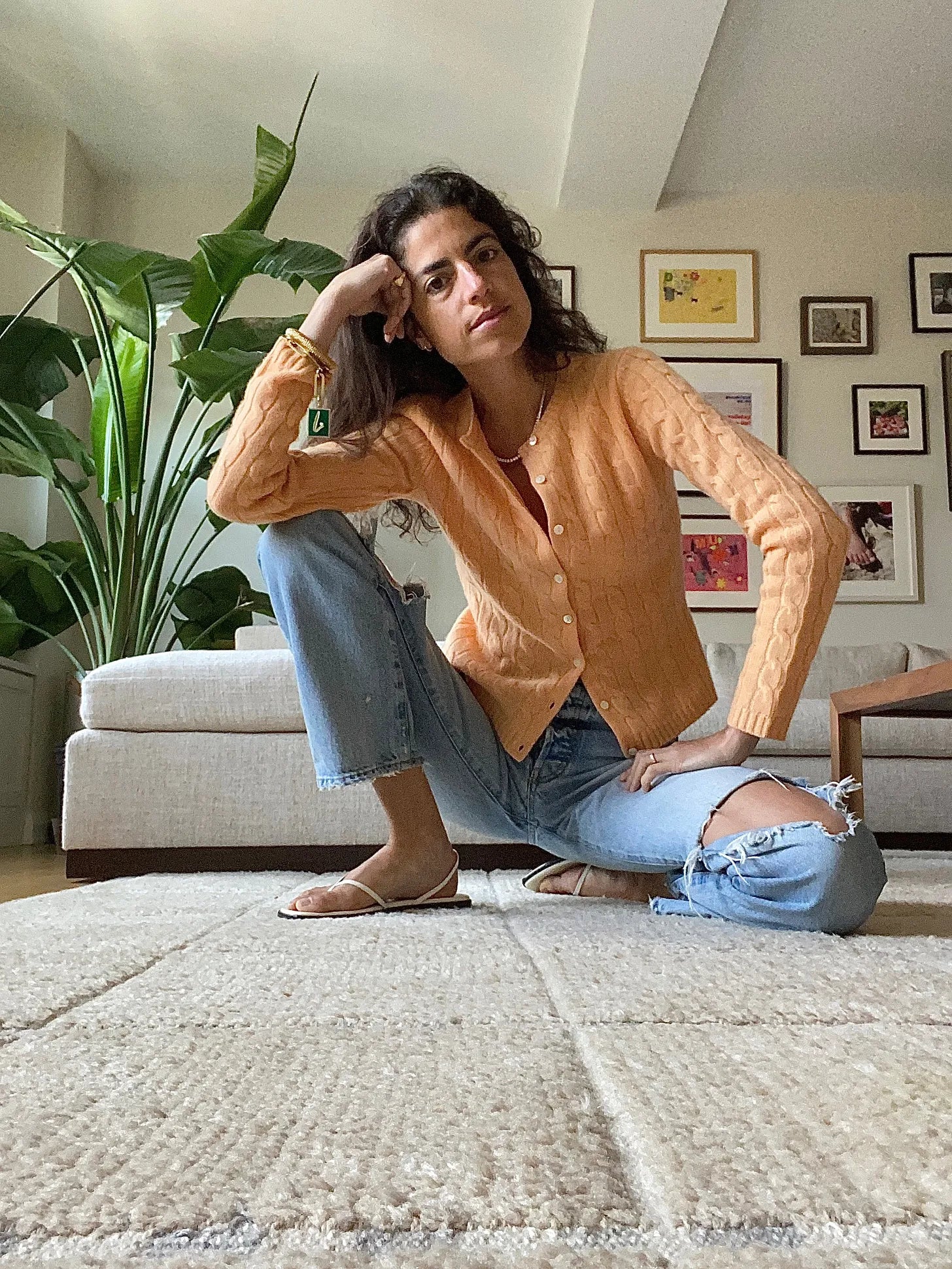 These jeans are Moussy; this pair is the most similar. When I got them in 2018, the rips were not yet this big, that happened naturally over time through wear, wash a bit of manual ripping. They fit true to size, but if you are going to get them, I'd recommend sizing up once — it makes tucking heavier weight shirts in a bit easier and creates a nice shape between your waist and hips if you're going to wearing a belt. The sandals are from The Row.
So much so, in fact, that when you stop trying to figure it out, to see the parts shelved within their prototypical compartments, you start to see new things completely — like how the melon-colored cashmere creates the illusion of this subverted horizon that is cast over the denim featuring millions of sloping shades of blue, mimicking a sort of vastness. I'm not sure of what — I think that's up to you.
Signing off yours truly,
Leandra