#050223 from Paris
Thoughts on the state of shopping
If you buy something, I might earn a commission.
Paris is a good city to experience on foot. If you're willing to clock something like 30,000 steps in a day, you can really get a feel for the neighborhoods you traverse — how they spill into each other, who they appeal to, the basic and general "raison" of their "etre."
One thing I have really grown to understand about why so many people (myself included) who are invested in their relationship to fashion love this town is because of how essential it is to the empowerment of the city.
Abie argues that this fact is a function of what it doesn't have going on: the extent to which consumer tech innovation doesn't happen at the same pace it does in America (or more acutely within its coastal cities).
But as someone who takes the trade and the craft and the art of fashion seriously, I don't care as much about the why: there is something relieving about coming here and being spit out of an airplane onto a tarmac (so to speak) that is already pushing the importance of fashion on you — there are photos of famed French fashion icons on the form of particular garments posing on cloth mannequins framed in the corridors that accompany your step-out of the airport.
On Saturday, we walked through at least 6 neighborhoods and I would say that like 3.5 of them serve the specific function of inviting passersby into the stores that freckle the streets to shop.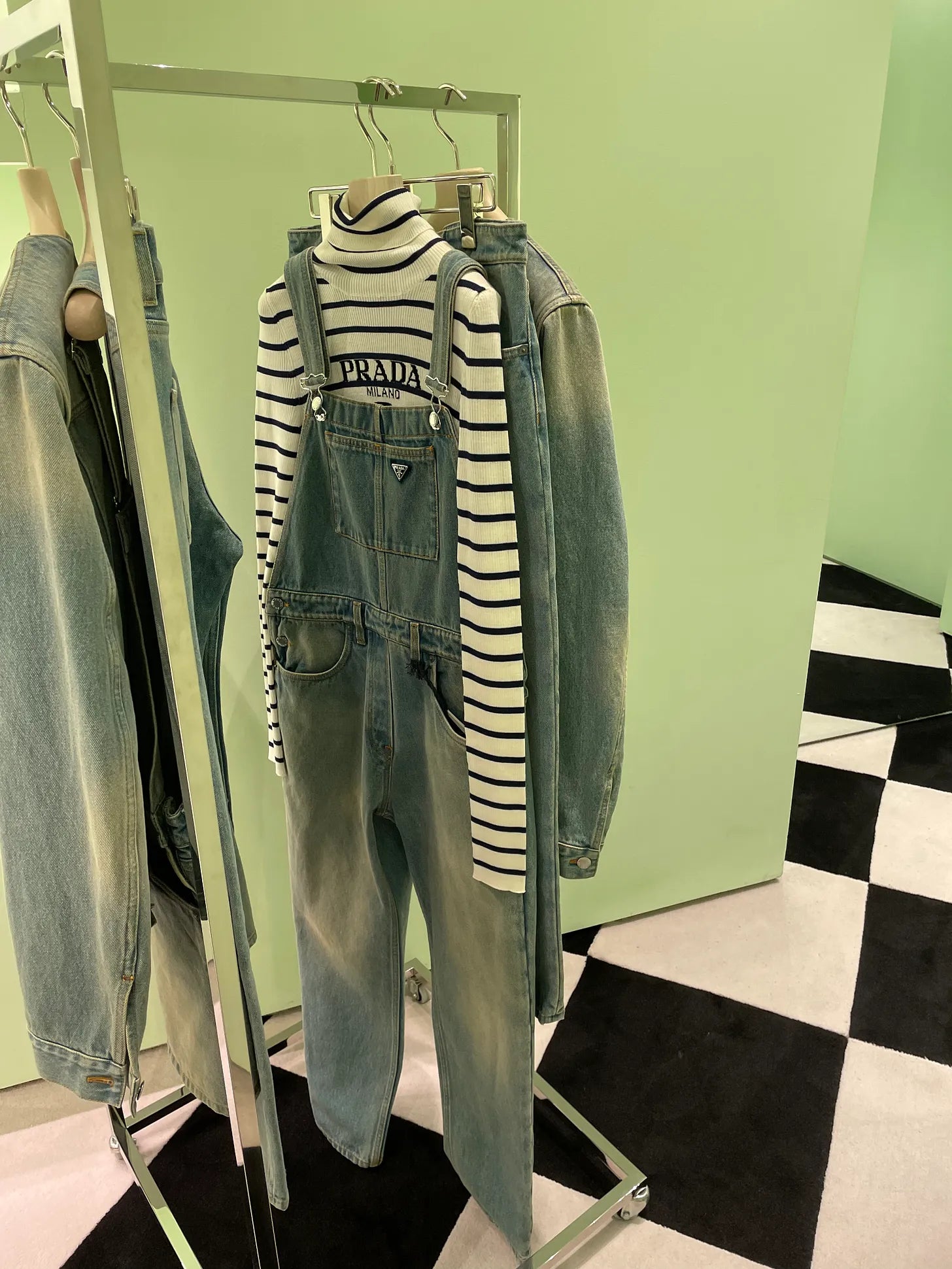 On Avenue Montaigne, I walked into Prada, Chanel (both stores: they are across the street from each other), Celine, Dior, and Loewe. Each store has an approximate ratio of 1:1 salesperson to shopper.
At Prada, I noticed the vast majority of consumers appraising the single-strap bag that seemed to become the thing in 2022.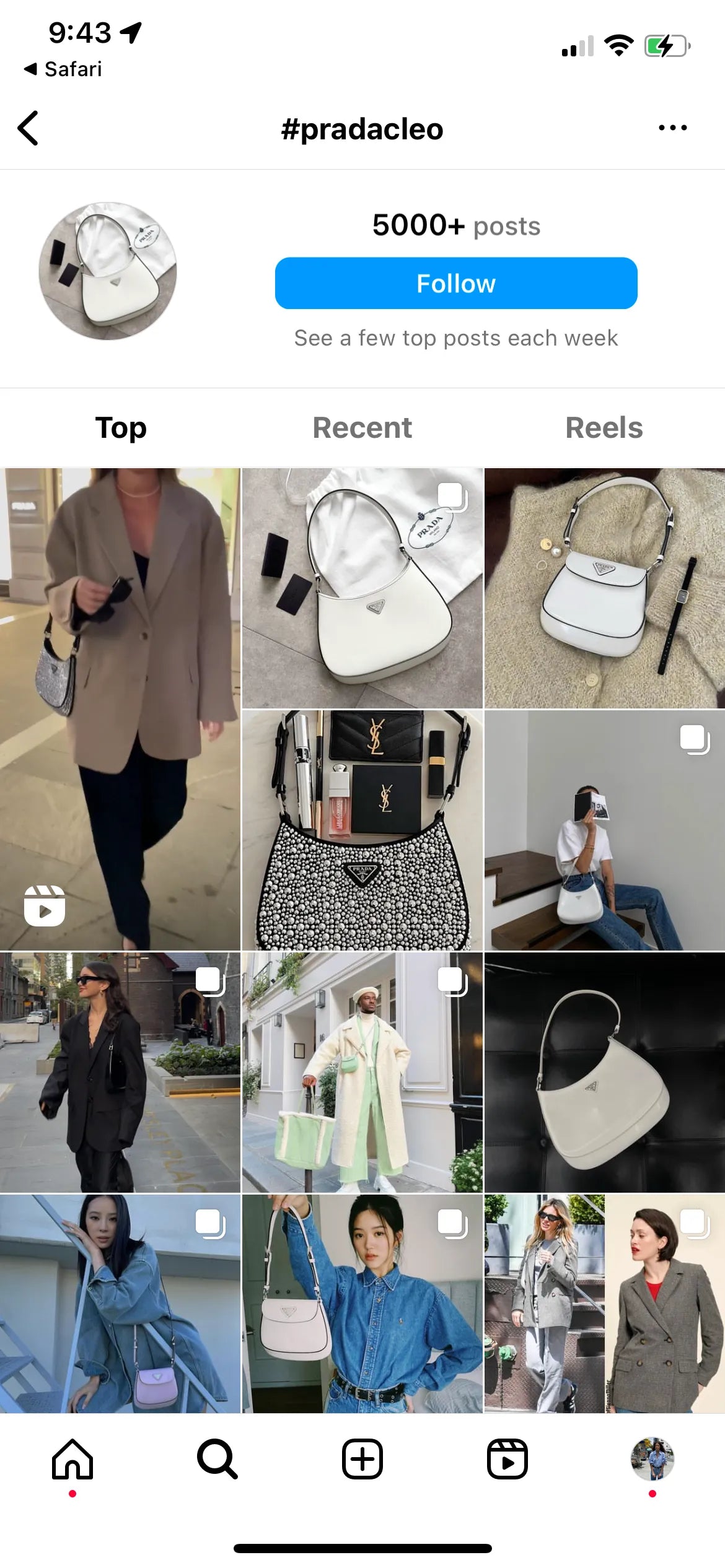 The it-bag is certainly not dead to the women who come here to consume.
Chanel is like it's own center of commerce, a bourse, in the large back room where the handbags are typically sold. You walk into that room and you can tell that serious business is taking place. It's unbelievable to witness the sheer volume of shopper and bag. I'm more a shoe stan when it comes to Chanel but insofaras have not been able to find the specific Spring pair I'm looking for.
Dior was packed too, with most shoppers looking at accessories and fragrance.
At Celine and Loewe, the customer sounded more like a local than she/he did a tourist to the extent that the chief language in murmurs was French.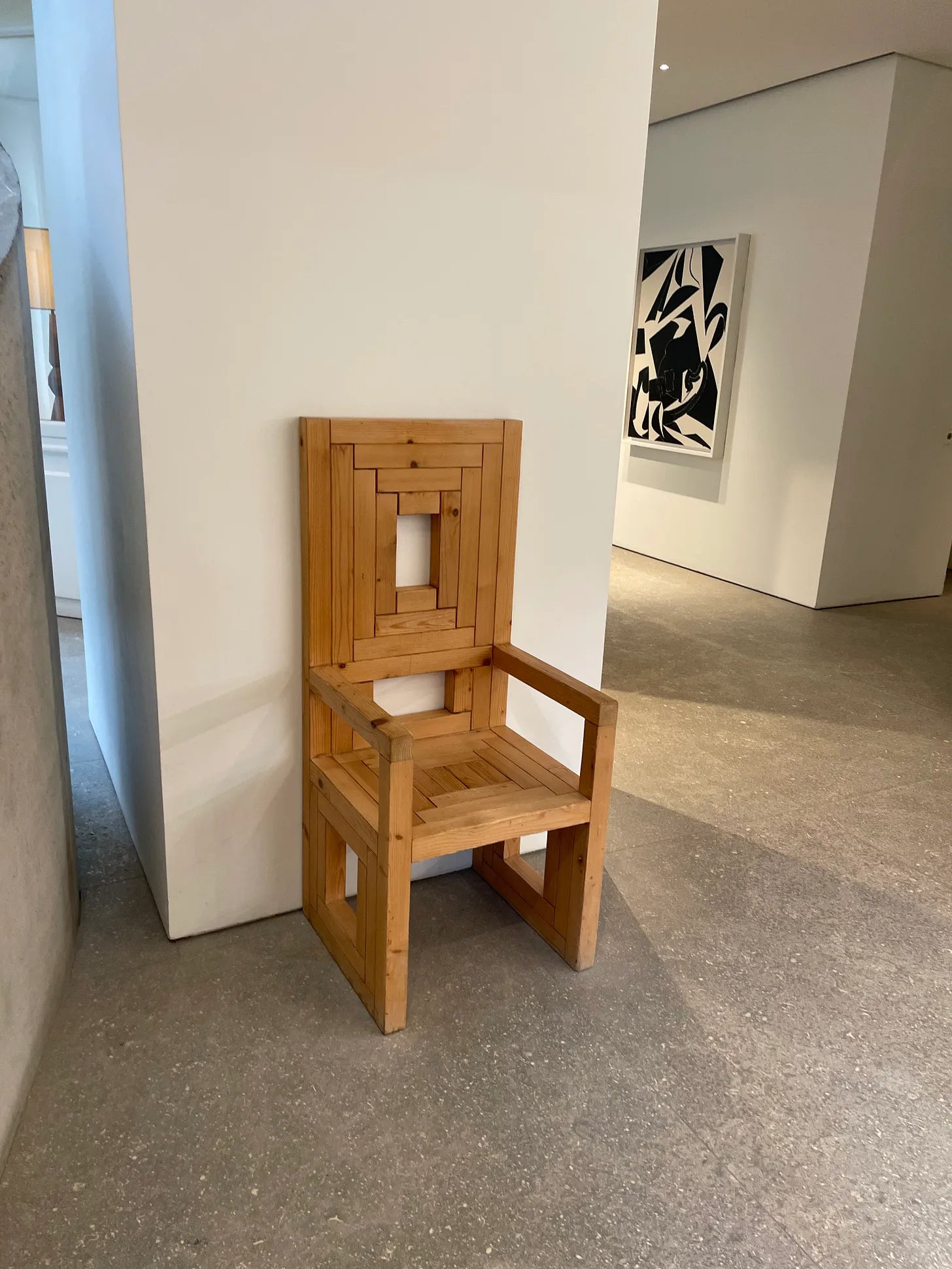 Celine was like a weird Frankenstein exhibit: the store on Avenue Montaigne is still constructed in Phoebe Philo's image of design, but it's packed with Hedi Slimane's clothes. You don't appreciate how essential the store experience is to the brand until you're inside of such a patchwork environment.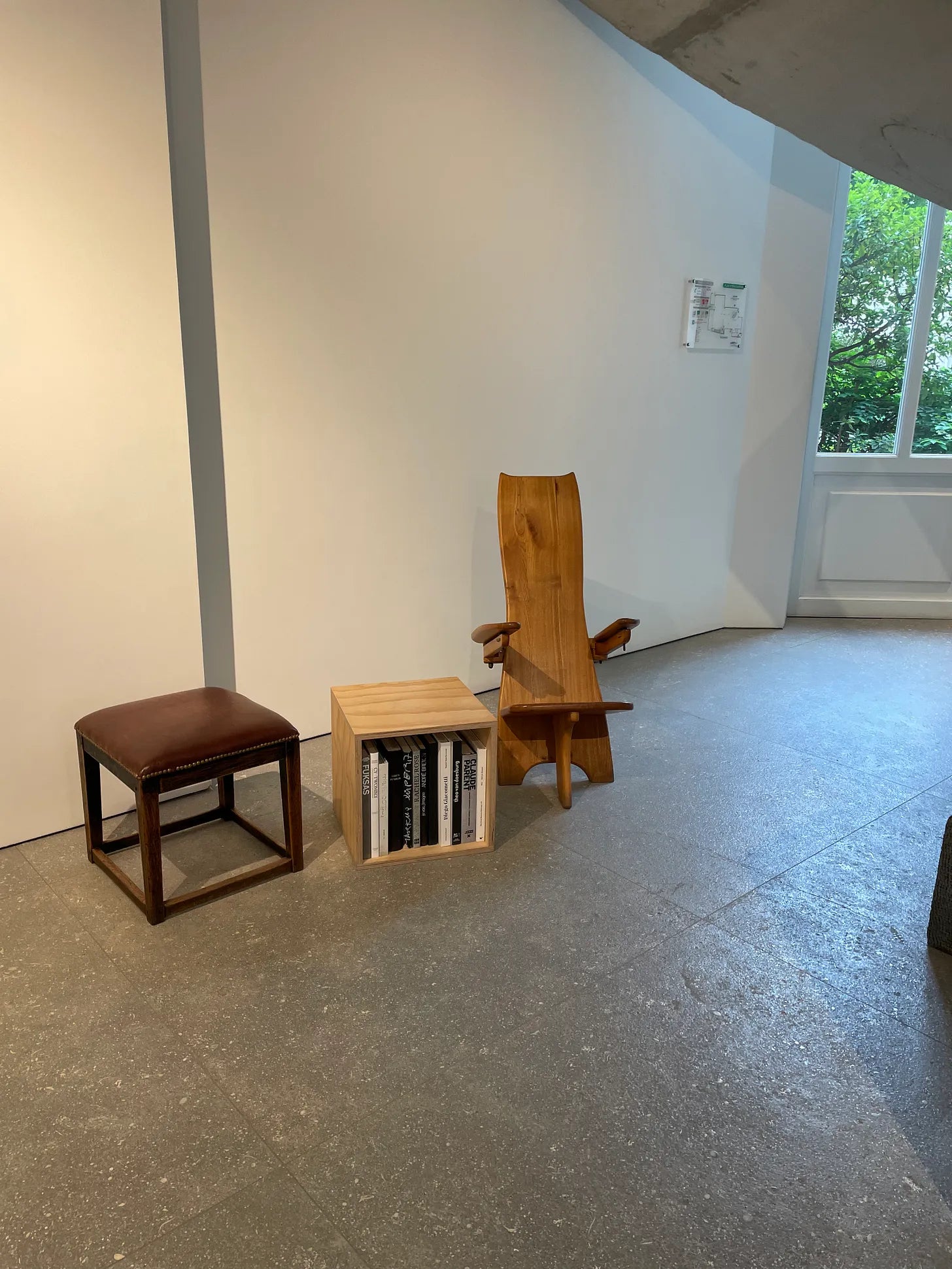 Most of the customers at both stores were looking at and trying on clothes as opposed to accessories.
Elsewhere into St. Germain, there is still luxury (Dries van Noten as the main event with Celine/Loewe/Prada outposts there too), but the more commercial shops, like Soeur, which is really taking off in France, feel more like versions of what Intermix once represented in New York City as a beacon contemporary luxury.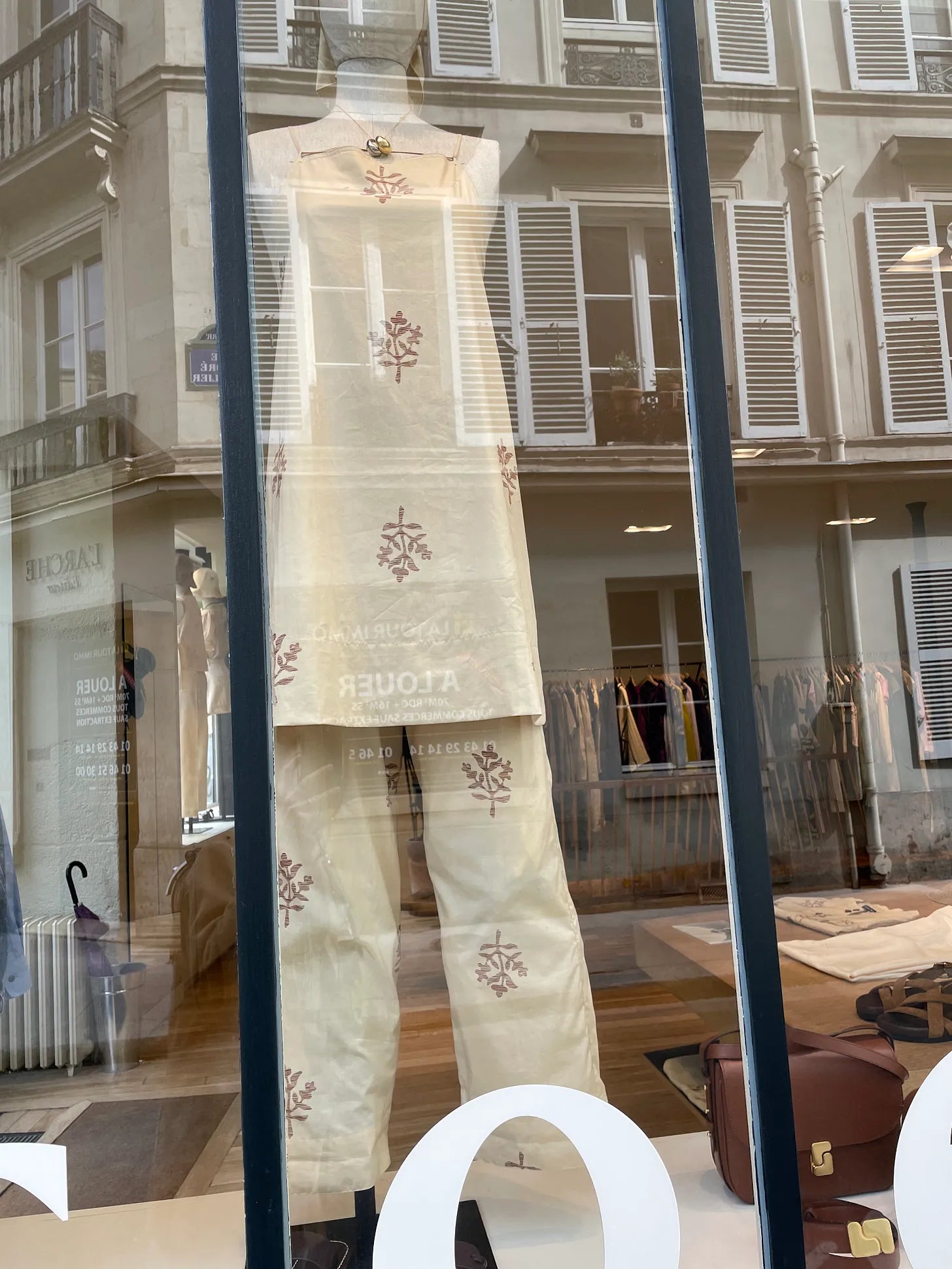 The dining options are more inviting too: the fare is more modern and diverse — less traditional French cuisine, more experimental, new-age something or other.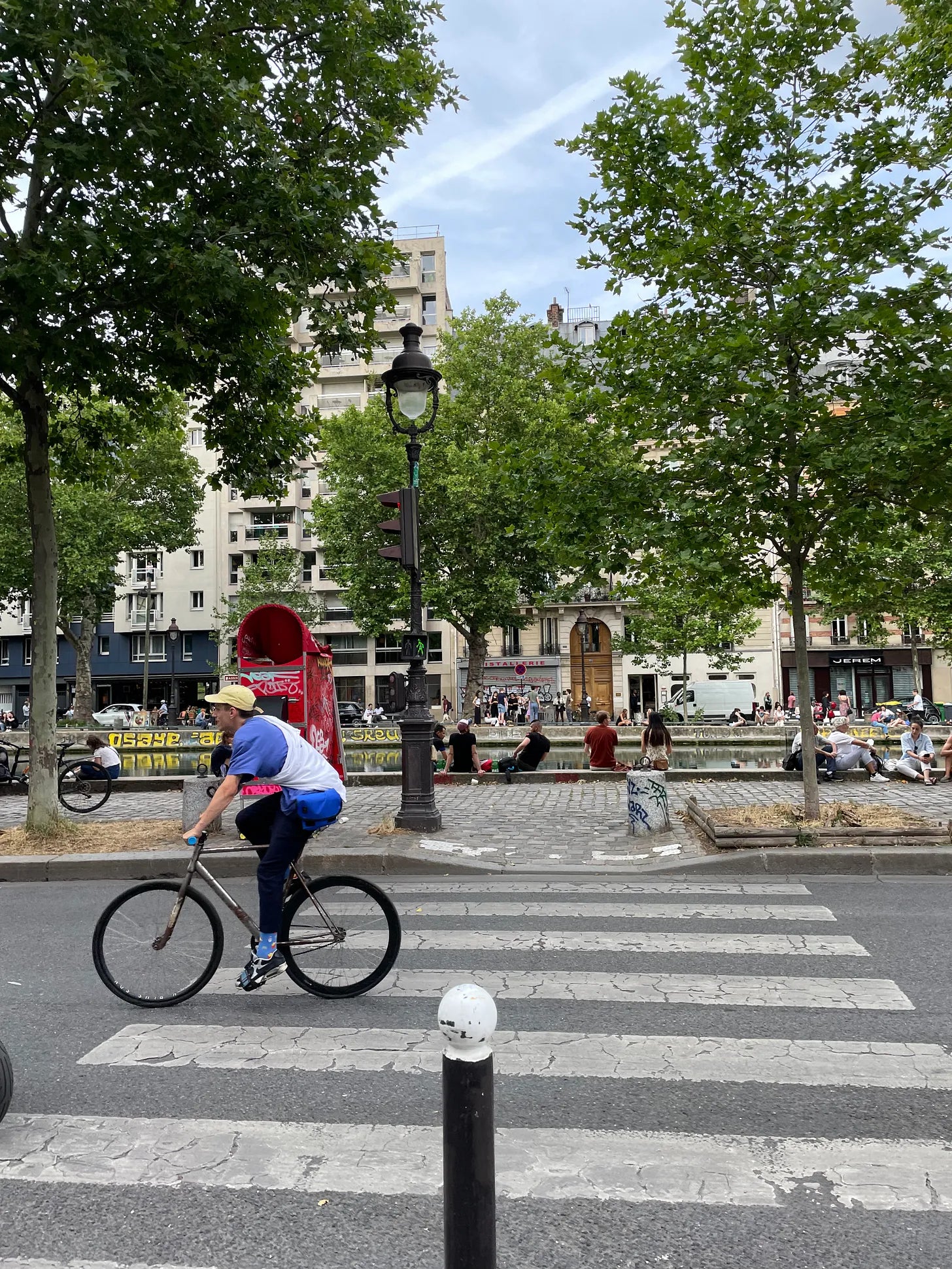 No question the most compelling case studies for the present state of commerce and culture are being installed near the Marche des Enfants Rouges in Le Marais, where there are bunch of stores along Rue Charlot like Permanent Vacation,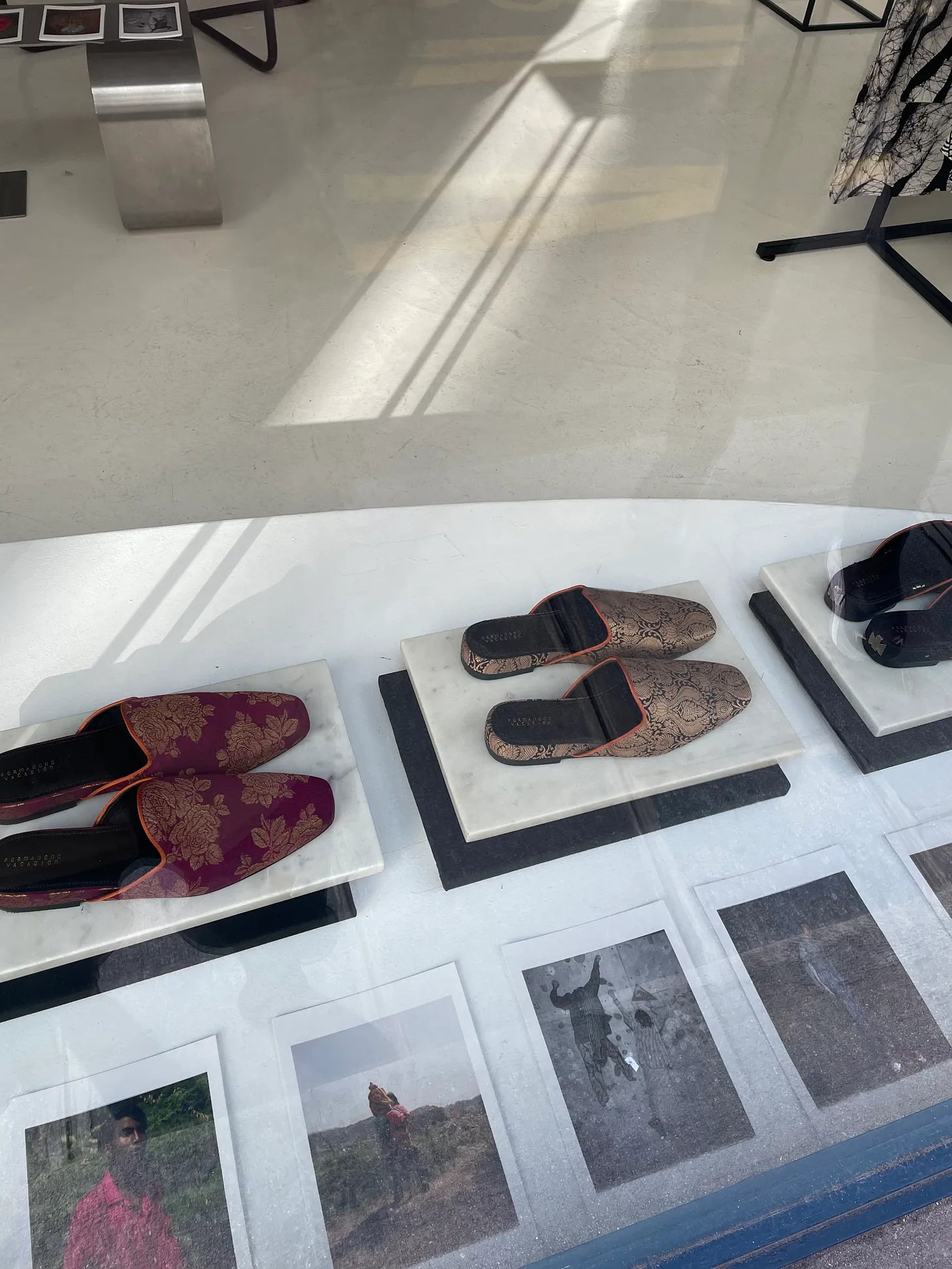 Or along the Canal St. Martin, with millions of natural wine bars (and this one in particular that serves great ice cream called Folderol — there's a Morgenstern's vibe about it) and vintage stores appealing to the zeitgeist of the city. I am told the Jacquemus office is right around here too.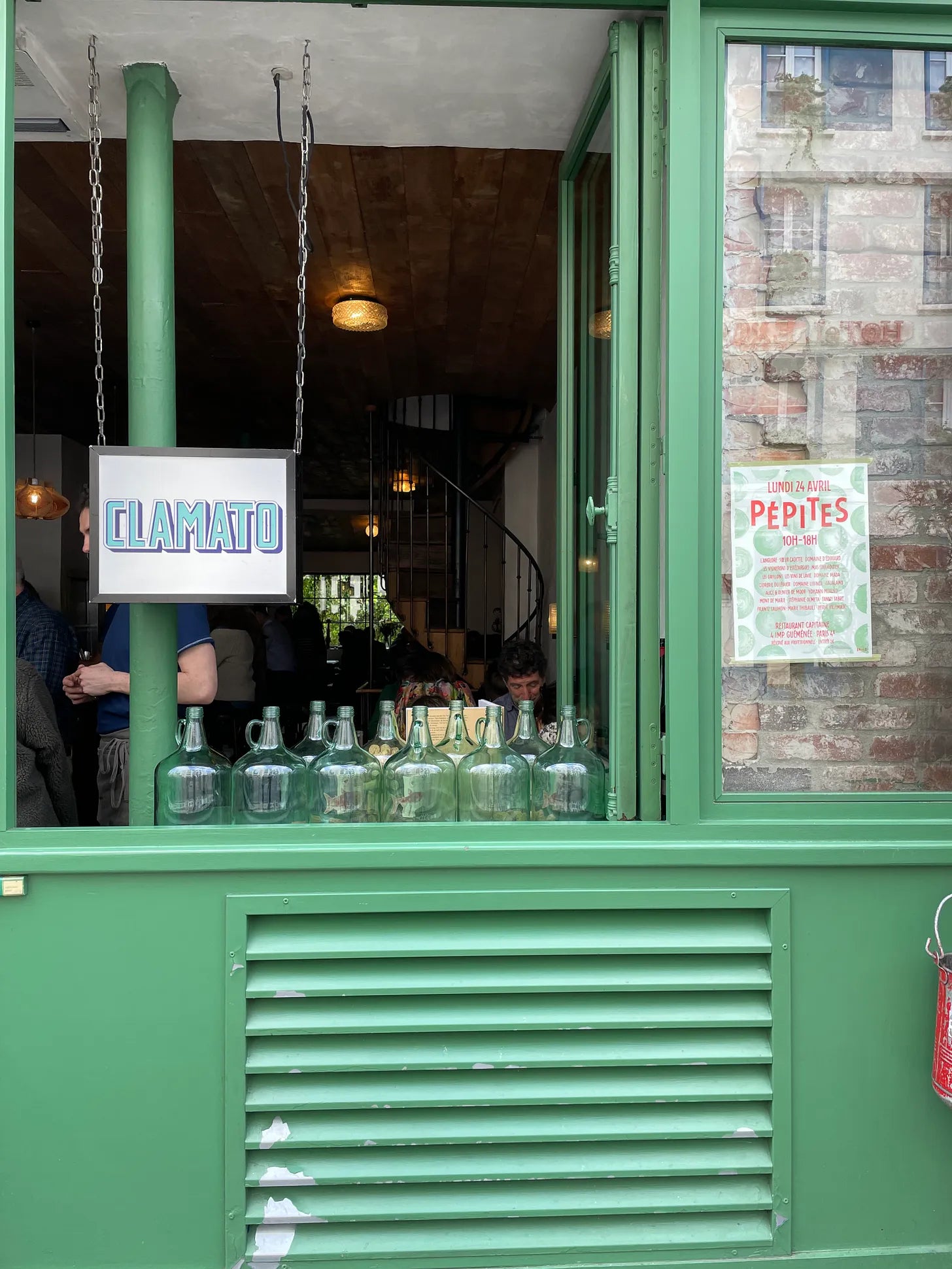 The best food scene still seems to be in and around the anterior Le Marais, and where there is good food, good shopping is never far.
Which reminds me, there are lines everywhere! Brunch has become such a thing here, with so many places taking to the trend of a pastel facade, with neon lights boasting corny American sayings like "But first, coffee," or like, "Fuck your diet, drink mezcal." It doesn't feel very French but then I guess the thing about youth culture is that nothing is particular to place anymore. One side effect of social media is that it turns the world into a global, virtual playground. No one understands this better than the generation in charge of making culture right now, who grew up in — were raised by, this precise playground.
One thing I can't shake about my own participation in commerce (true here and in New York), is that for as interested as I am in walking into every store (and cafe) that draws me in with its facade, I have mostly had the experience of feeling like an inflated balloon slowly deflating as I walk through the space, or thumb through the racks or try on some pants.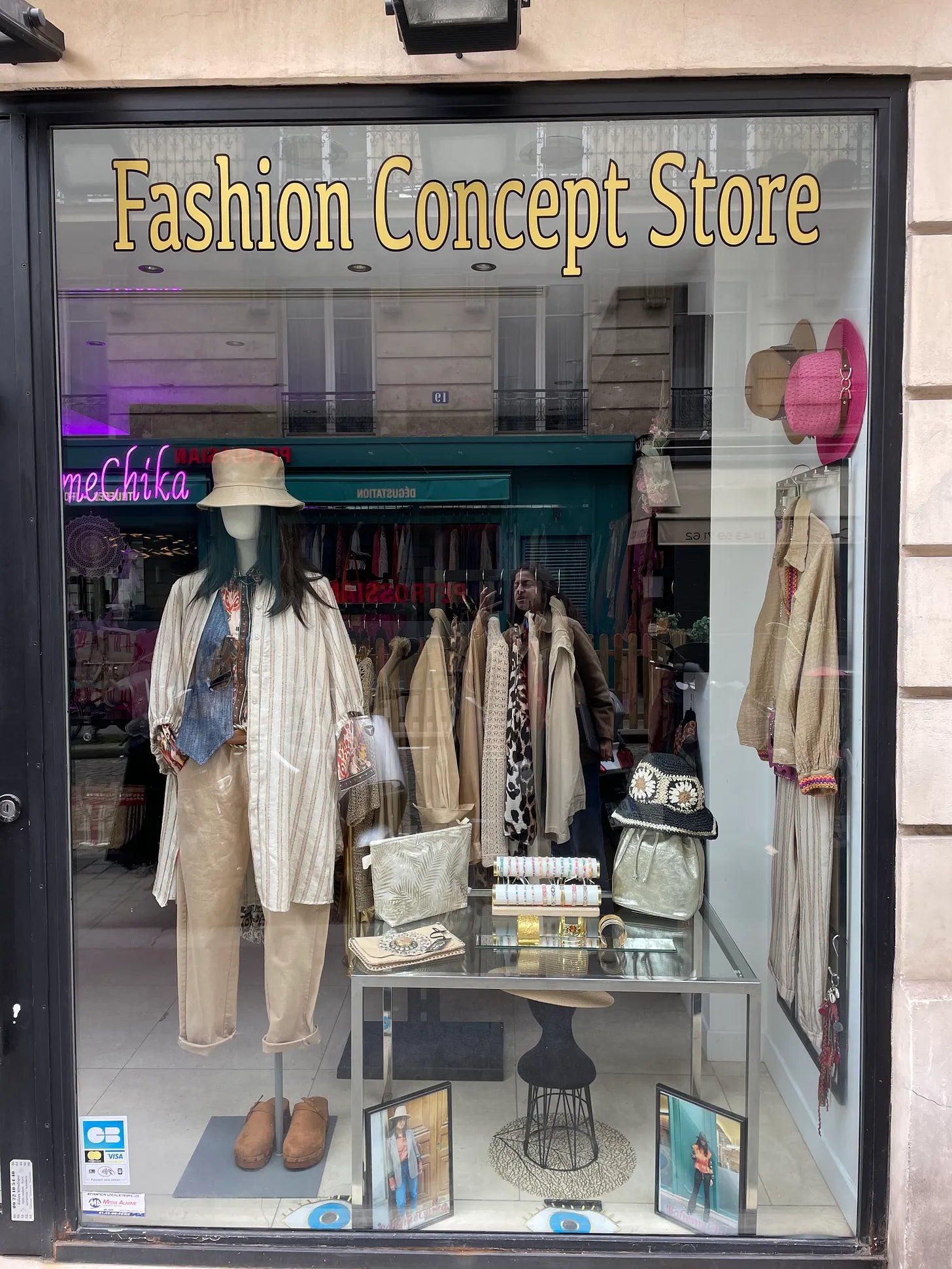 This has invited me to consider the importance of window design — what facade-level merchandising can do for a place, but it has also reminded me of that adage, "You can lead a horse to water but you can't make him drink."
In almost all these stores, I get the feeling: I can probably find this online and maybe if I do, I'll get a better deal — this seems to me the downside of being able to find almost everything from your phone. You might discover IRL, but will you pull the trigger there too?
For as much as I have heard so many people say they crave a commerce experience that was like Barney's, part of why Barney's worked so well is because it was before the era of online shopping.
There's a reason it stopped working, you know? And I don't think the consumer desire to shop in person is necessarily misguided or lying, but I do think it has less to do with actually buying something so much as I think that a lot of us miss a dynamic. The electricity of discovery and also of connection.
Part of what will make that experience dynamic and electric is some element of, yes, "quiet luxury," because in the end, the thing about The Row is that even though the clothes can look like such a dud online, when you're up close with them, you kind of can't help but fall in love with the fabrics and how they present IRL. If that brand is too simple for you, Khaite's another great example of this. Hard not to want to buy in when you can just tell, she's not fucking around with her responsibility to make you feel like a million bucks all the time.
The emotional experience that accompanies these purchases matter to you in a truly tactile way.
Yes, this is the thing, I think about quiet luxury — what it really has going for it: a desire to get your head out of your phone and to understand what the fuss is about through the basic, physical sense of touch.
Then there is also the element of socialization — some form of interaction that fuses what the dressing room has historically given to female friendship: a sense of camaraderie, advice you can take because it's advice you take seriously when you're the one giving it.
Trust is exchanged behind those velvet curtains.
You tell me if I look right — if the choice I want to make about how I present myself to the world gets my point across, and I will do the same. We will stand for each other's most honest reflection of what the other is trying to say, you know? It's so tender when broken down like this, and is real, I think, for many of us too.
There's something beautiful and ancient and spiritual to me about the thought of women convening and helping each other through the deeply intuitive and vulnerable process of choosing how to convey themselves at skin level.
It's what I recall as sample sale communion: the way a friend could veto a pair of shoes in a minute and offer another that might get at what I mean a bit better. When I think about it now, it makes me feel like this must be what it was like underground in the secret lives that my grandmother and her sisters and their moms and their moms lived in that tiny Persian town of Mashhad all those years ago. For them, this kind of connection was a form of survival.
That's not what it is anymore for most of us, but it is the peace we keep with each other. The peace we keep for ourselves.
And then the last thing, for sure, is the element of the discovery. I mean two things by this.
Brand discovery, absolutely (1). It's great to encounter a brand you've never seen before and imagine it within your lifestyle. But there's a more personal element of discovery too, which I had been overlooking until this trip.
I found two things over the course of 3 days that I was inclined to buy. The before-first-thing could have nailed the element of "can't get this elsewhere" as a cotton nightgown I'd wear as a summer dress from one of the old-timey lingerie shops in the 8th arrondissement. (But I didn't actually get it because, I guess, there are enough good, globally available options that serve this purpose.
I did, however, acquire one pack of candied lemon peel from a store in the 6th arrondissement, the name of which I do not remember. (I will serve it stirred into black tea at home.)
Then there was this scarf/choker/brooch thing, an accessory from Dries van Noten that is such a flight of fancy, an item I'd never prioritize buying as a practical dresser but which I could perceive as an outfit maker for the simplest, most practical garments (grey t-shirt, khakis), when I'm more connected to the dresser within who likes benevolent frivolity too.
Had I seen it online, I'd have never bought it. I needed to play with it in person. To imagine myself living with it — discover this quality within me: the ways it could factor into my life. I guess this process could have been possible online, but it would not have been as romantic. And with such a specific purchase, transactional by definition, I think you need a bit of romance.
It feels good to let yourself sink into the non-essentialism of a benevolent fancy. I wonder if this is what is missing from the consumer experience, the element of the definition of luxury that often gets overlooked,
the effect of some days in Paris.
Today I head to Milan. More soon —