Supermarket Aisle King #005: Bloody Mary Olives
I love brine
If you buy something, I might earn a commission.
Soooo, how's your night going? Over here, it is 8:59 p.m.
I have a cup of tea next to me that has been ready since 6:20 (p.m., but a.m. would not have been outside the range of probability) and I just took a swig of brine — literal brine — because, I don't know, I needed a jolt, something exciting, a spice that would wake me up? Are these the kinds of words, euphemisms, phrases, and metaphors we use to describe the sensation of BEING ALIVE? Why is it so boring for some of us to sit in the stillness of life and yet so relieving, even freeing to others? This is probably a cue summoning me to meditate but uuuuuuuuuuugggggghhhhhh. The brine!
It is from a jar of Divina olives that I bought a couple of weeks ago, from Westside Market on 12th street.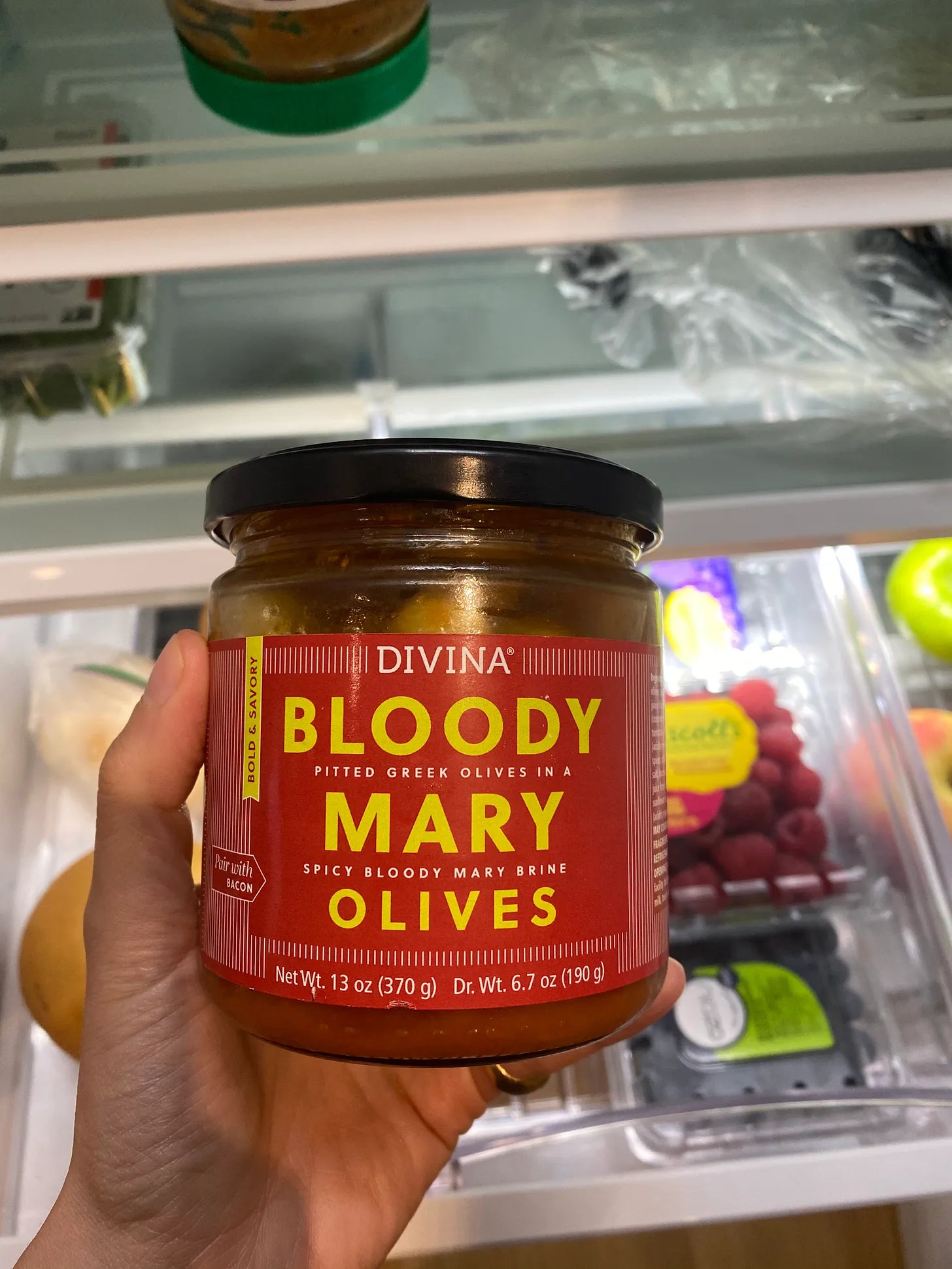 I was going to visit my brothers (Handsome Haim, Uncle Henry), who lived together until last Thursday. They flaked like mother fuckers by the time I arrived at their doorstep and I had a choice to barge my ass up in there and make them feel like shit, or to move on, never make a thing of it and find something better to do. Like enter the double doors of the Westside Market under their building and buy some pre-cut mango slices.
I've always really liked Westside Market. It reminded me of home when I first moved out and lived next to Whole Foods and could not recognize a single one of the organic brands extolling ingredients on granola containers that featured exactly that: ingredients. I longed to see one — just one — container of Duncan Hines frosting or General Mills cereal. Anything with a dose of Red 40 or Yellow 6 or corn syrup. Just to see!
Westside Market delivered. Delivers. For now. I suspect it will be a mere year or two before all the fun cereals are grain and sugar-free but I could be completely wrong too. My friend Rachel sends me the most dramatic screenshots of new snacks launching at a minimum twice a week. Here is the most recent one.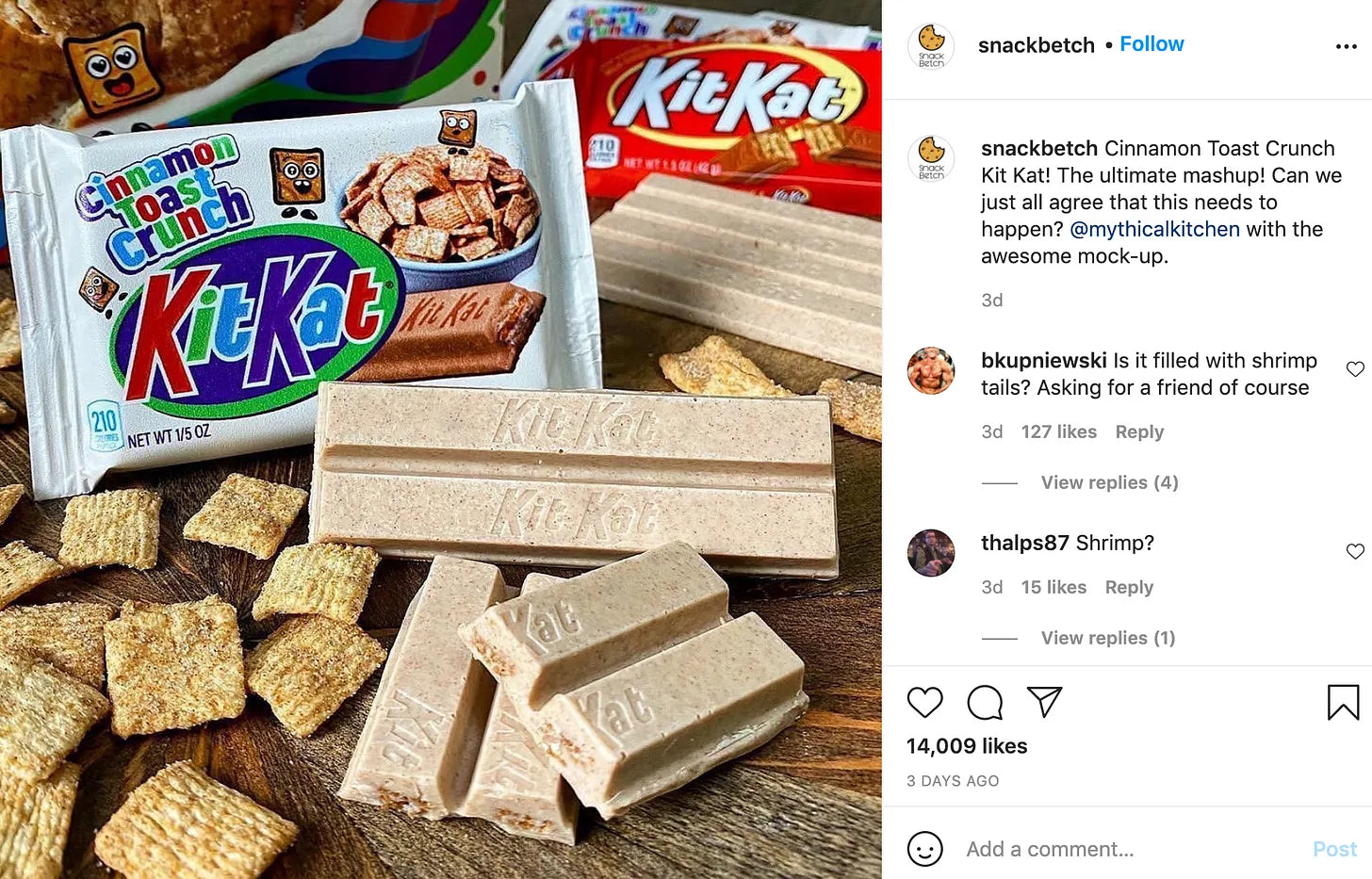 So perhaps what's happening really is a renaissance of breakfast hedonism knocking at our door.
Or maybe I'm overthinking it.
Anyway, I was talking through the aisles at Westside Market, thinking to myself that save for a bunch of bananas, of which one can never have too many (until, you know, one has too many), I needed nothing for my household — and what does one do when they need nothing? They buy lunch for the man outside who has explicitly expressed he needs it. That's first, THEN they explore. So on to the cheese and olive and cracker and dip section I went.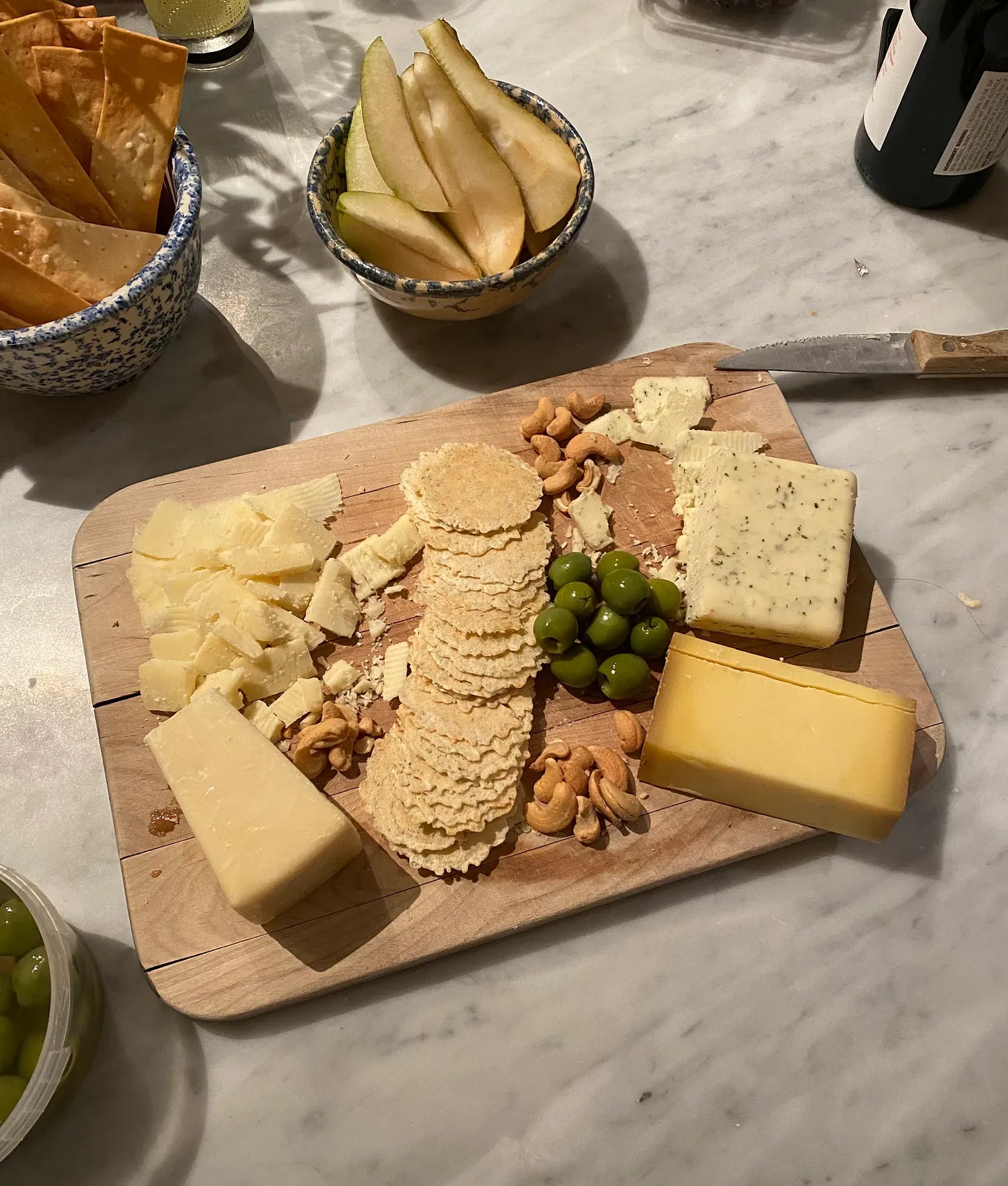 Now, IDK if you've ever purchased a dip from Westside Market — their packaged shit from other brands is fine, it's just like any other place, *but* the dips they produce in house, which sound SO GOOD when the ingredients knock you over the head with their description of pinches of salt and squeezes worth of minced garlic, propelling your anticipation levels to the highest degree of expectation only to disappoint you when you find yourself sitting home
alone
at the kitchen counter
25 minutes after your kids have fallen asleep
with nary a person — no partner or friend — in plain view, willing to appease your desire for connection to, with, around another adult
putting so much pressure
on the container
of hummus
to do it for you,
feeling disproportionately disappointed
when the amount of salt
seems irreflective of the ingredients' promise
but hey!
On the bright, you bought the olives in brine. Did you even remember we were here because of olives in brine? I forgot, but then just now burped up and tasted the brine in my mouth and was like, oh yeah! These olives were actually the main event of my night last Tuesday.
How fortuitous that writing this is the main event of my night *this* Tuesday.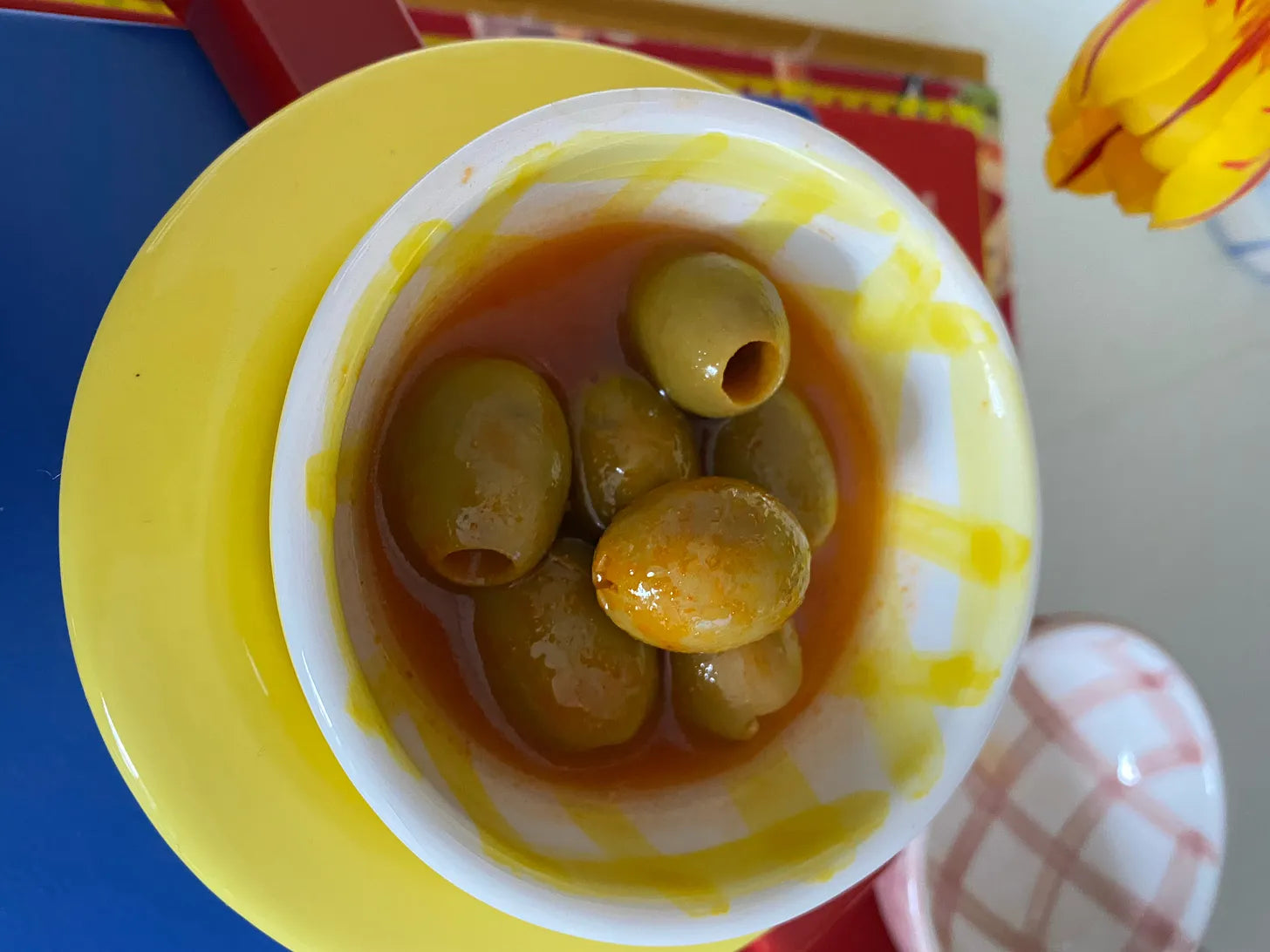 So, what can I tell you about them to lure you into their bosom? They're green. They're pitted. Sitting in brine made from a bloody mary mix that is part smoky, part spicy, a complete adventure for the palate if you've just had too many crackers soaked in unsalted hummus — the perfect antidote to what you promised would be an OK evening solo but which has become a battle to make it exactly that — okay. I think I am feeling lonely!
What compelled me towards them is probably related to this habit I developed in quarantine last Spring where I'd pour olive juice into a tumblr then mix it with tequila and drink it while cooking.
"Cooking."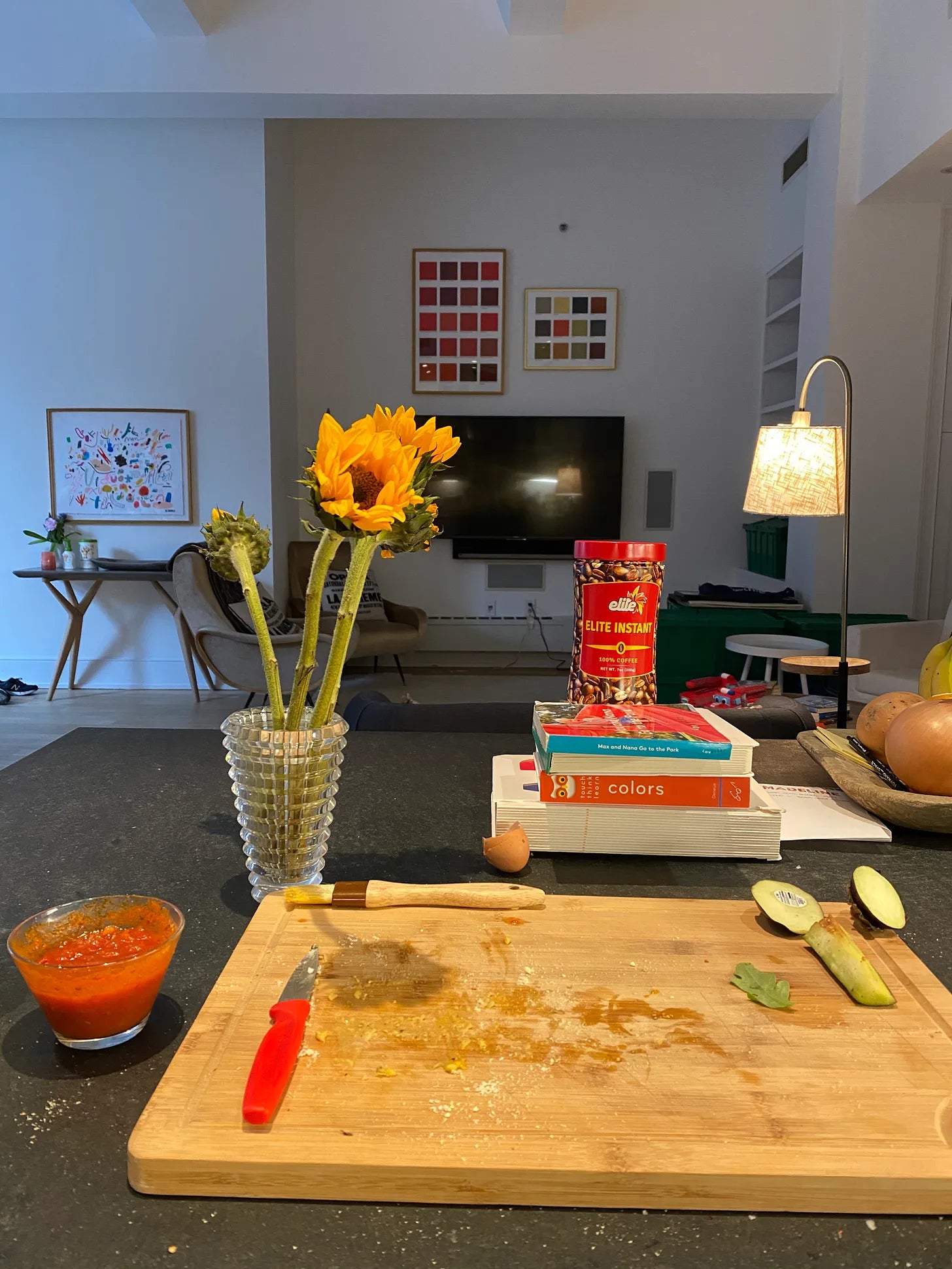 Then I'd add the juice of half a Meyer lemon and enjoy this delicious libation at the end of the workday. I'd gaze out my window, overlooking Centre street, and wish I was out there. Then I'd turn around and look around and realize I was glad in here too. In this — well, that — place. With those people.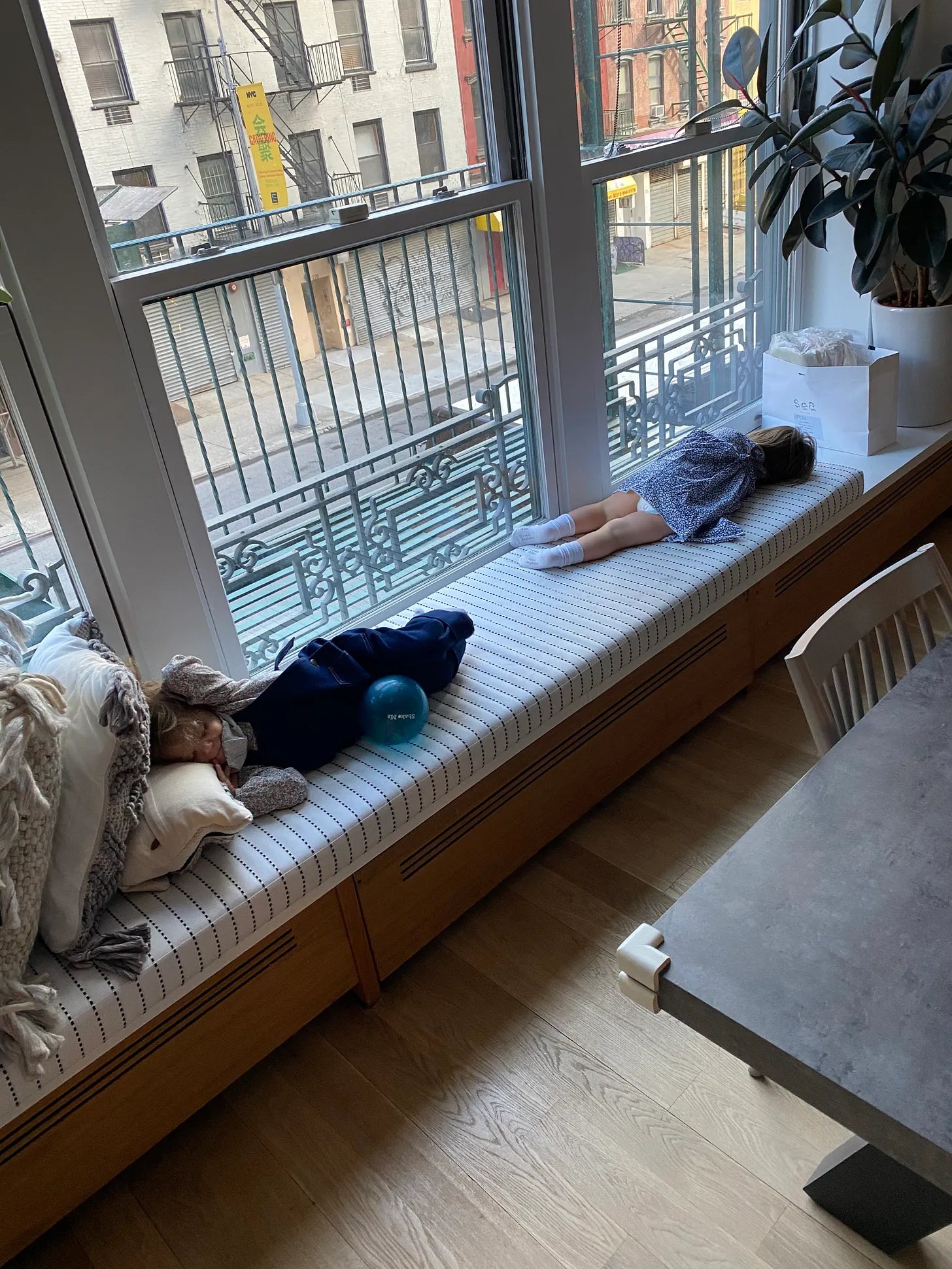 This was usually the point at which I'd call it a night — it was the sliver of light that signaled accomplishment: I'd found the day's meaning. So I guess that particular combination — the lemon juice and olive juice and the little splash o'tequila — represents something greater. A sort of desire to see something bright, even as the sun announces its setting.
There is this Arabic word that Syrian Jews have brought with them to Brooklyn from Aleppo, it is "te'il" which cannot be translated perfectly to English, so imagine if "earnest," "corny," "emotional" and "sensitive" had a baby, that would be te'il. I am so very that.
And this?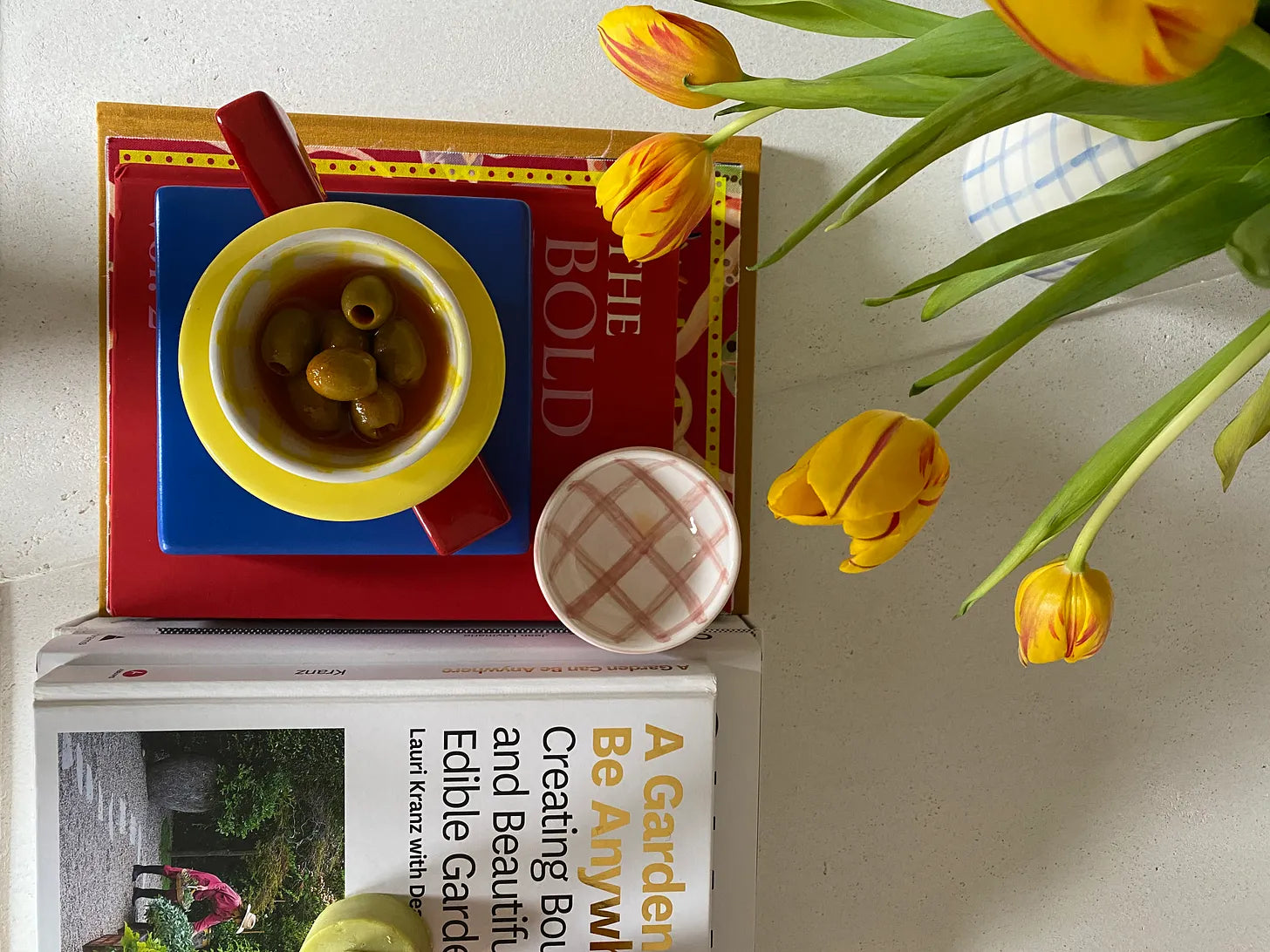 This brine is so good I don't have to add liquor! The olives aren't bad either — they're big and Spanish and I just had this idea that I would cut some Humbolt Fog cheese into cubes and poke them through a kebab stick (which, yes, I do keep in stock), between three olives. I might shove some Marcona almonds into the openings too, mix the brine with seltzer water — the super bubbly kind that is great for elderly Jewish men with acid reflux — or throw it into a small container full of lemon juice and olive oil and use it as like, seasoning on, I don't know, salmon fillets?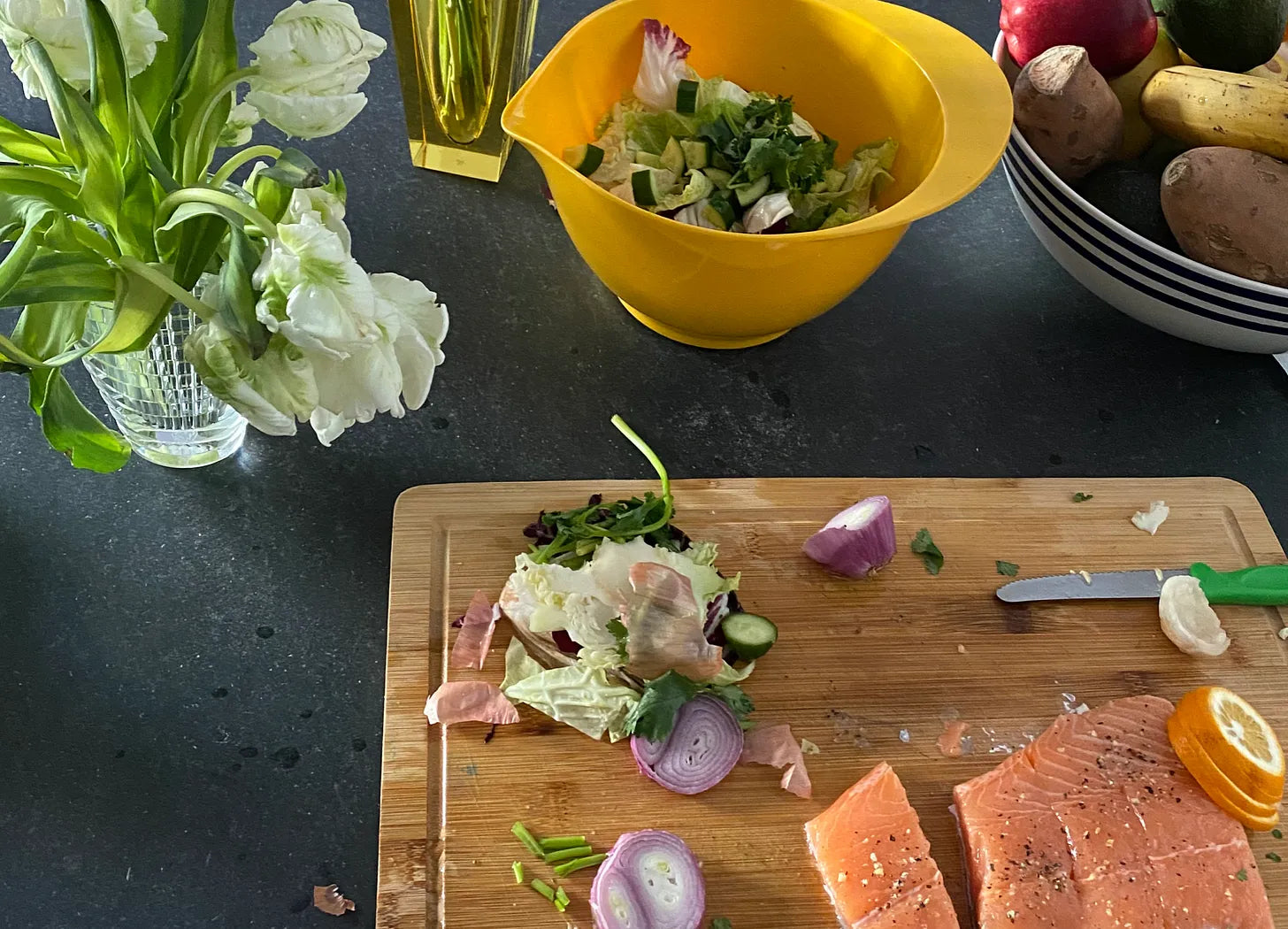 When the olives are done, I think I'll age some celery in the jar. Is that a recipe for a stomach virus? Then again, what from this franchise is not?
One time I read on a Facebook profile page an About Me that said, "High on life, drunk on Fanta." I think I'm drunk on brine.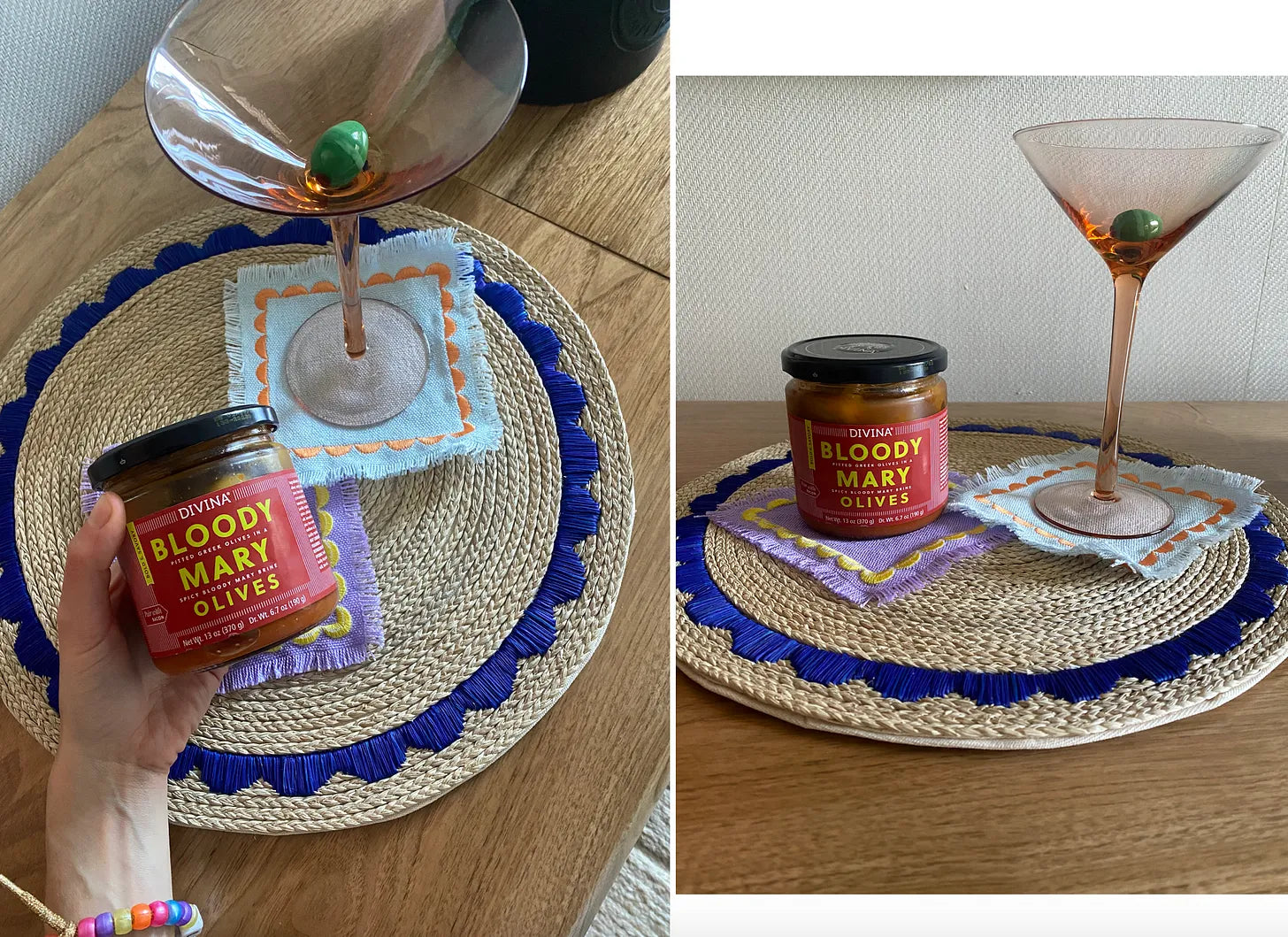 Until next time, yours truly,
Leandra